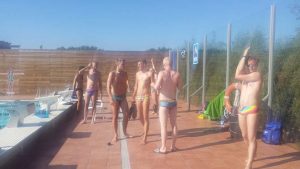 It's day three, our second two-session day when Stefano and Katie join the group. The rest of us are just easing through the pain barrier – still creaking our joints, sinews and muscles. This morning we have Pamela from Italy coaching. She tells Stefano , in Italian, that he's not getting away with anything. She has a loud commanding voice but she looks too small and young to be a real Italian Mama. There's a lot of work with fins – freestyle mainly. We do lots on our sides, with one arm out front and the other at 90⁰ sticking up in the air. Then there's various relaxed movement of this arm – touching hip, shoulder, head, water before changing sides. I note that the side kick is faster than kicking on the front, face down.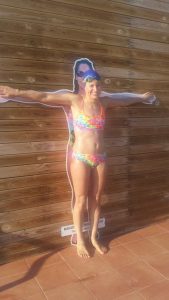 I check with Ben for an explanation. When kicking up and down, there is not as much water above the feet to move about, whereas on the side there is a whole pool full of water to move about. This sounds like another plug for rotation. It's also good to note the difference with the shallow and faster backstroke kick and with fins on I seem to be speeding along at a rate of nots. The relief at taking off the fins after such a long session is dramatic. My feet no longer have heavy things attached, with the result that I kick more and faster. It's good to get the point though experience.
Phil and I are joined by Ed for lunch – we stumble upon a German restaurant where the set menu starts with tapas, followed by meat dumplings made with loving care and served in a caper sauce and new potatoes.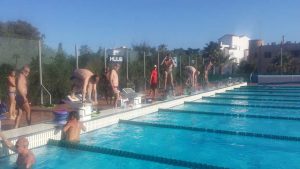 Our evening session is Butterfly with Ally. What a time for Dan to finally join us after travel delays. It's virtually all kicks and drills and I'm glad as I don't fancy doing multiple 50m lengths of fly.  After all, I only ever do one length of it in the Individual Medley, regardless of the pool length.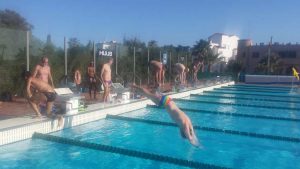 Ally's speciality is 50m fly and he confesses that he's never had to pay too much attention to turns.  Fly turns are fairly similar, if not identical, to breaststroke turns. Some people have never done a backstroke turn – they know who
they are – so there are a few trials and errors.
On Thursday morning, Pam takes us though drills again, but we do more swimming. Phil and I have an average set menu involving Hake for lunch (the beer is nice) before setting off for the naturist beach to the East.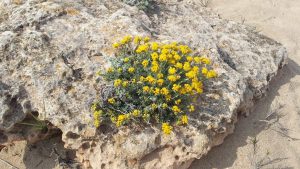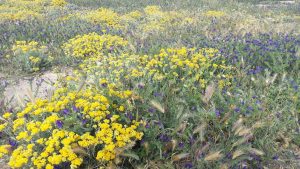 The map shows a road through countryside where birds might be seen. The road is, however, marked private and we have to re-trace our steps to walk along the beaches and coastal paths. There aren't many birds in the mid-afternoon and the land adjoining the coast is all fenced off and marked 'Private' in three languages.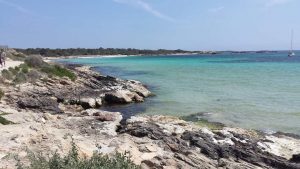 After an hour or so walking, we reach Playa ses Roquettes and take turns to guard our stuff while the other goes in for a swim. There aren't many people here – half a dozen at the most. The water is somewhere between 16-18⁰c and very refreshing.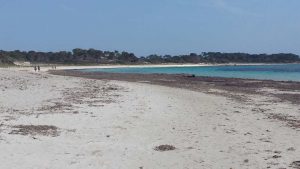 Open water enthusiasts might call it too warm but we don't stay in for long and have to climb over a mountain of dead sea grass to get in and out. There are more birds on the way back and we follow the shore right around to the harbour area and the new part of town. It's clear that development has gone East and our hotel and the swimming pool are on the West side of town.
It's time for a beer overlooking the harbour. The others had returned to the Western Beach where Christophe created amazing human sculptures with the OTS group. Shared with compliments of  OTS WhatsApp.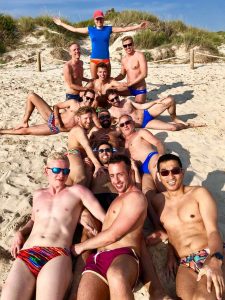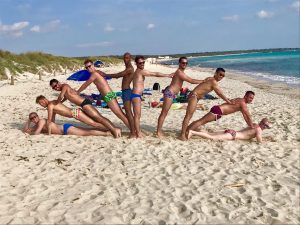 Friday and it's Pam again and I'm finding her drills excellent. Katie and I are getting great feedback. She reminds me that I'm neglecting my push through – I've lapsed into short strokes again. There is such a lot to remember. and at this point on the week I'm taking the occasional 100 metres out to rest.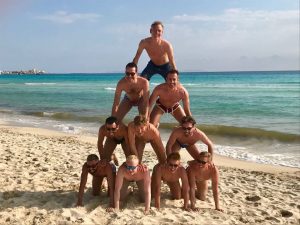 Lunch is a group affair – it's the only time we have the full team together and this is the last opportunity. We return to the same restaurant – Beach House – where we were on Monday. Slivers of roast pork from between the ribs with smoked mashed potatoes are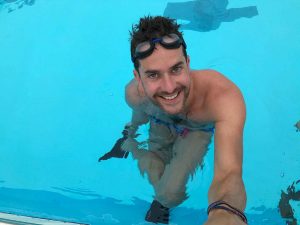 delicious and beautifully presented.
For the evening session we have most of the pool and Ally sets us off on what he calls a 'Short warm-up'. This turns out to be 8 x 100's alternating freestyle and choice (not freestyle) then 8 x 50s – drill 25m swim 25m doing all four strokes. I take a rest on the backstroke as I need it and I'm not quite reconciled with the sun glare and the lane ropes. I explain to Ally that the others need the backstroke work (joke) but he tells me that my backstroke is fine. The rest of the session is dives and turns. This is where it's useful to have OTS volunteer coaches around to give extra feedback. We finish early so we can do a  group photo before people begin to fly home.
Our last day, Saturday is also a two-session affair, but the morning is overcast and cold. This is the fun session with swim caps as prizes and after the warm-up there are competitions for various skills: The longest push-off glide; longest breaststroke push-off to breakout; greatest distance underwater dolphin kick with fins; backwards front crawl – hilarious and impossible. Then it's relay time. Ally attempts to form three teams of six, but some people are not competing (too cold, too tired, too hung-over).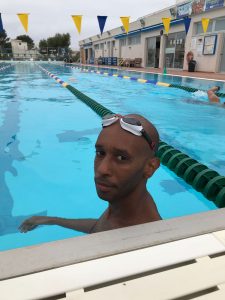 Rory comes to the rescue and rearranges everything. Simon and Paul are persuaded to join my team. The first relay race is freestyle, which we don't win. There's now a discussion about the Medley. Both Paul and I are back-strokers but none of the others can or want to do 50m Fly. In the end Paul does the fly and I the backstroke, leaving the others to do 2 x Breast and 2 x freestyle. We win that one, in spite of hangovers. The last relay is with a pull-boy, passed to the next swimmer and both Ed and I are fairly slow at this. The result is that each team wins one relay each.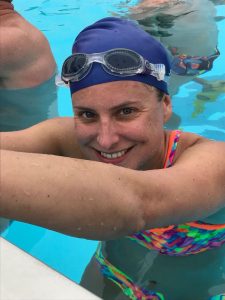 I seriously consider not doing the usual cover-up with sunblock for our last evening session as the sky is completely overcast and it's cold. Someone warns that I could still get burnt and so relent. It's Pamela again with lots of great drills, kicking on the side with fins and arms in the air are all good. Pam really does pay attention to details and is still giving individual advice. It's not too exhausting and we only swim for an hour – a request from the Eurovision fans amongst us who 'have to get ready'. Actually, my body has had enough – time for a snooze before our last night in town.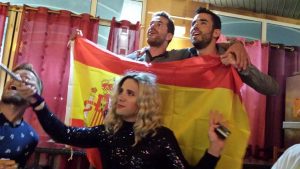 Our social secretaries have sorted out a pub/restaurant not far away who can get BBC television. They've negotiated a meal (pizza) and drinks deal with the Indians who run the place. Having declared publicly that the only pizzas worth eating are in Italy or Islington, I think these ones are quite good. The more senior of the group gather early on one table as we're desperate for beer. The youngsters arrive in dribs and drabs.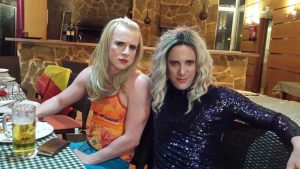 Paul and Stephen C have gone to great lengths with their drag outfits and look amazing. I'm not really a fan of drag, but they both manage to look glamorous so full marks. I've only ever watched Eurovision once – I had nothing else to do. It is a gay thing – so our table, critical of the standard of composition, lyrics, production etc mumble quietly to each other. There are a few surprisingly good efforts, but my interest wanes and having shared a bottle of rough red wine with Phil and Nick find a moment to drift off and pack for an early drive to the airport the next morning. I catch up on the rest of the evening via the WhatsApp group playing pool and mingling with the locals.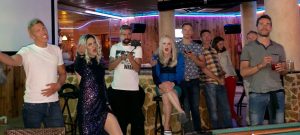 It's been a great week and I've managed every session – something I didn't expect to achieve. Some of the guys are talking about a holiday, but I don't think so, it's been hard work. Besides, when you are retired, life doesn't demarcate between work and holidays in the way it used to. Activities line up on the continuum of experience to make the most of and enjoy whatever comes along.