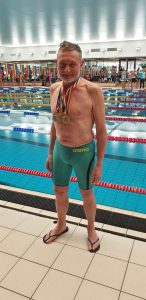 Aspects of swimming have dominated my Summer this year keeping me busy with teaching, coaching, training and racing.
Some years ago, I decided to qualify as a swimming teacher. The idea was born out of frustration at the huge waiting list for lessons at my club, Out to Swim. The practical sessions involved teaching children which I dreaded initially but found it doable. Since my unhappy experience teaching teenagers General Science back in the 70's, I've found teaching adults much more rewarding and was eager to return to Out to Swim, beginning as an assistant teacher and then after passing level two, as fully qualified. I love it and now have ex pupils swimming in the same lane as me and even competing at race meets. One of my swimmers is now a competition lane judge and timekeeper. My sense of achievement by the Out to Swim teachers is huge as I witness the changes in individuals as they move up the lanes, developing their physiques and gaining confidence as they improve.
Earlier in the year I was appointed Club Captain (men's) and with the Women's Captain Isabelle, have been encouraging participation and working out relay teams that give everyone an opportunity to win a medal and have fun. Isabelle and I have  enjoyed moving names around an excel spread sheet trying out combinations with regard to age, gender and speed. Often age and a slightly slower speed can push a team into the next age category and bring home the bling. The admin side to the job involves doing risk assessments and applying for licences from Swim England to travel abroad.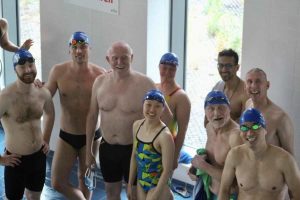 The second half of May can now be counted as Summer and so The Middlesex Counties Championships were held at the Barnet Copthall Swimming pool in North London, my first as Club Captain.  Were the swimmers OK on the day?  Were the newbies doing the correct warm-up and indeed, reporting for their races on time?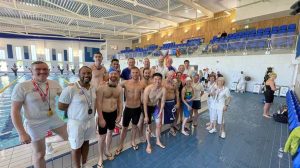 The Club managed to field sixteen diverse swimmers of all ages and abilities and Out to Swim provided six officials, lane judges and time keepers to watch our swimming for infringements. Fortunately, none of our team were disqualified and everyone came away with medals thanks to my careful relay team line-up. I was the only one that messed up, missing my 50m freestyle (not my favourite race and I rarely do it). I thought I had time to go to the toilet. It was no great loss as I had to swim 50m Freestyle next in a relay.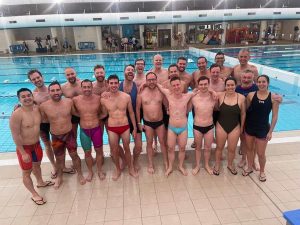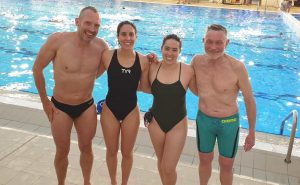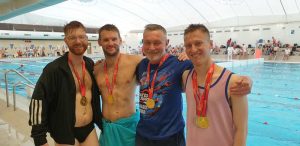 Two weeks later, the first weekend of June, I was in Paris for the Tournai International de Paris (TIP). This time we had twenty-five swimmers and a club coach to look after us.  Once again Isabelle and I played around with ages, times and strokes to get the best medal opportunities. Some swimmers dropped out and others had to be coaxed into taking their places. Last minute changes had to be made on pool-side, but we made it. We managed to get everyone to swim at least two out of the three relays. Out to Swim dominated the competition with 95 medals.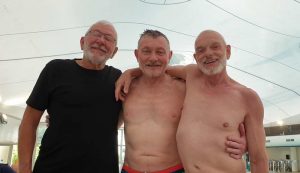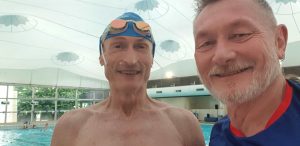 What made the weekend special was meeting up with European swimming friends who I would normally see once or twice a year at such a meet. COVID had put a stop to that and so TIP was one of the first European meets. I was also pleased to have some competition in my age-group as the older I get the easier it is to win medals. Silver medals have a special significance that guarantees that I'm not the only swimmer in my age-group.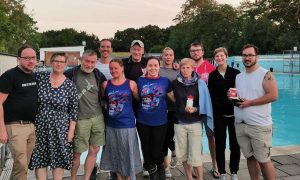 Mid June saw me at the Tooting Bec Lido in South London with Out to Swim open water people doing a relay. The pool is 100 yards long and each swimmer in a team of four had to swim one length four times. It sounds simple, except it wasn't. When we arrived to warm up the lane ropes were strung across the width of the pool – about 25 metres. There were no lane ropes for the relay and no markings of the bottom of the pool so I was unsure exactly where I was going. As the race went on and faster swimmers began coming back, it all became a bit of an assault course. At one stage I tucked in behind a woman, but she was much faster than me and I had to resort to the occasional strokes with my head out of the water to get my bearings and get me back on course. My team mates commented that by zagging up the pool I swam further than necessary. Glad to have done it but possibly not to be repeated.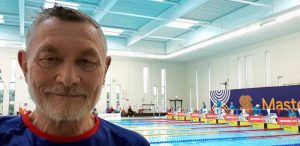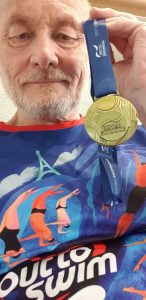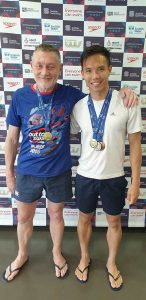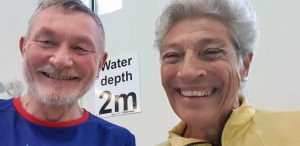 The Long Course Nationals were in Aberdeen this year with only one other swimmer from Out to Swim. No relays to worry about, just getting myself to the pool and back each day. I'd not been back to Aberdeen since some time last century when I toured in a musical version of The Water Babies. The Silver City gleamed just as brightly as I remembered, the granite buildings unaltered by time after all those decades. The busses to the pool worked with a tap of my debit card and I automatically fell into my race routine – Warm-up, change out of my warm up costume and into my racing jammers, which have carbon fibre in the fabric. Not so many familiar faces as attendance was down, particularly in my age-group. The amazing Jane Asher was there, smashing world records at Ninety-one, diving off the blocks and tumble turning. She spent her time on poolside closely watching the other swimmers and giving support to her team. I manage to have a chat, tell her about my older swimmer's group and get a selfie. My Facebook posts about Out to Swim Older Swimmers on 'Unofficially British Swimming' had been noticed and I got encouragement from several other older swimmers around the pool. For the first time ever at a British National meet I got gold medals, a silver and a bronze.
As I get older, I realise the importance of exercise and keeping fit but the body changes and adjustments have to be made. One example is that I don't like to train on consecutive days. I feel my body needs some time to recover. It takes me longer to warm up – around eight-hundred metres as opposed to four-hundred. I no longer want to start my warm-up at the  same rate as the youngsters in my lane, some of whom don't have the stamina to keep going for so long. I asked our head coach isfthere was any mileage in encouraging a group of older swimmers and the answer was an emphatic yes. I started putting the word out and quite quickly gathered quite a group. We met several times on-line to talk about swimming and getting older. The Head Coach suggested a monthly coached session for older swimmers and we have now had our first one which was followed by pints and pies at a nearby pub in a upstairs room where we could chat. We had a lot to talk about and this has now become a regular fixture. Of course, it all takes some administration (including the ordering of pies) but it was great to see some swimmers turn up who had not felt able to swim with the club for some years.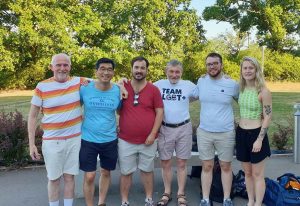 In mid July I returned to Barnet Copthall in North London for a distance meet with the aim of doing some events I don't race very often (400m and 200m Freestyle) and something new – a 200m Individual Medley, which I only do in a fifty metre pool. I've had a thing about not doing two lengths of Butterfly and of course 200 IM in a fifty metre pool is hard work but I'm quite capable of doing two lengths in a twenty-five metre pool. It all worked and I came away with three silver medals. Actually that's not quite correct as I've got boxes of medals all stacked away and Barnet Copthall has a new system where you can exchange the medal for a token which you then donate to a charity.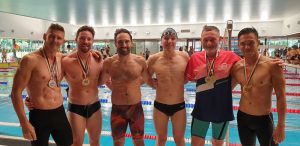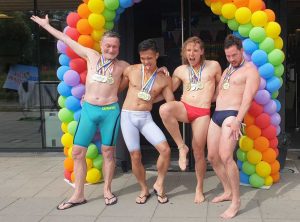 The last meet of the Summer was the Eurogames in Nijmegen in The Netherlands. A small group of six went and we had a blast. One swimmer hadn't competed before and entered ridiculously slow times while another hadn't competed for some time. There were the usual dramas around relays with last minute substitutions, but two out of our three entries got medals. We enjoyed diners in the city and joined up with the Water Polo team who are always good for a party. My European friends were there again a second chance for catch up and hugs.
For a change, I travelled by train. Eurostar to Amsterdam and then another train to Nijmegen. I took most of the day to get there but it was relatively stress free compared with flying. Nijmegen is a small provincial city in the East of The Netherlands with a long history going back to Roman times where this area was in constant flux with immigrants flowing back and forth. To the North were the so-called barbarians and so it was a precarious but interesting place to live. There are some grand historic buildings which have survived bombing in the second world war. The river proved to be an effective barrier, once all the bridges had been demolished, but the historic riverside was completely destroyed by shelling. I found the local museum well curated and very interesting – full of Roman artifacts and interactive activities for children. Well worth a visit.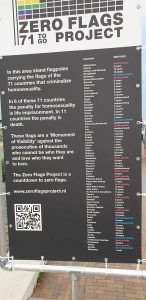 Back in London it was a return to Swim, Teach, Coach repeat. The Teaching and Coaching rota has been hectic and I've found myself leaping in to help out and cover. It has all calmed down and just as well as the heatwave here has not been conducive do doing anything much. I'm re-grouping and preparing for my next adventure  – three weeks in Peru in September.