Swim CampHigh on Endorphins
It is with some trepidation that I sign up for a weekend swim camp at Cobham Hall, Kent. Organised by my Out to Swim mates Lucille and Lizzie, it promises four swim sessions in over forty-eight hours. I like to swim three times a week leaving at least a day for my body to recover, repair and prepare for the next onslaught.  At sixty-two I'm in the 'yes' to experience phase of life with a hefty NO on hand only if absolutely necessary. 
            I resort to Google Maps to look at the area and plan my travel arrangements.  Sole Street seems to be the closest station and I plan to take my bike and cycle in a leisurely fashion up to the hall a few miles away.  Taking a bike requires leaving London before 4pm, so with all the times and changes on a piece of paper, I set off.  What could go wrong?  I alter my plan and get on an earlier train at Peckham Rye which isn't going to Bromley South so I spend several hours changing trains and heaving the pannier laden bike over bridges to different platforms – still arriving before most of the others.
Cobham Hall is stunning.  Originating in the Elizabethan era, with a Georgian front stuck on, it was the seat of the Darnleys and is now an independent girls' school started in the 60s.  The leaves are not quite out on the trees as I cycle down the driveway past vast swathes of daffodils.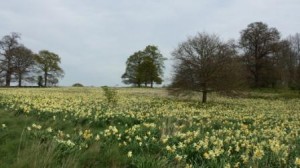 We are not accommodated in the main building but in Brooke House around the back.  This is a 70s building opened by the then minister for Education and Science, Margaret Thatcher, but it is right next to the 25m swimming pool.
We're divided into 'Swim Camp' and 'Lessons' groups, the latter comprised of 'Ducklings' (don't ask) and 'Development'.  Our first session is 7.30 – 9.00pm with our coach for the weekend, Martin.  The pool is in a sort of glass shed and has an ingenious plastic lining which solves the problem of leaky tiles.  There's a yellow hosepipe across each end as a marker for turning, but I can't see well enough to tumble and when I do, in the cloudy water, end up in the next lane or crash into Emily who is leading.  Eventually I get the hang of it and I become less of a hazard. The schedule has been dictated by head coach Michelle and this session includes a hefty kick set. I'm a bit surprised at the end as it hasn't felt harder than our normal ninety minutes sessions at the Marshal Street pool, but my legs are cramping all over.  I have to sit on the end of the pool for a minute until they stop convulsing so I can stand up and stagger back to Brooke House.  We've all brought post swim food and I assemble a tuna salad.  Gillian has brought fantastic scones and Michel, a delicious home made mackerel pâté.  We've all been instructed by our leader, Lizzie, to bring cake, but the 'Ducklings' have covered up the cake so we won't eat it until they finish their session at 10pm.  There's beer and some of us have brought wine so we all have a jolly time, but no midnight feasting as we're all too tired and go to bed.  I take a couple of Ibuprofen to help with the pain, but the bed is too narrow for a great sleep.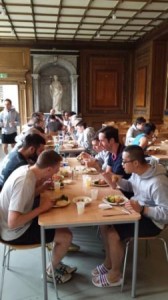 Saturday morning and it's an hour long session before breakfast.  I stock up with a banana and two cups of tea and am surprised to find the swim completely manageable, no cramps or pain in evidence. We later find out that the plan has been modified.  I may get though this weekend after all. A quick nap follows (I'm old enough to nap when I feel like it) followed by a walk.  Everyone else is doing a circuit training session in the gym lead by Lizzie, but I'm conserving energy for the two hour session in the afternoon.  I'd seen what looked like a grand tree-lined approach on Google Maps and went of to explore, enjoy the daffodils and check out how far to the village pub.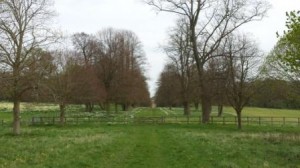 The grand approach hasn't really happened as the trees are far too young and there's not really a drive way.  By the time I get back, most people are relaxing and I join some of the women who are watching Alex and Emily playing tennis.
How can they have the energy to do that?  Meals are in the old house and lunch is tasty pasta and baked potatoes.  We're all carbed up for the afternoon session, but first I have to walk it all off through the gardens and woods of the estate.  The 'Ducklings' are first and we swim at 4 – 6pm.  I've never done a two hour swim before, but Martin has it all planned and we are surprised how quickly it goes.  Dinner is at 6.30 so it seems that we swim, eat, swim and eat.  I have no inclination to walk or even cycle to the pub in the evening and in fact my head is in such a strange place and my body isn't hurting so I deduce that I'm high on endorphin. Endorphins are related to Morphine and are produced by the body as a result of strenuous exercise.  They work to counteract pain and also in older people, stimulate mental activity.  That's why I'm buzzing, I won't need Ibuprofen tonight.  The remains of the cake, beer and wine are consumed and I leave the hard core to play a game called 'I've never done …'
Sunday morning before brunch is only an hour and I feel my shoulders about to give way on a pull set. I've had this body quite a long time and know what it can do, so time to just drop out of a couple of lengths.  It's been a great weekend and we've avoided lane rage in lane 3. Awards are given out at brunch – not quite sure what they are for, but Michael & I get a joint award, we think for being old and getting through it.  Time to dash though as I've got a train to catch.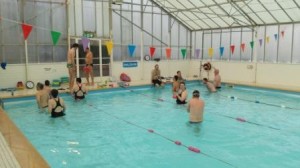 It's now Tuesday and the endorphins are wearing off – need to get back to the pool.