Day Five Tuesday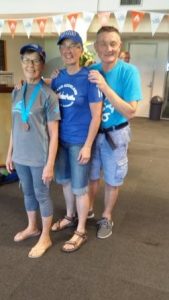 It's a day for hard races. Elizabeth and I are doing the 200m backstroke. Cynthia and other TAMS swimmers make it in time to see Elizabeth come in on time to win a bronze medal. We are all ecstatic. I have to rush off to warm up for my race, which goes very well – all turns are perfect today and I'm placed 6th. Debs also has a hard day with 200Fly (2nd) and 400IM (3rd). The TAMS women are doing well.
We've struck up a friendship with a bunch of Canadians sitting next to us.  They are from Vancouver Island and are all in the older age groups – like us.  The Wellington team have taken to sitting behind us, so when we are not racing, there's plenty to cheer for.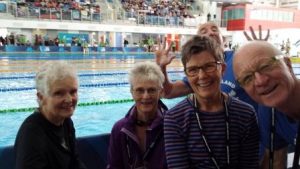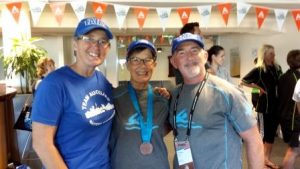 Day Six Wednesday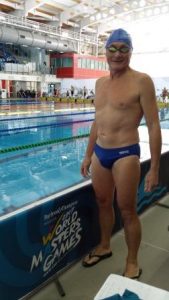 It's an early start as it's the 100m freestyle, which just about everyone in the world has entered. I get to warm up in the competition pool and wait for Elizabeth in heat 20. She's bought one of those Arena compression swim suits and recons she swims faster – well .03 secs actually, but once again a lovely race and placed 13th. I have to go across to the warm-up pool just to re-warm-up and then to marshaling. I'm in lane 4 and on seed time am supposed to be the fastest in the heat. Sitting next to me in the marshaling rows is a 44 year-old Australian with Downs Syndrome. He says he's a para swimmer and I tell him I know that. He's small and wiry looking and I recon he's fast and I can tell he's competitive. We chat about the Australian Para team that has come over. Out in the pool I get a chance to look at the guy in lane 5 – a short stocky Canadian a bit younger than me – could be a threat.  I start off doing bilateral breathing so I can keep an eye on both guys. The Australian is keeping up but the Canadian is pulling slightly ahead. I work harder on the way back down the pool and concentrate on catching the Canadian but he's getting faster as well and out of reach.  It's made me come in under time and the Para Australian is only a length behind me. I sneak into the training pool to warm down – normally reserved for Para swimmers and the 70+. The Australian is warming down next to me watched by a woman who I mistake for his coach – she's his mother. Apparently he's just swum a personal best. 'You must be very proud,' I say. She says, 'Yes he's a great swimmer.'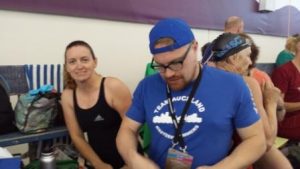 It's back to the pool for Ross and Ron to swim their 100m races. Ross takes off 4 seconds and Ron, .04. There's more slashing of times in the 50m Breaststroke: Ron – 2, David – .50 and Ed – 2 seconds. Unfortunately Ed gets disqualified again – for not having his feet on the same horizontal plane. We are sitting watching the first heat of the Women's 100m butterfly – not something that I could ever contemplate. There are three in the pool the 95 yea-old American and others in their 80's from Japan and Canada. Wow, it's amazing that these women can swim this race. The women in their 80's complete their race while the American reaches the end of the first length. She stops, holding on to the rung of the starting block. There's concern, but a lane judge is watching her without panic. She's having a rest, for about two minutes, before setting off back down the pool.  The cheering is tremendous and she gets out of the pool unaided and raises her arms in triumph to the spectator gallery. Ross is in action now in his 100m butterfly heat, slashing a massive 22 seconds off his time to come 7th.  We are also treated to some breathtaking swimming from the younger guys and ex Olympians in this event. They make it look so easy, and I know that it's not.
Our final event for the day is the Men's 4 x 50 metres medley relay and I'm starting us off with backstroke. It's a mad dash up the pool and I've no idea how we are doing. By the time I get out of the pool, Ed has done his breaststroke length – he was nervous about getting disqualified again. Ross is steaming up the pool with butterfly making up time and Ron does likewise with freestyle bringing us under our seed time by two seconds to 9th place in the 240 age group.
Day 7 Thursday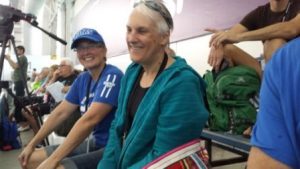 It's the last day in the pool and the car park is full to overflowing. I find a place right at the bottom on stony ground between a curb and the perimeter fence. David is all ready for his 200 breaststroke when I arrive. Although he doesn't quite equal his seed time, he has the longest underwater starts and push-offs in the heat – fantastic. Now it's the 50 metres freestyle, a long session of 'Splash & Dash' as they call it. Once again, the world and his wife (but not I) have entered. Jenny comes 5th with 35.85s, Ron cuts a second off for 9th place and Ross on a mission, mindful that he's swimming 100 times this on Sunday in the 5K ocean swim, does 27.55s to come 9th. The competition in this event is fierce and spectacular with 32 heats of women and 40 heats of men.  The confusion and noise only increases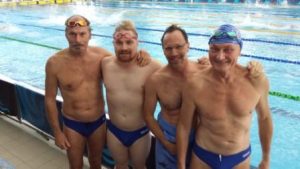 for the 4 x 50m freestyle relays.  Our men's team in the 200 years group is somewhat disadvantaged by being only 6 years short of the 240 year group. Nevertheless, we are not last. I start out with 36:28 followed by Ron at 35:89. David increases the pace with 33:03 with Ross to finish with 27:77 –  we are 11th.
We are not going to squad tonight; instead the team meet for a celebratory dinner and join up with the rest of Team Auckland Masters Swimmers for a drink at the World Masters Games Hub on Queens Wharf. It's been a blast and I've planted the seed of an idea to go to Japan in four years time for the next World Masters.