Day 3 Sunday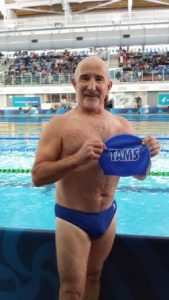 Ed and I drive out to the pool early to support Kevin in his 400m Freestyle race. We have the banner to display and make our presence felt. It also acts as a signpost for team members to find us.  The Indian guy who took so long in the 800m on Friday is swimming so I warn Kevin that he has a while to wait. The Indian swaps from breaststroke to backstroke half way though and takes twenty-two minutes to complete. Kevin swims a great strategic race – he's in lane 4 in the middle of the pool and comes second in his heat shaving 20 seconds off his time. The 400 is a punishing race, difficult to judge. We'd been lucky to catch Rebecca Perrott steam elegantly to victory earlier and now we cheer on Martin from Different Strokes Wellington. There's also a para swimmer with one leg in the same heat. He turns out to be from the LGBT Sydney team – Wet Ones. I have time to warm-up before Elizabeth's 100m Backstroke. Although she's a little slower than she wanted she looks great in the water. As I'm waiting in the marshaling tent, there's an Australian para swimmer with cerebral palsy lining up for his heat. These guys all get a tremendous reception from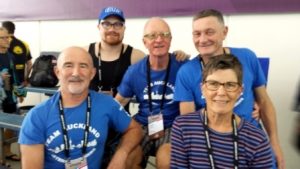 swimmers and spectators. I always find 100 backstroke a hard race to judge – not going out too fast on the first length – it's so easy to get carried away with the start, then not having anything left for the finish. I request a starting bar (a relatively new experience for me) which is lowered to just under the water-line. It is beveled into the wall and has a rough anti-slip surface. The feet are planted on it to start, getting them high and in the right position. I'm also trying out the new straight-arm starting position which I picked up at the Waitakere Club's Backstroke and Breaststroke clinic recently. The theory is that you start high up and there's not so far to travel before entering the pool for that underwater dolphin kick. All goes well and I make my time and am now officially 6th in the world – Haha. Just as well Mike Bodger from Whakatane isn't here or I'd be 7th. Kevin is doing the same race in the same lane in the following heat. I turn around and promise to warm up the lane for him. He shaves 5 seconds off his time and is now 4th in the world. He's really having a great meet.  The guy with cerebral palsy is now racing in his age-group but has his own category. It's a huge effort for him to swim two lengths of the pool and he gets a massive round of applause at the end.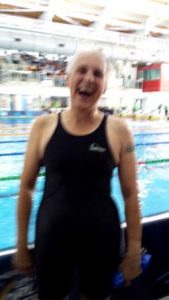 Our big chance for a medal is Jenny in the 50m Butterfly. A Russian woman has put in the same time and two others are in close contention. We are all in a state of great excitement and anticipation as Jenny needs to swim 2 seconds faster than she did yesterday in the medley relay. We are all shouting and waving the banner. Coach Cynthia has come in to watch from the gallery with other TAMS members. Jen gets a good start, spending the longest time underwater to come up level with the field. The Russian fades away to her left but there's a fight to her right for first and second. Jenny hangs in there for third place. When she gets out of the pool, she has no idea and is blown away when she realises that she's got a bronze.
It's also great that we've been able to smuggle her partner Mike poolside to see it all and get a wet hug. Earlier we've seen a 95 year-old American sharing a heat with a couple of women in their 80's doing 50 fly. It's amazing.  Ed, Ron and Ross are also doing 50 Fly and come in under time. Ron shaves a massive two seconds off his time to come fourth in the world. It's now a rush to get showered and changed as I want to catch Jenny's medal ceremony. I just miss it, but get the photographic evidence.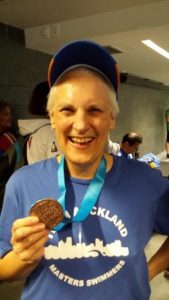 Day 4 Monday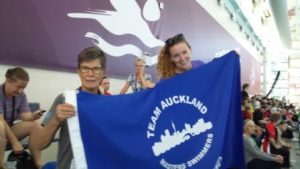 I'm not swimming today, so the old body can have a rest. I'm here to support and check that the team is all in the right place at the right time, especially for the relays.  Elizabeth is all ready for the 200m freestyle when I arrive. She's such an elegant swimmer and looks so relaxed in the water. She's also an ocean swimmer and regularly does 2.4K in a wetsuit, so I suggest that she might like to try an 800m or 1500m some time in the pool. Kevin is also doing the 200m and once again judges his race well. Ron's had an encounter with a dodgy smoothy and has to drop out of the 200. It's been another great day for the para swimmers and ex Olympians.  We get to see Moss Burmester, Trent Bray and Anthony Moss in action – fantastic times for guys in middle age.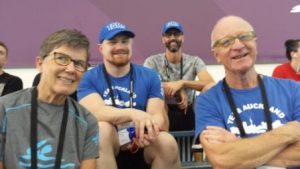 Our relay today is the mixed freestyle 4 X 50 for the 240 age group. Our team actually adds up to 265 – over by 25 years. Kevin, Jenny, Elizabeth and Ron cut a fantastic six seconds off our entered time to come 11th.