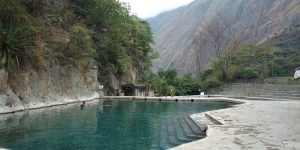 It's been a long time waiting for this. After my Bother and his kids walked the Inca trail over twenty years ago and my friends Max and Barbara took the train up a few years ago, I've longed to see this place of fabled beauty and mystery. My plans were put on hold in 2020 and now that it is almost in reach, the days stretch out seeming to delay gratification. The incident with the bike might have scuppered the whole thing, but no, here we are at Santa Theresa, catching a train to Aguas Calientes and one more sleep before the magic of Machu Picchu. We have time to stop at a hot springs resort and soak in the warm-ish water. I find the source entering the top pool – it helps to sooth bruised muscles and aching joints from yesterday.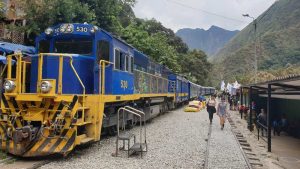 We've been doing the whole approach differently from the usual itinerary. Tourists fly into Cusco at 3,399m, suffer from altitude sickness and then get the train to Machu Picchu at a mere 2,430m. We've been up to 4,000 and have been gradually acclimatising so that as Richard our leader says – 'In Cusco we will be cooking with gas.' Privately, I think that with the current price of gas, this may not be such a good analogy.
Nevertheless, here we are, by a railway track, in the jungle, having lunch on a veranda waiting for our departure time. Backpackers have arrived in droves and save the train fare by walking up the 7Km track to Aguas Calientes on the Urubamba River. The town is built on the steep sides of a valley and the train stops right in the middle of what looks like the main street.
We have the rest of the day to explore and shop. I catch up with writing then decide on a walk. By this time, it is beginning to rain and the streets are steep. There are offers of a massage every few metres and the place packed with the usual tourist souvenirs.
The next morning Angela leads us to where the busses transport up to four-thousand tourists a day to the site of Machu Picchu. We have to show our tickets to the site before getting on the bus as none are on sale at the entrance. Unusually, there is no queue and we pile onto the first bus. Once again, we pass the backpackers who are saving money by walking. The road is narrow and steep and the walkers have to stop and step off the road as we pass. It's a slick operation and we are quickly walking the last few metres of the 'Inca Trail'. Those who have done the four- or one-day hike, join us a few metres though the gate and we approach with anticipation. I am hoping the threatened rain will hold off – a little sunshine would be nice.