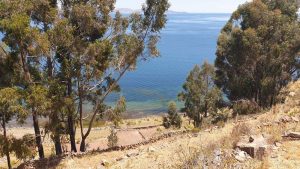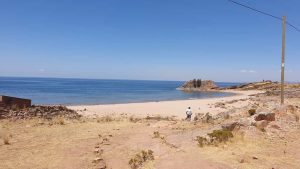 Back in the boat we motor on out into the clear water of the lake towards Taquile Island. Our guide tells us that officially the people are Catholics, but revert to Inca Customs when they need to. Taquile is one of the larger inhabited islands on Lake Titicaca and our guide's family still lives there.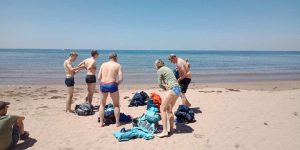 I had an idea to swim in Lake Titicaca inspired by my friend Vicky Carter, who has swum here. I hadn't promised as I didn't know if it would fit in with the tour schedule -Taquile seemed the best place as the water is clear, unlike the slimy green water around Puno. Several others in our party are open water swimmers in Aotearoa (NZ) and are keen to join in, so a plan is made. Our guide suggests two possibilities: on the beach just after landing or after lunch at the end, jumping off the stone jetty. None of us want to jump so the beach it is.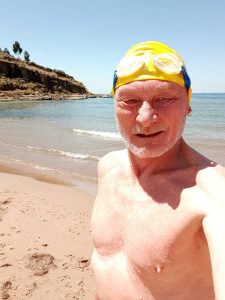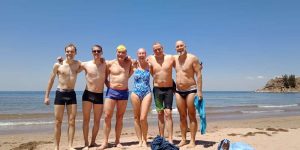 We are joined by two young Netherlanders, also on our tour boat. We have all come equipped with swimming costumes and in some case, goggles, but the Netherlanders swim in their underwear. It's a brisk ten degrees and quite delicious. Swimming at this altitude is a challenge and we are all breathless. I manage some front crawl but switch to backstroke as breathing is easier. I only manage four strokes of butterfly before again switching to my back for some double arm backstroke – my favourite. I don't think we last more than a minute and spend the rest of the time floating around. The Netherlanders sit huddled together with just their shoulders out of the water, looking cold. It's incredible to be swimming near the top of the Andes Mountains of Peru.
Invigorated, we dry of in the hot sun, apply sun-block and adjust our sun hats. The Netherlanders choose to keep their wet underwear on for modesty – it takes the rest of the afternoon for them to dry out.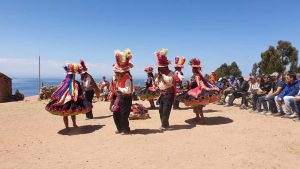 The Islanders have built a wide pathway up the hill and we gather to watch a traditional dance. It has various recognisable steps – the Hokey Cokey; a Middle Eastern Line dance, which includes Jewish dance steps. It's interesting to note that various civilisations world-wide find similar solutions independently.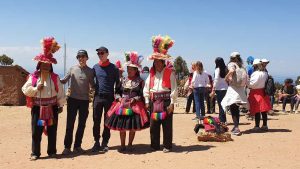 We are invited to join in but I'm not planning to dance. After the swim and walking up hill, I'm short of breath but one of the young Netherlanders asks me to dance, takes my hand and draws me into the circle. How can I refuse? Fortunately, the dance is not too taxing. The next stage is a retail opportunity with yet more textiles, scarves and hats for sale. We climb up another straight path which reminds me of a ramp up the side of a pyramid. It is hot, and the only way is to go at a slow and steady pace, taking regular deep breaths. Finally, we reach the top to find a small pyramid which our Guide's Uncle has built as a look-out/ photo opportunity.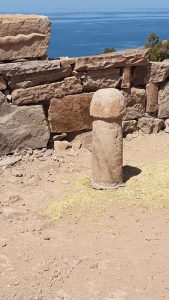 A few more steps take us to the uncle's shaded patio for lunch. All around the Island, various boatloads of tourists are sitting down to eat at different homes. We start with Quinoa soup in terracotta bowls – delicious – seconds are called for. The main course is grilled trout (a Canadian species introduced into the lake) with rice, chips and vegetables – simple tasty and filling. I'm not sure about the double serving of carbohydrates though. To wash it down we have the option of buying beer or fizzy drinks like Cola. Mint tea is included, you just put a few twigs from a shrub, which looks nothing like the mint that we know, into a cup of boiling water. Coca leaves are the other option – they are said to be good for altitude sickness, but they also act as a diuretic.
Our guide tells the story of his island community. Before 1970, babies were born on the island, then hospitals became free but the journey into Puno was too long so the islanders built a house in Puno where pregnant mothers could go one week before and stay on, if needed. To finance this they turned their Island into a tourist destination by building the pathway and steps across the island as there were no roads, only narrow tracks and steps.
He also relates the procedure for marriage. The prospective husband has to knit a hat and weave cloth to a suitable standard before asking for the hand of his sweetheart in marriage.
We take perilous steps back down to our boat now tied up at a jetty on the Puno side of the island. We had landed and swum on the Bolivian side but we can barely make out that far shore. In addition to our ten Outside the Square travellers the boatful includes a Mexican Couple, some Danish youngsters, two Bolivians and the afore-mentioned French couple and Netherlanders. There is also one young man with an American accent, on his own. As Ann and I carefully negotiate the perilous steps down to the boat, the young man is standing by the path reading his book. He catches us up, overtakes and can be found further down the hill reading again.
Most of us sleep on the way back to Puno as the boat skirts around the floating islands and dropping people off at various points on the way, leaving only our group and the Netherlanders to disembark at Puno. They are also heading to Machu Pichu but we will not coincide. Coming back to Puno you can see clearly why it is called the Ugly City on a beautiful lake. Most of the buildings appear to be unfinished – few of the houses have been rendered or painted. Reinforcing rods of iron stick out of pillars awaiting the addition of another story. People only pay their house tax when work is completed or after ten years. Even then it is possible to claim that further work is planned, when they can afford it. We have seen this in outer suburbs wherever we go.
Only a few of us have the energy to go out for dinner at one of the best restaurants in Puno. I try the Guinea Pig Compote. I may have had Guinea Pig before, but can't recall where – Argentina? Cambodia?