Waiheke Blokes – part of the Auckland Festival of Photography (Fringe)
I'm always up for an exhibition of black and white photography.  Back in the days of film I spent many happy hours in the dark room developing and printing, so I'm off to the Red Shed in Palm Beach for the opening of Waiheke Blokes – Environmental Portraits of local men, many of them local characters and each may be considered a work of art in their own right.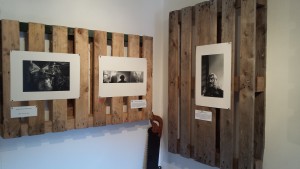 It's dark when I arrive at five minutes past six on a Friday night, to find there's a premium on parking. It seems that Waihekeans don't do 'fashionably late' and the shed is packed.  The eagle eye of organiser Linda Young spots my  solo entrance; welcomes me and points to the 'man in the green jacket' who is dispensing drinks.  So, clutching my plastic cup of Tui beer, I enter the 'Man Cave' where the work of 16 photographers, (two of them are senior art students from the High School) are displayed on recycled wooden pallets.   Is there  a  typical Wahiheke look?  I've been looking at people to try and work this one out without success.  This exhibition has a good selection of the craggy faced and skinny with long hair and flowing white beard type of bloke. You can see younger versions, bare-footed and wearing shorts in the supermarket car-park in the summer getting ready to move into this slot.  There are, however plenty of other character types like the bee-keeper, the classical conductor and my favourite, the coffee roaster.
Here is a list of subjects and their photographers:
Rhys Hughes by Gordon Cuthbert : Craig yw fy awyd ers cyn fy magu. Mae'r creigiau a'r yr ynys yn adlewyrchu y pobl, lliwgar, wythienau wahanol a elfenau manwl. Craig imi yw yr ysbryd, y Blwch, raid gwrando gyda dy fysedd. Craig yw'r ceidwad y cof, dwi'n teimlo fel llyfrgellydd!
Stone has been my passion since before childhood. Waiheke stone reflects the people here – colourful, full of elaborate seams and various elements. Stone for me is being the space, being present without thinking, listening to stone with your fingers. Stone is the record keeper, somedays I feel like a librarian!
Graham Hooper by Phillipa Karn: Eco Friendly Music Loving Photographer
Alex Stone by Richard van Kuyk: "The pen is mightier than the sword"
Malcolm Philcox by Heather Arthur: "Waiheke has made me the bloke I am!"
Robert Harris by Polly Nash: "Working together for the common good"
Stephen Burn by Shelley Wood: Coffee ……. it's a love affair!
Ernie Ford by Jakob Legge: Enclosure Bay local Ernie Ford is well at home in the water as his youth was filled with snorkeling and swimming in the Enclosure Bay rock pools. These pictures are taken at Divers Rock which is one of Waiheke's classic hangout spots for teenagers.
Bob Edward Hiko by Kai Otte: An island resident for over forty years, Bob is always ready to help anyone in the community in need.  He worked as a fisherman before he retired. Bob was 73 when I photographed him at the Rocky Bay Store, a place he visited frequently before it burned down.
Trevor Darvill by Carol Pearce: My Man Caves, two sheds on Waiheke Island!  It was my romantic idea of living like Robinson Crusoe. Responsible for self-sufficiency.  Planting trees, using wood to cook and heat the house. Providing my own water supply, food production, waste disposal, solar panels providing household electricity and charging my electric car.
Paul Stanley-Hunt by Graham Rook: "The Sunshine Man" enjoys the eclectic mix and eccentricity of the island people and their lifestyles.  Endeavours to promote colour and wellbeing in people through his music and bring enjoyment and happiness to visitors and children.
Danny Shortland by Jan Robertson: One of the highest ranked honours you can have is to feed people. As you get older you may forget the names and the faces but you never forget the food.
Floris Roggeveen by Anne Robinson: Floris has worked as a chemist, and a potter, and he loves to engage with the elements, physically, mentally and spiritually. He enjoys the uniqueness, solitude and diversity of Waiheke Island.  His light-hearted, joyous attitude was easily captured in this portrait.
Richard Melville by Rosemary Adler: Bringing his wealth of knowledge and years of experience, Richard takes a moment to pause and reflect before rehearsing  Beethoven's Mass in C major with the Waiheke Choral Society.
Bernard Rhodes by Leah Beaumont: Busily working I'm reminded of what Ratty said to Mole in "The Wind in the Willows": "Believe me, my young friend, there is NOTHING – absolutely nothing – half so much worth doing as simply messing about in boats" (Kenneth Grahame, 1908), and take time to enjoy the beauty of it all.
Paul Rhind by Linda Young: As individuals we work against the tide of our times, attempting to keep the balance between the hand of man and machines. Striving to maintain mans uniqueness, the individual mark we bring to our surrounds and pass on with our works has, in a small way, a dignity and distinction.
Glenn Fowler by Bob Scott: Visited Waiheke in the early 70's, starting a love affair with the island, which continues today. Finally moved here in 2006. My dream job, a tour driver, showing our beautiful island to visitors. Each day someone will say "Do you live here? You're so lucky!" And yes we are!
This is a new group of people for me, so at first I can't see anyone I know.  Playwright, Colin catches my eye across the room and we talk about writing.  He also paints and has sold a piece to a Russian, he tells me but sadly not one of those rich oligarchs. Then I spot Annette, who sells me her fabulous Te Whau olive oil at the Rocky Bay Hall on a Thursday.  She is planting lots of native trees on their place, so there's a possibility of finding homes for some of my seedlings which have germinated in abundance.
By now the crowd has dispersed and there's room to take a closer look at the exhibition and chat to photographer Richard, who has captured artist and Gulf News contributor Alex Stone.
It's on until June 21st Sat & Sun 10am – 4pm.  Well worth a visit and the prints are on sale.