It's an early start, as usual, to catch the 8am warm up in the competition pool. It's cold in Melbourne at the moment and the water is actually warmer than the air. I do the main body of my warm up, leaving the sprints to later. There's around two hours of 800m heats before the 200m relays. We've got a mixed team adding up to 240 + years and there are two other team in the age group, so there's a bit of competition. Jenny, Ron and I are about the same speed. Diana, the youngest, has never done a pool competition before and is nervous. She's swimming second after Jenny and does a perfect dive to maintain the lead that Jenny has made. Ron also increases our lead and I'm aware that the guy I'm swimming against looks quite a bit younger than me. I need to hold him at bay and breath only every four strokes for most of the length, but maintain the pace. I look around at the finish and he's hit the pad, but he's not caught me, by a whisker. Diana confesses she was jumping up and down shouting. So, it's a Gold on our first swim.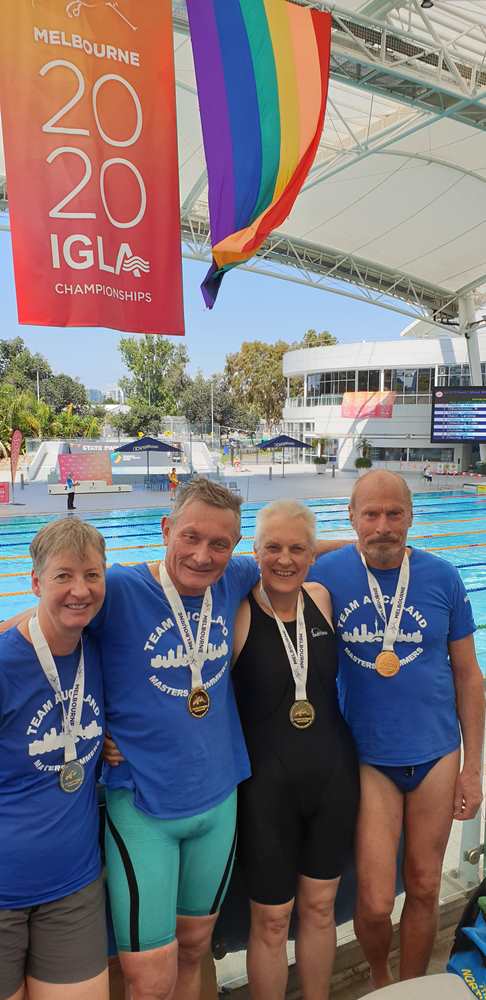 Next, we have the opening ceremony with speeches from the head of Australian Swimming and local politicians. All of them acknowledge that we are on not ceded aboriginal land and there is talk of a treaty soon and other initiatives. That's good to hear, building on my experience at the museum yesterday. I've heard that one of the Melbourne Glamourhead Sharks (who have organised this event) runs a dance school, and it is they who provide top class entertainment, including syncro in the pool. But first there is a fantastic rendition by the youngsters, of Advance Australian Fair. I recognise it as the National Anthem and join others who are standing. Word spreads until most are on their feet. Then all show business hell breaks loose and talented dancers prance around the pool showing of Australia's future musical performers. Probably the best opening ceremony (for swimming) I've seen.

Glad of the break, I'm now ready for my 200m Backstroke. There's a slight moment, I'm aware of, when I let go of the rung before the gun, but immediately concentrate on the race. I'm the fastest as all my competition is in the next heat. It's a hard race and I'm please with an improved time. But sadly, my false start was spotted and I'm disqualified. There's time to recover and eat a protein bar and get a coffee before the 200 Individual Medley – another gruelling race for me. I feel tired and would like a sleep, but dare not. My time is better than recent meets but not good enough to beat the Americans, who have turned up in force. It's always good to see them though and have a laugh about getting old, staying alive and so forth.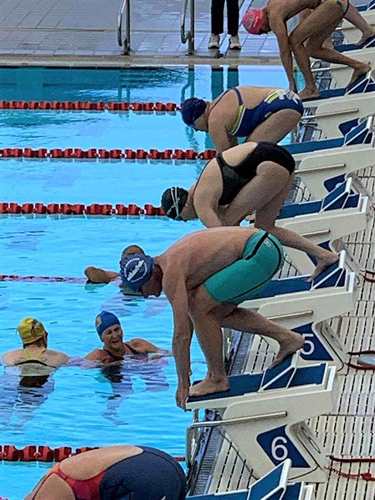 My last race of the day is the 400 Freestyle relay with the same 240+ team as earlier. There are only two teams this time and we can't tell if the other one is fast or not. They are not and Team Auckland,once again, do a fantastic race for another gold medal.
I'm totally wrecked and retreat back into the City for a nap. Rousing myself to meet Ron for diner and a drink (no swimming tomorrow) at a trendy riverside bar and eatery by Finders Station on the North side of the river.