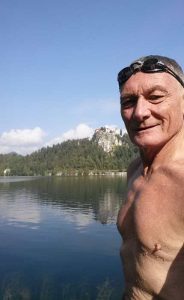 Thursday: I've decided to try swimming in the lake and figure that morning is the best time as after a day at the pool, the last thing I want to do is more swimming. Around ten am the water seems warmer than the reported 22 degree to start with, but gets a little colder as I swim out. One hundred meters is enough and works as a pre-warm up. The water is very clear and fish are abundant.
At the pool there's just time to catch Neal's 50m fly before warming up. Several of us are doing 100m freestyle and there are fifty-seven heats, but first we have to wait for the thirty-five heats of women.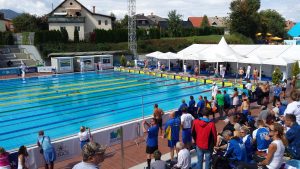 As much as possible the heats are run in their age-groups but I'm in a mixed group heat and get to swim in lane five near the centre of the pool. In spite of a dodgy tumble-turn, it's a good swim and I've done a Long course PB of 1.22 – only one second slower that my short course PB, so what with the sunshine, it's been a good day.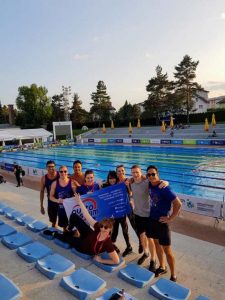 Ian has organised an Out to Swim dinner In Bled. It's an opportunity for the whole team to meet up – the Syncro women have arrived and it's great to meet some of them for the first time. Our open water swimmer, Rick Snow drops in for a beer so we are all together for a team photograph. We also have Matthew Lue's birthday to celebrate and the restaurant improvises a cake. I decide, after much hesitation to try the famous Bled Cake. This is a custard base, with whipped cream on top.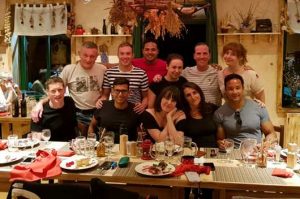 There's pastry top and bottom. It looks too sweet for me but I'm assured by locals that it's not. What it is, is huge. It is somewhat sweet and walking home, it lies heavily on top of my mixed grill main course. Well, I've tried it and don't need to do it again. Most cake-lovers, I think will enjoy this.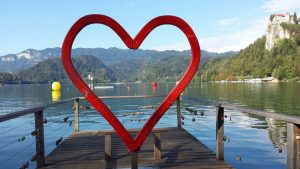 Friday: Another morning swim in this gorgeous lake. My race today is immediately after lunch. and by the time I get there, the morning session has finished and there are still two hours of lunch break. I time my warm up to end half an hour before the start of the afternoon session. I feel very sluggish this morning and the first 200m is hard work. 'It's often like this,' I tell myself and sure enough in the second 200m I break through the barrier. Then it's time to concentrate on backstroke, doing a few 50m backstroke kick to make sure my legs are straight. I follow this with backstroke HVOs, front-end to start and back-end to finish in the 50m pool. Again, I'm in lane five with only three other guys of various ages – mostly older than me.
Andy is here to film me and I can hear him as I prepare. It's great to know that someone from the club is watching. The guy in lane four looks younger and faster than me, but he's not and I win my heat with another long course PB (actually half a second faster than my Paris short course PB) and a 7th place in my age group. That means another certificate. Now is the time for lunch and I fill up on a large plate of spaghetti and treat myself to a beer, because it's all over. Andy is racing in the last heat of the last event of the competition but while Neal and I are in the dinner tent, a huge thunderstorm breaks in the middle of the women's 100m breaststroke. They carry on for a while, but there is lightening so proceedings stop for half an hour. Everyone crams into the dinner tent and we wait. The men's 100m Breaststroke age group 25-29 is tense and hard fought. Andy is pleased with 5th and a PB. There were two other Brits in the 1:09 time. We're all drained, emotionally and physically.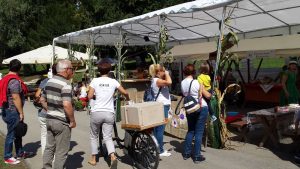 Back in Bled, I wander into town with a sort of plan. There's a new Gazebo/tent showing off rural foods. Someone is doing snack sized cheese and garlic pizzas – that goes down well with a local pint. At the far end of the tent is a stage and there's what looks like a police melodrama performed by local actors. Moving on to my planned dinner stop, one of the street food tents, I order chicken drumsticks with roast potatoes and vegetables and decide to try the local wine. It's OK and I settle down in the semi dark to work my way through it all. The huge portion of roast potatoes defeats me and I move on to my last planned stop – a wine bar. I ask for a nice glass of red wine (un-chilled), I try it and it's good. I put my credit card away when I find it's only €2.30 for a large glass.  I also try a more expensive wine, which is even better and I'm surprised to find it's a Merlot at €4. I may have that later. I don't have time as the place is closing.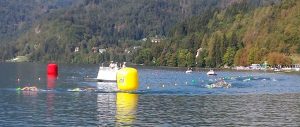 Saturday: I need to go for my last lake swim early before checking out. After packing, I leave the hired car at the Air B&B place and walk in to look at the 3K open water swim which will start at ten am. The lake looks very organised and I can hear the commentator warming everyone up over in the out-door lido-in-the-lake. I stay and watch the first wave of 25-29-year-old men start, swim towards me then round two gigantic yellow markers before heading down to the other end of the lake. Next, it's the young women and I make my way around to the enclosure for a closer look at the start.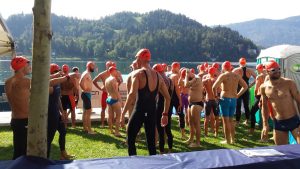 By the time the 30-34 year-old men start, the first of the young men are returning. It's won by a Russian, who when asked 'at what stage did you know you were going to win?' answers that he had prepared himself to win in his training, which garners a few wry smiles at his confidence.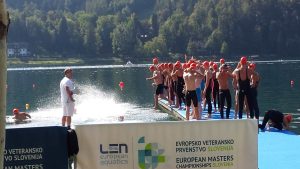 He entered the race expecting to win. The Italian who came second and gave him a run for his money just comments that the 21 degree water was too cold for him. I'd spoken earlier to a Croatian couple who were not looking forward to the temperature – they're used to 26 degree in the sea.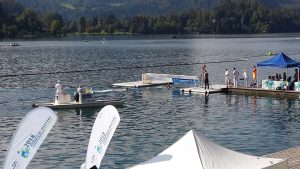 Time to retire to a café in town coffee for an early lunch and to catch up on the blogging, keeping the autumnal wasps at bay and reluctantly feeding the cheeky sparrows crumbs of bread from my mozzarella and tomato with pesto. As I make my way back to collect the car, the Open Water Swimmers are still going and the officials in boats are doing a great job in aquatic traffic management – the lanes are all colour coded so not too much can go wrong.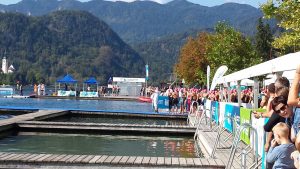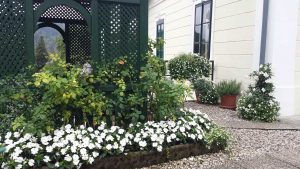 It's been an amazing week in a fantastic setting. Two PBs and three certificates for being in the top eight in my age group. There's one last encounter at the rental car return. A woman from the Black Country in my age group has come away with a load of medals. She turns out to be a great fan of the Out to Swim website and loves the coaching tips. She's looking forward to our GLLAM meet at the Aquatic Centre (hopefully) next year and we'll meet up at Sheffield in October.