Tuesday. I've stocked up on croissants, salami, camembert, bananas and other fruit so I can have a 6 am breakfast in my hotel room. There's tea bags and a kettle and I've got my cereal bars and also fresh milk.  Entry to the Swimming pool is at 7.30, so it's my first opportunity to warm up in the competition pool. Amazingly the legs are still holding out although I think they may be in shock, having had a week off kicking two weeks before the games. What I do have to remember for the 200 metre Backstroke is that it's eight lengths of this pool.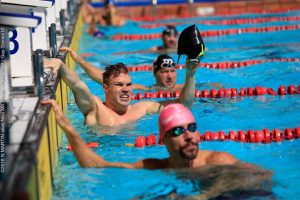 I've been known to mis-count and get disqualified. My other worry is that the ending in this pool feels different and I decide to take a quick peek as I approach the wall. It all seems to go well, particularly with the new pre-race breathing to stock up on oxygen. The competition is tough and I manage fourth place again but also another personal best.  Coach is not so happy though – worried that my look over the shoulder might be interpreted by the referee as being on my side – leading to disqualification. The other thing is that my knees bent and came out of the water. It's interesting the difference between what you think you are doing and what is actually happening.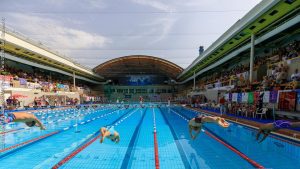 There's something called kinaesthetic awareness – the position of the body in relation to one's surroundings. It's important in dance and if you are ever walking backwards in a crowd. I've been working on my straight legs in training and when I do a second warm-up before our medley relay I check that they are straight – they seem to be. We've got a relay team adding up to 240+ years and I'm starting off with the 100 m Backstroke – concentrating on straight legs. I can feel them wanting to bend in the heat of racing – reverting to old habits and I have to force them to behave. My 100 Backstroke is one second slower than Sunday, but I have swum quite a lot already today and it's enough for us to get a silver medal in our age-group.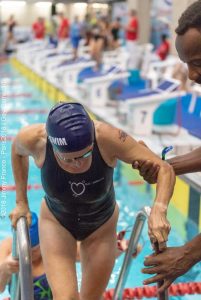 It's been a wonderful morning watching so many of our team do 200 Fly, 50 freestyle and 50 Breaststroke and getting medals. I reward myself with a beer and lunch at the bistro by the local Metro.
Wednesday. I have enough victuals for a repeat early breakfast as it's the 800 metres freestyle which is first up in the schedule. We're racing two to a lane – two in the time of one. I've done this before in New Zealand, setting off at the same time and I'm not thrilled about the idea. This time, we are set off at different times so that we hopefully touch the electronic pads alternately. This turns out to be OK and I'm able to keep an eye out for the guy in the next lane who is around my time.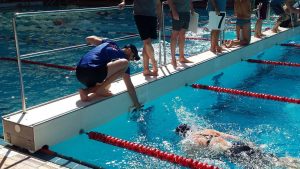 It's a while since I did 800 in a twenty-five-metre pool so it's great that one of our team mates (Paul) has volunteered to operate the counter and cheer me on at each turn. It's a much-improved time and another personal best. I'm fourth again and grrrr – only three seconds away from a bronze medal. Nothing is ever perfect  and my notes from Coach tell me that my kick was sporadic and hence my bum too low in the water. I can also extend my reach further to push more water back to the other end of the pool. There's always room for improvement and at this age, getting the technique right is the only way to get faster, or at least hold ground. I think that unless you are in an Olympic Squad, the only way to train for some of the longer distances is by competing often.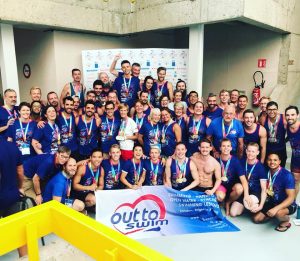 For the 4 x 100 freestyle and 4 x 50  medley relays, we drop down an age-group to 200+ years. In this bracket the competition is fierce and we manage 9th and 6th respectively. Team Captain,  Andy Benson's clever pairing up means lots of medals in the relays.  The drama is intense in the 120-year men's 4 x 50 relays and our teams are spectacular with some lightening-fast tumble turns. Our mixed medley 120+ team are just fantastic and take not only the gold but an IGLA record.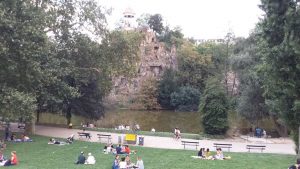 I have time to snooze before buying picnic stuff and making my way to Parc Buttes Chaumont. We're having a Pink Flamingo rehearsal followed by a picnic.