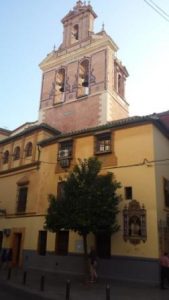 I can not believe I've not been here before – Cordoba, Almaria, Granada, the Costas and the mountains but never Seville. I associate it with oranges – the delicious marmalade they make – so as a true practitioner of delayed gratification, I've saved Seville till now. When my good mate and neighbour, David, from Waiheke (NZ) suggested I join him on part of his 50th Birthday grand tour of Spain, I seized the opportunity and his dates worked perfectly.
Sitting in soulless Stanstead airport is arduous – there are no water fountains, rubbish wifi and the recharging stations are backless benches. I've done little research on what to do in the city and so rely on 4G to have a look whilst I wait for my Ryanair flight which, unlike many other destinations this week, has not been cancelled. I've found an app called Visit a City and I can download it all to use off line. I arrive at Seville to find the fastest immigration queue ever thanks to my EU passport and the promised free mobile phone roaming in Europe turns out to be true. I've booked a room with Mr B&B, a gay version of Air B&B and I've instructions to take the bus into the city terminal and walk for ten minutes. Emelio and Manuel are a sweet young couple, quite shy but very welcoming. Emelio immediately gets out his ipad and shows me the gay area and other sights nearby.  David has been in contact via messenger and soon arrives (he's also doing Mr B&B – a studio apartment) and we do big hugs as we've not seen each other since April. So it's two gay men on the loose in Seville for a weekend and he's already identified one of the bars where gay men tend to drink. Of course, this being Spain, it's too early for this time on a Saturday night. We have a beer and catch up whilst checking on bars, clubs and restaurants on our phones. Most places don't open until 8.30pm, the clubs at 10.30 and even 1.00am. We find a tapas place and have to wait for a table at 9.00 as it's incredibly busy with staff working their socks off. We go and have a look at a few gay venues, but nothing much is happening so we return to our earlier bar for more wine. It's busy now and there's more to look at. I'm ready for bed by midnight. David plans to go home and nap before trying a disco at 2.00am.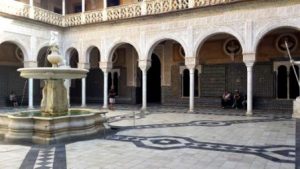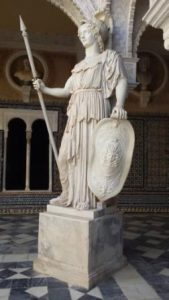 Sunday morning – not too early, but early enough to leave David to sleep, I set off for Casa de Pilatos, using GPS to guide me though the narrow lanes and alley-ways of this ancient City. The Casa is a magnificent 16th Century palatial home, considered to be the first in the Andalusian style. Built after a grand tour of Europe and the Holy Land, Middle-Eastern and Italian design fuse with breath-taking effect. The stunning central courtyard on the ground floor leads off to magnificent tiled rooms looking outwards to beautiful gardens. The Casa boasts one of the first grand staircases in Seville and I've opted for a guided tour of the upper rooms which display oriental carpets and portraits by notable painters of the day. No photography is allowed upstairs.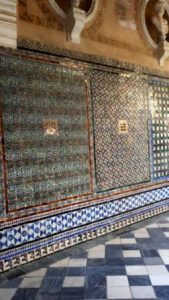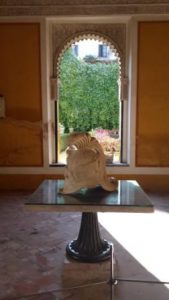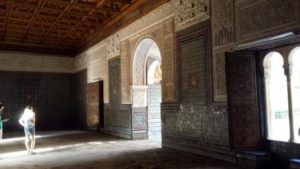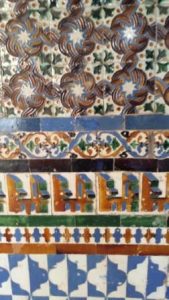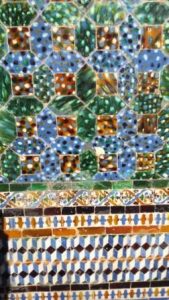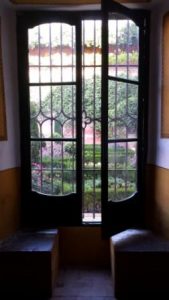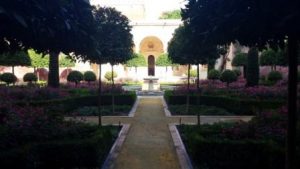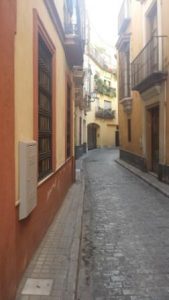 I wander through the area known as Barrio de Santa Cruz – more narrow streets stumbling onto tiny plazas with cafes. I have no idea where I am, but appreciate  having my phone GPS to drive the Visit a City app. My recharging unit also comes in handy to get the phone though the day.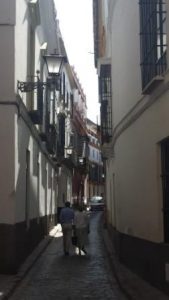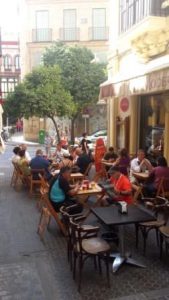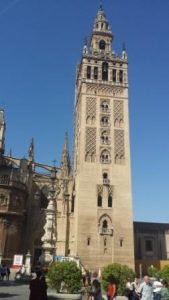 I arrive at the Catedral de Sevilla & Giralda Tower and sit down to watch the world go by. David has surfaced and will meet me here. I note the horse and carriages lining up to take the tourists for rides. The horses actually look quite healthy and well cared for unlike in other parts of the world. There is a steady stream into the Cathedral and when David arrives we take a look.  There's nothing much to see and the tower is not open until the next tour at 2.30, so I suggest lunch. David orders anchovies, hoping for the white ones he's seen around. Unfortunately he doesn't use the word 'blanco' when ordering.  I'm heading for Plaza de Espania but David has other plans so I carry on to find this most amazing building completed in 1929 for a World Fair Expo. The afternoon is hot and it's time to go back to my lodging for a siesta.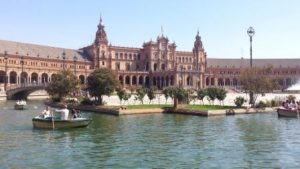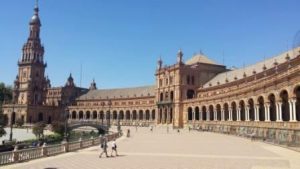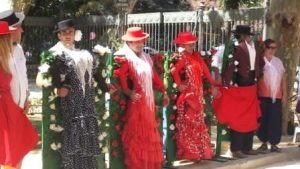 In the early evening I collect David from his digs and we look at the Metropol Parasol – otherwise known as the 'Mushroom of the Incarnation'.  It's billed as the largest wooden building in the world, but this ultra modern 'sculptural'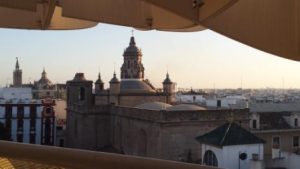 installation looks so light an airy, as if it's made of balsa wood and could lift off at any moment. The sun is setting, so it's a perfect time for us to look over the city at ancient monuments and the distant bridges across the river. The pictures say it all.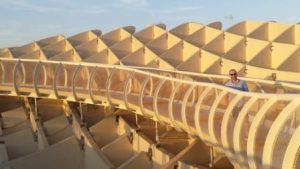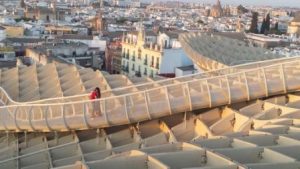 We're off in search of a recommended Paella restaurant, which takes us to a more modern and up-market part of the city. David has his GPS on this time – it guides us with an Australian accent – hilarious pronunciations of Spanish street names. Sadly the restaurant is only open for lunch until four pm so we return to our usual gay friendly square for drinks. We then strike it lucky with a place that does grilled king prawns and a whole octopus leg on a bed of fantastic mashed potato. A return to the gay bar completes our Sunday evening.