Recycled theatre – Peer Gynt for this century.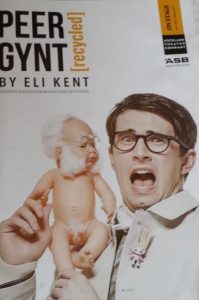 I thought it was time to re-acquaint with Ibsen's episodic 'masterpiece' and ATC's offering for the Auckland Festival provided an opportunity to experience Eli Kent's updated version. Somehow Peer Gynt had eluded me – I know I've read it and imagine I've seen it somewhere and of course there's the Music by Grieg and perhaps I've seen the Ballet.  Ibsen's other work, I know and love: Hedda Gabler, The Dolls House, The Master Builder and Enemy of the People all have strong narratives and powerful sub-plots which collide dramatically. Ibsen emerges as the leading and enduring architect of the 'Well Made Play' and modern drama.
Peer Gynt doesn't behave like any of these works and yet it has a protagonist who, Odysseus – like, sets out on a journey. Gynt leaves home to wander the world, abandoning his mother and Sol, the woman he loves to seek (mostly) sexual adventure.  Much of the original narrative is lost in the recycling, replaced by Eli Kent as a character, sub-plot or even Troll, discussing with the audience and himself the process of writing and self-analysis with the aid of his projected mother and short-time girlfriend. Kent brings the landscape up-to-date beginning with Gynt's seduction of his ex prior to her wedding to 'The Batchelor'. Wherever you go with Ibsen, Trolls are not far away and topically, Gynt has a narrow escape from his next sexual conquest, the daughter of the Troll King. He can't return to  Sol and so travels to America to seduce the leader of a strange yogic sect and again, narrowly escapes death. Years later and with a change of actor, he's in Dubai with his ghost writers in a book deal. Milo Yiannopolous is also there for the party. An indentured Starbucks worker breaks in and shoots everyone except Gynt. It's become clear now that he's a survivor but Kent has meanwhile 'given birth' to Ibsen who protests about cuts and tries to take over the play. A lot of philosophy ensues and difficulty for Kent when the Actress playing Sol, refuses to wait for her love – thus scuppering the ending. Meanwhile, Gynt is judged by the Button-maker, not good enough for heaven or bad enough for Hell and is designated for recycling.  In the wake of a shipwreck Kent changes clothing and identity with Gynt in an effort to avoid his fate and the writer is left alone on stage waiting for a miracle to close the play.
At times it's edge of the seat stuff, though the author's navel gazing and sexual problems verge on the embarrassing – a significant number of the audience left at the interval – the wait was worth it. A mostly older crowd – the audience seemed bemused and possibly offended by the crudities and sexual references. The men in particular were uncomfortable. But that is what theatre should do isn't it? There was an underlying feeling of gladness that they had taken this risk and were slightly liberated. Or did it remind them of their own younger selves in the 60's and 70's? Personally, I could have done without the angst ridden Eli Kent's non character and wanted more of the Gynt story which was beautifully performed by the ensemble.
Rufus Wainwright recycles Judy with opera as a starter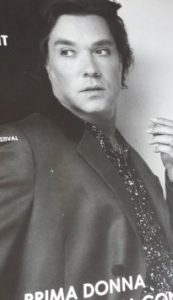 I'd  heard of  Rufus Wainwright and knew that he's a singer songwriter. I didn't know that he writes opera and that's what attracted me to this event. Only an email reminder from the Auckland Festival pointed out that he would be 'Doing Judy Garland' in the second half.
Prima Donna (the visual concert version) has come from the Adelaide festival. Actually only Rufus and his conductor plus the video have traveled. The Auckland Philharmonia Orchestra and New Zealand singers have put this together. The Story is about an opera singer who lost her voice years ago in the opening night of 'Eleanor of Aquitaine'. Madeleine Pierard was in fine voice for this role. She's announced in the press that a revival is planned and she's found her voice, but the real test will be in the theatre.  Supporting roles are the maid, Marie, a girl from Paiccardy finding Paris so … different. Madison Nonoa has a high pure soprano, whilst tenor Filipe Manu gives the romantic interest singing about love in the garden, his best shot. Both of these young singers will be ones to watch in the future.  The music is beautiful and soars against a video backdrop where film artist Cindy Sherman, dressed in a costume worn by Maria Callas, silently plays the diva.
An opera audience is quite different from Judy Garland fans, except that there were a significant number of gay couples of a certain age who might get off on both. Judy has never really done it for me, though I'm semi-familiar with many of the numbers. I don't think I've got the 'Judy gene' which gay men are supposed to have.  Rufus has a powerful belt to his voice and at times sounds a bit like Judy in her later years, particularly when he sings Do It Again in her original key. He works hard – too hard – I don't like to see performers work that hard and then to let us know how hard it is going to be before or after a number. He's got a good voice, but sadly it's unremarkable. Fortunately he slipped in one of his own compositions, Forever and a Year from the excellent Australian gay film Hold the Man.  I would have liked to hear more of his original stuff.