The North Island Masters Champs in May was the first opportunity to test out the competition in my new age group.  Hoping to take advantage of being one of the youngest,  expectations were dashed by the discovery that there are quite a few fast blokes still around.  Two of them are backstrokers, driving me into second or third place.  It all becomes a matter of strategy, trying to second guess who is going to enter which event and turn up on the day.
Some people assumed that I was going to Taupo to swim in the lake.  It's a cold body of water even in mid summer and I'm no open water swimmer, besides, you can't see the black lines on the bottom.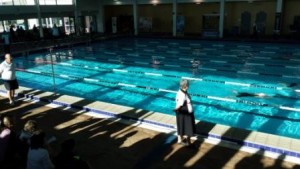 The AC baths are heated by geo-thermal energy and although you don't swim in hot mineral water, there is a faint taste of something salty.  The Brown Trout meet they held last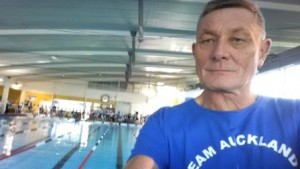 September saw me come away with two personal bests, but not on this occasion .  Times were only slightly down except for the 800m freestyle where I struggled with sharing a lane (they do that here to save time) ending up with third place.  I was onto a winner though with the 100m Individual Medley, clearly not a popular choice.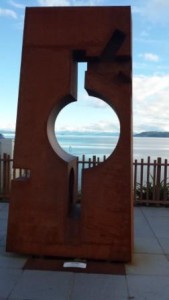 The lake was incredibly beautiful and deserted , the summer tourists long gone. I set out in my elderly Toyota Rav4, on the Sunday around the eastern shore-line on my way South to visit friends and relatives –  a road trip which took me via Palmerston North to Tawa, Welington, Martinborough, Wakarara and Havelock North.
Mount Roskill Masters celebrated thirty years with a record turnout at the Cameron pools.  Team Auckland visibility doubled to two, with Ron Judd joining me.  It should have been three, but sadly, Ross – newly arrived from the US – was stricken with a lurgy.  Get well soon buddy.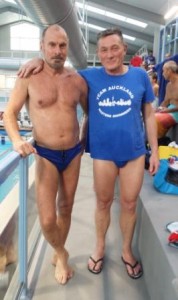 Ron and I are off to Edmonton (Canada) for the International Gay & Lesbian Aquatics in August, so this meet was good preparation.  Although it didn't feel fast, my times in fact crept up and I was particularly pleased with my 100m Freestyle.  The fast backstrokers didn't turn up but there's one guy from Auckland Central who is ahead on freestyle.  Ron was racing the 100 fly for the first time, which he's entered in Edmonton and was pleased to come in right on his estimated time.  As usual, the food laid on after the meet was fantastic and both of us came away with second place ribbons in our respective age groups.