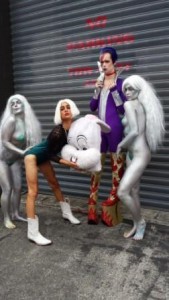 The festival season continues. Having done the walking and the sculpture (which includes walking) my next feast is Gay Pride, which seems to go on for two weeks.  I miss the opening Party in the Park at Point Chevalier due to the aforementioned break in Palmerston North.  Apparently I missed the attendance by the Prime Minister, John Key. Damn!  The following week, however, offers more important delights in the form of the Pink Arts Festival.  There's a range of disciplines, but I'm focusing on Theatre. First up is Victor Roger's new play Girl on a Corner as the Basement Theatre.  I'm interested for two reasons: I know of the writer, having read an early work and want to see how he has developed; the play promises to explore the Fa'afafine culture of Samoa.  The tradition was that if a second child was also a boy, he would be brought up as a girl.  Shalimar is such a character; she wins the local beauty contest and travels from American Samoa to Los Angeles.  Her hope is to work in the textile industry but the reality is prostitution on the streets to earn money for gender reassignment.  Based on a true story, Shalimar recounts her life both real and imaginary to the audience.  The climax is her infamous encounter with Eddie Murphy in his car.  They are stopped by the cops and it's all over the media.  After a brief period of infamy, she falls to her death from the top of a building.  None of my reasons for seeing the play have been really satisfied and there are too many monologues.  Shalimar tells her story directly to the audience with the help of a talented cast, playing multiple roles.  At the end she is returned to Samoa where her family dress her as a man for burial.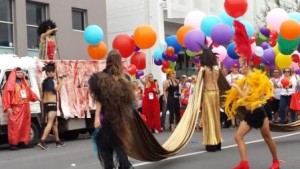 My next outing is Wild Blue Yonder at Garnet Station's 'Tiny Theatre'.  Obtaining a ticket is a drama in itself.  I have to leave a message on an answer-phone and some days later, I get a call to day that Wednesday is full, can I come on Thursday? No, I swim on Thursdays.  There may be a seat on Wednesday, they'll let me know. After several more phone calls, there is a cancellation and I'm in.  Garnet Station is actually a Pizza restaurant run by well known Auckland lesbian Lisa Prager.  I toured with Lisa in Story Theatre for Theatre Corporate in the late 70's so am interested to meet up with her again.  Co-incidentally my swimming coach, Cynthia is here with her partner and a group of local lesbians celebrating a birthday.  It's their local hang-out.  The play, written by Olwyn Stewart and David Lyndon-Brown is set in the late 90's in suburban Auckland.  Martin, a successful artist has a self-loathing boyfriend with a wife and kids up north.  Duane just wants to stay in with beer, having sex and watching TV.  Ursula, old enough to know better, has fallen for young poet Luke, who professes adoration but doesn't deliver the sex.  As you can imagine it all gets very complicated and ends in tears.
Finally, there's The Legacy Project, delivering six new short plays by young queer writers.  The acting is superb and the writing ranges from good – showing promise to outstanding.  It's heartening to find such great gay writing here in New Zealand.  Gay Pride ends with a parade down Ponsonby Road on Saturday.  My swimming friend, Michael is visiting from London and we have already been testing the waters in Rocky Bay on Waiheke Island.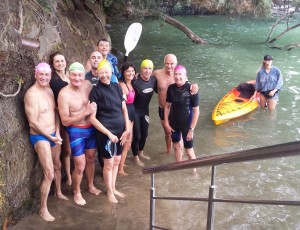 Pride is going to be a long day as we're staring with a non-gay harbour swim from Herne Bay to Watchman Island.  It's about 8-900 metres each way.  Michael and I are both novices at ocean swimming but manage to come in close behind the youngsters.  After a fantastic brunch, laid on by my friends and hosts, John and Robyn, we make a hospital visit to one of Michael's friends then take a leisurely walk along Karangahape Road, stopping for a pint before joining my swimming club, TAMS, for the parade.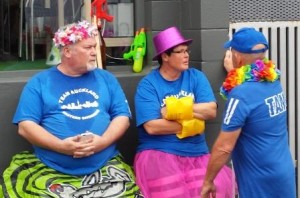 There's lots of hanging about, waiting, but when we get underway I find myself in charge of a dragon's head.  Club member Elizabeth has made it and its fabulous, a crowd-pleaser.  My arms, however aren't up to the whole march, having swum 1800 metres in the morning so one of the youngsters takes over and I'm happy to carry a light-weight polystyrene lane rope and blow bubbles at the crowd.  It's all good fun as so many have made a huge effort with costumes and float decoration.  It's dark by the time we get to the end of Ponsonby Road – time to end up with a party hosted by club member Ed.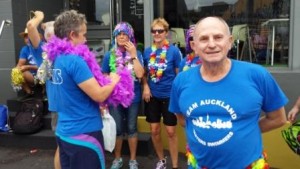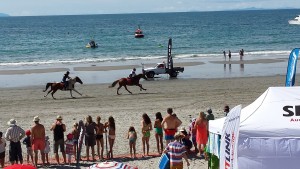 The Onetangi Beach Races are an annual event, I'm keen to witness.  In 2011, the last time I was here they were cancelled due to a dramatic storm which threw up thousands of huge horse-muscle shells covering the entire beach. This year, it's a brilliant day and we arrive in time for the tractor race.  The Strand, along the sea-front is full of stalls and people.  There are food tents and picnics down on the beach and crowds of people.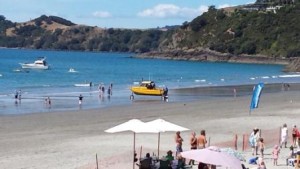 The races themselves are fun, but the most bizarre sight is the amphibious boats – known as sea-legs.  They have retractable wheels and drive down the beach into the water.  Once afloat the wheels lift up and on the return journey they are lowered to just roll out of the water. Outrageous!
Sea-legs leaves the water
The main festival is the biennial Auckland Arts Festival.  Once again I've concentrated mainly on theatre and in particular new New Zealand writing.
Hikoi, written and directed by Nancy Brunning is the story of a dysfunctional Maori family.  Charlie is a builder in an unequal partnership with a white man.  Nellie is from the Valley, and speaks Maori.  It seems an unlikely start to a relationship but they manage, over the years to have five children.  Nellie becomes increasingly involved in the Maori land protest movement and eventually is given an ultimatum to leave their home or give up the cause.  She leaves and Charlie struggles to bring up the kids. The eldest girl leads her siblings in an unlikely cross country search for their mother.  The runaways seem to know little about her as they crash around, lost in the forest.  Charlie, who finds he doesn't have much power in his work partnership takes off to find his kids.  He ends up tied to a tree and has to listen to the complaints of each of his children in turn.  Nellie arrives, but is also rejected by the kids and the Parents are left together in the wilderness while the kids take off to try and make it as a family on their own.  The abrupt ending is a bit of a surprise as if the writer didn't quite know what to do with her characters having got them into this impossible situation.
Skin of Fire devised and presented by Group F of France is an out-door firework and light extravaganza in the Auckland Domain.  Michael and I have been to swimming training and have to catch a bus.  We are in good time however and manage to find a space to sit on the grass.  The show begins with projections onto the front of the Museum building, white blancmange heaps strategically placed throughout the audience, begin to glow and move.  Eventually performers covered in small lights emerge and make their way slowly to the performance bank.  Fireworks are let of in impressive sequences and flame throwers are incorporated.  It's all done to a very loud sound-track which is perhaps less memorable than some of the startling and beautiful images created over seventy minutes.
Somehow, in the midst of the Auckland Festival, Waiheke has managed to insert a Shakespeare Festival for the first time.  The main event is a production of A Midsummer Night's Dream.  It's rumoured that there are some talented youngsters from the local High School in the production, so I'm keen to compare them with East London youth theatres.  The show is designed to be performed in the open air in the newly created space between the theatre and the new library.  Unfortunately, it's raining, so the set has to be moved into the theatre.  We sit on the stage and the show happens down in the auditorium.  It works well, and there is a fine performance from Bottom and a particularly good Lysander.  It's interesting to listen to different accents doing Shakespeare.  Quite a few of the cast are ex-pats from the UK but there's a good sprinkling of Kiwi accents and Demetrious is American. On balance, I think the East London kids have more 'edge'. Other offerings are free workshops and talks.
Back to the mainland and the eagerly awaited The Mooncake and the Kumara by Mei-Lin Te Puea Hansen.  This is the story of a Maori mother and daughter who go to work on the market garden of Chinese father and son in the early 1900's. Cultural ties which bind the characters to their ancestors and way of living are challenged. The Pakeha (European) landlord is similarly marooned having lost his wife.  The youngsters eventually come together and truth is revealed. Told in three languages, Cantonese, Maori and English, there is a realisation that this is just the beginning of the struggle against local prejudice and that modern attitudes have in some places, hardly changed.  It's a beautifully crafted piece and as I'm seeing the play with a well know local actress, get to meet the author and the dramagurg. What a privilege.
I saw this Danish company here in 2011, playing to a small audience at the Bruce Mason Centre at Takapuna on the North Shore.  Then it was one man and a sound artist, this time their show BLAM!, has upgraded to the Civic Theatre in the centre of Auckland.  This is physical theatre at its most impressive; four office workers keep breaking off their tedious day by acting out scenes from violent action packed movies like Die-Hard. The choreography and timing is precise with near misses and action which builds into a fantasy of destruction.  In the midst of this chaos a beautiful romantic ballet emerges involving the manipulation of a desk lamp, but by the end the office is destroyed. It's great to see grown men playing and these guys are dancers, acrobats and mimes extraordinaire.
Lastly is Ata Reira at the Auckland Town Hall. The combined forces of the National Youth and the National Chamber Choirs perform a programme celebrating light.  With ancient and modern work interweaving, this is a sumptuous feast of sound and drama.  Beginning with an entrance singing a 7th Centuary Hymn, the choirs take us on a journey which includes Talis, Elgar and contemporary Maori composer, Tuiri Wehi.  I was at teachers' college in 1974 with one of the conductors, Karen Grylls so it was very exciting to see her performing after all these years.
Festivals here continue unabated. I've missed the Waiheke Wine Festival, a marketing opportunity for the local vineyards.  I'm gearing up for short play events and have trimmed my 2012 play Four Horsemen down to under 10 minutes and written Granddad's War, which has come in just over 7 minutes. Next up is the Waiheke International Jazz Festival, but I shall be busy writing, swimming and gardening.