Triumphs and tragedy with some near misses at the ASA National Masters swimming meet
 It's my last race meeting on this side of the world for at least two years, so it's a bit of an emotional weekend.  I've had a fantastic year around Britain (Swansea, Crawley & Barnet Coptal) and Europe (Amsterdam, Prague, Paris, Copenhagen and Barcelona) with my club Out to Swim.  There's been great team support and camaraderie, not to mention adventures and laughs.  I've a drawer full of medals, but there's no chance at Sheffield this weekend as all the 60 year-olds have flooded into my age group, not to mention the 62 year-olds who did the same last year.  I'll be happy to maintain my times and by the time I return from New Zealand in two years time and in another age group, there just might be a faint glimpse of a bronze medal.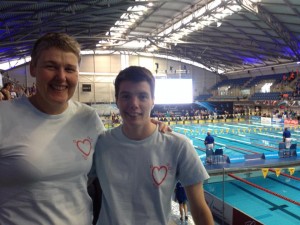 Team-mate Michael and I travel up on the train on Friday morning.  He's been ill, away on holiday and hasn't trained for three weeks.  We discuss on the train the advisability of doing the 100m Individual Medley with a chest cough.  I'm only doing this event because coach, Martin has decided that I'm a medley swimmer even though I don't like breaststroke and butterfly is exhausting.  By the time we get to Sheffield, Lucile (6th) and Lizzie (4th) have already swum the exhausting 1500 freestyle.  This event has taken all morning as swimmers' times range from 45 to 16 minutes and there are15 heats divided between two pools.  Lucile says she's exhausted but looks great.
I should explain. Ponds Forge pool is 50 metres + and for this event is divided by a bridge into to 25m pools.  The men swim at the north end and the women at the diving pool end, unless there are mixed heats.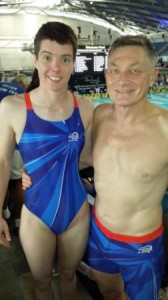 I'm always nervous at least until my first event is underway.  There's an empty lane next to me in the 100 IM where Michael should be, but he's wisely decided, with head coach Michelle's encouragement, not to do it.  As it's only the second time I've swum this event, my time is ok and I'm looking forward to the 50 backstroke. In the mean time, we've got to look after three young guys who are competing for the first time ever. It's so confusing getting into the right place at the right time with no marshals, you just have to get to the blocks your self and if you don't the starter doesn't wait.  We rally round the new guys getting them to warm up and we take them down to the starting area to make sure they don't miss out.  JT is one such and does a very creditable 100 IM. In the same event, Oscar, improves his time from the Montreal international meet.  It's all going so well, with Lizzie winning gold in the 200 fly but my 50m backstroke is fairly slow.  After tea, there's a personal best in the 100m Freestyle – something I thought would never happen.  I have to give new boy, Leo some credit for this.  It's his first race and he's in the lane next to me.  We used to train in the same lane, but lately he's moved ahead, so I know he's a bit faster than me. He takes of in a great splash and I keep him in my sight line.  He's swimming faster than he's ever swum and so am I, albeit several seconds behind – still it's the right conditions for a PB.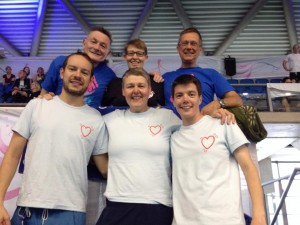 We all go back to near the hotel and try to get into a couple of pizza/pasta restaurants, but they are all fully booked and we can only queue at a noodle bar.  It's carbs we need to stock up on so it blandly serves our purpose.  The youngsters are off out looking for a gay club in the city realising that they don't have any races in the morning.  Older and wiser, the rest of us go to bed, certain that they won't find much of interest here.
First up for me on Saturday is the 400 Freestyle.  I've done this event only once in 2013 and I'm nervous about counting the 16 lengths as there are no flip boards.  I can often loose count around about 12 or 14, but make a concerted effort and come in with another PB.  The news on the relay front is not good, however.  One of our team has had to withdraw with a shoulder injury – common with swimmers – and we have to put in a substitute into the 4 x 100m freestyle event.  In all good faith the team captain the info in 90 minutes before the event, but nothing is ever simple and the rules are 90 minutes before the session, i.e. at 7.30 this morning.  There's no time to relax however as we've got Oscar, Lucile and Lizzie to cheer on in the 100m Butterfly.
Michael thinks he will be OK to swim his 100m Breastroke in the afternoon, We can see that it's a struggle and in the end he's beaten to a bronze medal by a fraction of a second. Next up we have our three new boys in the 50m Freestyle.  They've warmed up and we've sent them down in good time.  Their heat comes up and we can see three empty starting blocks in the middle of the pool where Out to Swim should be.  The guys are huddled to one side unable to work out which heat is starting and trying to look at the board, which can't be seen from underneath.  We all start yelling at them as the three whistles have sounded.  Suddenly they get the message and scamper to their blocks and are away.  Whew!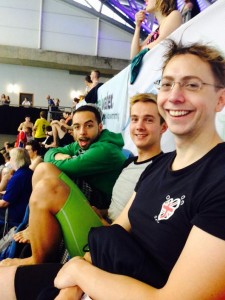 I'm following this with the 200m Backstroke.  This time I only have to count up to 8, but it's not that easy.  I'm in the habit of counting my strokes to the flag and then 4 more before flipping over to turn.  For some reason I'm too close to the wall at one end and too far away at the other.  By this time I've lost count of the lengths and end up doing an extra one.  I can see that all the others have stopped and the scoreboard has an F next to my name indicating that I've finished.  I get out at the other end embarrassed and to the announcement that I am indeed disqualified 'due to a technical infringement.'  You have to finish a Backstroke race on your back and I've flipped over.  It's also my worst time ever, so into the rubbish bin with that race.  Now I've got to do 50m Backstroke in the 4 x 50 Medley relay. That only requires me to count to 2 and do one turn.  I think I can manage that. I sort of make a resolution to do an extra session once a fortnight working on Backstroke.  The problem is I just don't swim it enough. There are loads of disqualifications this weekend, particularly in the Breastroke races. There are also loads of records being broken with award ceremonies going on at every break.  There are European and British records falling and at least one world record that I noticed.
The evening session sees JT doing his first ever 50m Butterfly.  He makes a very impressive start underwater and has a very good style but it is our Lizzie who makes the splash in this event and she's grabbed gold in all three Butterfly events and follows this with a 400 Individual Medley. The last swim of the day is the 4 x 50 Freestyle relay which goes like a flash and I do a PB on my section.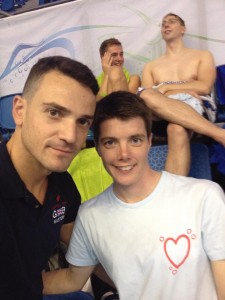 Team Captain Tom has had the foresight to book a restaurant tonight so we mull over the day's events, teasing the new boys about almost missing their race. Even though the clocks go back tonight, I opt for an early night, leaving the youngsters in their quest for nightlife in Sheffield.
Eating is always a problem, a compromise between having enough calories in the tank to race but leaving enough time between eating and swimming.  As breakfast doesn't start at weekends at our hotel, it's cutting it fine. To make it more complicated they are dividing the warm-ups by age, oldies first.  I make it to the end of this session in the main pool just to practice my backstroke turns and then go off to the diving pool to complete my warm-up.  The 100m Backstroke goes well.  I haven't done such a good time since last year and I've come in 5th in my age group.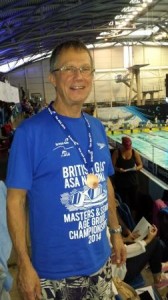 The 50m Breastroke heats are next and we've got Michael with his dodgy chest swimming next to one of our new boys, except there is an empty starting block next to him.  There's no sign of our young team mate so we can't even shout.  Michael swims fast and amazes us all with a PB and a bronze medal.  Several heats later our missing breaststroker returns from coffee ready to swim.  Then there's a problem with our 4 x 100 medley relay.  Michael's been put into it, but the start sheets have got the combined age of the team wrong and anyway Michael's not up to swimming 100 metres of any stroke.  We briefly consider a substitute but have to abandon the race as we'd only get disqualified.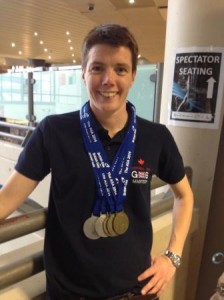 Most people go home leaving a small band to wait for trains and to compete in the 200m IM and 800m Freestyle.  It feels a bit lonely but the 200m IM turns out to be pretty exciting.  Oscar slashes more seconds off his previous time and Lizzie wins a silver medal for hers, bringing her medal tally to 3 gold and 2 silver – her best ever Nationals.  I'm bringing up the rear guard, being the only Out to Swimmer in the 800m Freestyle.  I've come to like this event and feel less exhausted at the end than doing 100m dashes.  I've also done another PB – that's 4 in total, all in Freestyle.  The message is clear; I've got to do some work on the backstroke.  Now it's just hanging around waiting for our train.  I never get the timing right and it costs a fortune to change your time of travel, so time for a well deserved glass of wine, or two.