Rosenborg Castle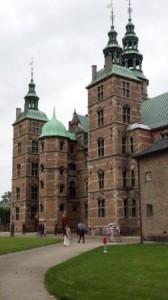 Copenhagen, like Amsterdam doesn't open early, so the café I've arranged to meet with David and Luci for morning coffee isn't open.  The one over the road is only just open and when the lads do arrive it's time to make for the Rosenborg Castle where Thibault will hopefully be waiting.  Having got my travel card and worked out how the buses run, I manage to persuade them not to walk all the way as I want to save my legs for racing later in the day.  This means that they have to buy some bus tickets from the station.  By the time we walk there, and then find a bus stop which we get off several stops too early, we've only cut our walking down by a half.  Thibault is waiting patiently just inside the castle gate and having studied Wikipedia for information on this 17th century royal castle, proceeds to tell us about it.  David & Luci need breakfast so we can't pass by the café until they've eaten.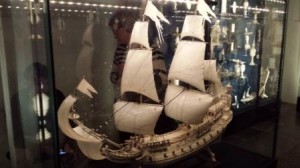 Begun in 1606 by King Christian IV subsequent kings lived here until 1710.  It has maintained a tradition of being a Museum, a storehouse for royal family heirlooms, treasures, crowns and thrones.  We start with the treasury in the basement.  There's a whole room full of exquisitely carved ivory objects and just as I'm thinking about poachers, Luci articulates 'Oh the poor elephants.'  There are also racks of Rosenborg wine which claim to be from the 1600's.  I can't help thinking that they've probably long turned to vinegar by now.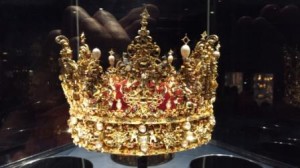 There is a whole room devoted to Christian IV's riding trappings from his coronation of 1596 – Jewel encrusted saddle and bridle.  Further on there is his very elaborate coronation crown.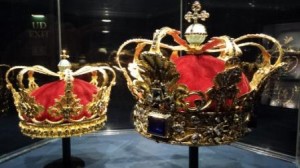 By 1671 the Danish kings had become absolute monarchs and there is the coronation crown used for 5 more kings called Christian. A queen's crown from 1731 accompanies it.  It's all quite relaxed – we can stop and take photos through the glass cases – and I can't help comparing it with the British jewel house in The Tower with its moving platform and elaborate security arrangements.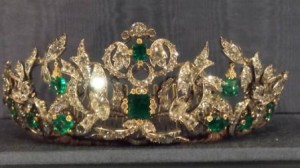 Upstairs, the castle is arranged in a sort of chronological order, giving a flavour of different kings furnished with tapestries family portraits and royal possessions. One memorable room is Christian IV's toilet now tiled with Delft.  There are, however, no bathrooms.  Right on the top is one large room which houses a narwhale – tusk throne for the king and silver throne for the queen.  They are guarded by three silver (plated) lions.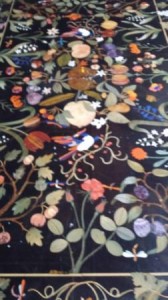 It's now threatening to rain and we need to find food and digest it before 4pm when the swimming starts.
Originally the swimming was to take place over two days, but entries have been low and it's all been condensed at short notice to Friday from 16.00 – 20.00hrs.  I guess there are just too many LGBT sports meets around Europe.  We are aware that we are only four in our team, enough for a relay at least, but lament the fact that not more OTSers have come.  We're envious of the Water Polo team turn out who are all having a fun time.  Various theories are put forward for the low turnout, including the ascendancy of open water swimming (there's the London swim this weekend in the docks – which turns out to be cancelled) but we don't have any answers.
Having taken care of our cultural needs in the Morning, OTS team mate Thibault is in charge of getting us to the Bellahøj Svømmestadion.  This is mainly because he's already been there to support the Water Polo teams. But first we have to eat some lunch and happen upon a market food court.  There are all sorts of healthy juice and salad bars and we buy that essential food for swimmers, bananas. There are only four of us but it takes quite some organisation to get us on the bus.  Tickets have to be got – I have a 72 hour pass which is still valid – then there's a problem with someone's credit card in the machine and the bank has to be called. Thibault has to go back to the food place for his umbrella and Luci has to buy a towel. Eventually, we all get on a 5A bus which takes ages to make its way to the pool.
The bus drops us right opposite the impressive looking complex and we are early, so there's time to enter our relay team details and also get signed up for the Rainbow Relay at the end.  It's one of those pools where you have to get naked and wash all the hairy bits before putting on trunks and getting into the water.  Fortunately, no one is supervising.  It all seems a bit random organisation-wise as it turns out that the warm up starts at three and the races at four, so we are not that early.  Heat sheets are on the walls so we all have to keep our wits about us as to the order of events and which events we've actually entered and where the relays are placed.  Fortunately the announcer is calling out names and lanes for each event.  I'm the first to swim with 200 Backstroke which seems to go very slowly. Luchi is not looking forward to doing 100m Fly in a 50 m pool.  He's leading after of 50 M but five meters from the end, someone lowers a piano from the ceiling onto his back and he comes third for a gold medal.  Thibault is really giving it a go with both 50 and 100 m Fly – it looks like hard work but it pays of as he's got silver and bronze.
There's a problem with the 4 x 50 freestyle relay which should come before my 100m Backstroke.  I can see in the control box that the woman is still desperately entering our details into the computer.  I'm ok with that as I prefer to do the backstroke first.  We do have breaks in the programme to recover and then launch into the medley relays.  It's my third backstroke race and I'm longing to do a bit of front crawl for a change.  However, we win a gold medal for our efforts in the 160+ age range.
During the second break there's a syncro demonstration/lesson.  A woman gets volunteers into the pool and does a lesson to create a small routine at the end – quite impressive.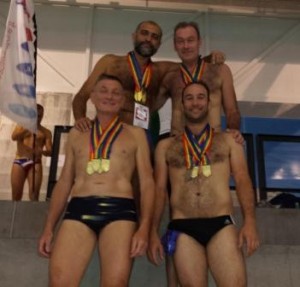 David F seems to have all his races at the end with backstroke and breaststroke back to back (he's still in the fastest heat and wins gold for both). Luci must have clicked a wrong button on registration as he's suddenly called for the 200m freestyle, which is definitely not his style and David's shoulder tells him that doing fly is not advisable today.  Thibault briefly contemplates the wisdom of doing the 200 Individual Medley but realises that this is his best chance of a gold medal.  It's such an exhausting race, so five stars to Thibault.  Finally we get to do our 4 x 50 m freestyle relay.  We are probably first in the 160+ group, but someone – who shall be nameless – starts ever so slightly early and we are disqualified.  The last race is the rainbow relay and we are all mixed up in teams of six and given different coloured caps to wear.  It's all good fun and relaxed.  Cute guys are giving out medals with continental style kisses.  We've had a great time and a laugh, we just wish there were more of us. (Stockholm – who are hosting the Gay Euro Games next year – brought a team of over 20).
The down side of so few competitors is that the programme goes too fast to recover between races.  I'm the only one in my age range so am guaranteed gold medals however slowly I swim.  I do like to have someone to race with even though coach Martin Purcell keeps saying 'It's all about the medals'.  Our muscles are all full of lactic acid but we do have a truck load of medals just for him.
We head back to town to join the Water Polo Guys on an upstairs balcony bar. They have already eaten so we go downstairs and have the most gigantic burgers I've ever seen.  The Polo youngsters are off to GAY, but Luci, David and I, after much discussion and looking at my trusty map, find Studiestrade (Copenhagen's gay street) and settle down for an evening of research and observation which is of course, thirsty work.  After a short investigation of Men's Bar we come to rest at the Jailhouse further along the road which is packed with friendly guys.