Day 10 Casablanca
It's a long dull drive to Casablanca through a flat terrain of fallow fields.  The city is busy, modern and traffic choked, so it takes ages to get to the Hassan II Mosque.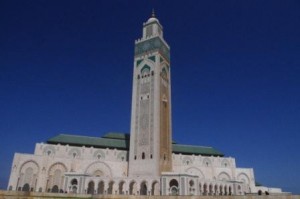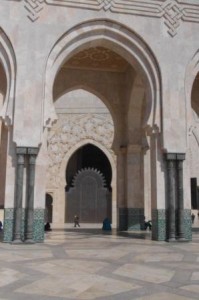 This gigantic piece of modern Arabic architecture juts out into the sea on what looks like reclaimed land.  It is truly breathtaking with the tallest minaret in the world and taller than Notre Dame Cathedral in Paris.  There is nowhere to park, so we are dropped off and hurry to catch the next guided tour.  We are too late and Hotoman is summonsed by mobile phone to collect us and we spend time walking along the sea front.
Our second attempt at the mosque is successful and a very well informed female guide tells us that the place was build by a French architect.  The roof can be rolled open and I think that must be a tremendous sight, but it's not going to happen today.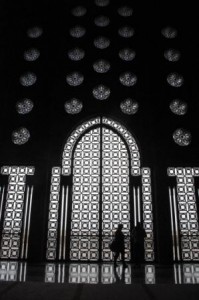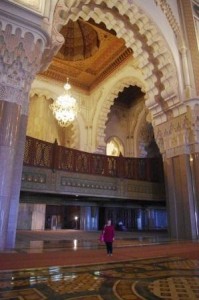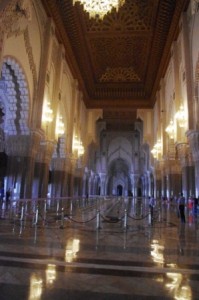 The scale is huge and underneath there are vast washing facilities – men and women separately.  The faithful must wash before prayer.  Further down there are great pools and hamams one for men and one for the women.  These however have never been used and remain only on show for the tour guides.  We think it's a waste.
We return to the seafront to have lunch.  Mary Sue & I decide not to stay in the restaurant we've been herded to as it's a bit dingy and instead head over the road to a place with an outside table and a sea view.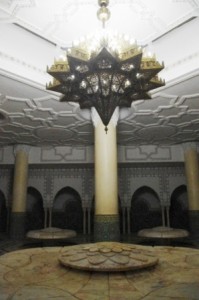 The food is fine and only marginally more expensive.  It's time to check in to our hotel which, in spite of the alleged difficulty is fairly standard for a four star, though Garry doesn't think it is up to scratch.  We have a free afternoon but are given a time to be back for dinner.  Mary, Sue & I are off to find Rick's Café.  We know it is down by the docks and briefly consider walking, but decide a taxi might be more sensible.  The first problem is flagging one down that's free and the next is that none of the drivers seem to know where the place is. No one has heard of Rick's Bar or the movie 'Casablanca'. Eventually and with the help of a local man in a suit we find a taxi who thinks he knows where it is. Miraculously we are delivered to Rick's Café only to find that it is closed.  Mary and Sue are devastated but I notice that it will be opening in thirty minutes so we decide to hang around.  It's not a very trendy neighbourhood with road works around the docks and suburban flats around a square on the other side.  We sit in the garden square and watch people: families, mothers with babies and children playing. Suddenly there's a man acting strangely with a ritualistic aggression.  He seems oblivious to those around him and people eye him wearily, beginning to move away.  We also move to the other side of the square and watch children playing until opening time.
Inside it's a traditional Arabic building with upstairs balcony looking down on a courtyard of tables.  There are booths around the wall and immediately I see that the bar is long and curved with a grand piano to one side.  This seems wrong according to the film, which had a straight bar and 'Sam' played on an upright piano. 'Casablanca' the movie of course was not filmed in Morocco at all.  This is a homage created in 2004 by an American called Kathy Kriger, who had a dream.  Unlike the café in the movie, this is a classy joint with atmosphere and upstairs the movie plays continuously so that even if this is not the place you get the feel of it.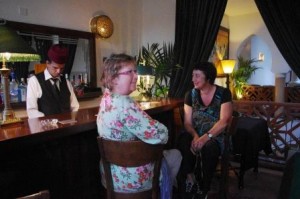 We are the first customers and it's late enough in the day to order gin & tonics.  The place is now filling up with tourists and there is a large coach outside – time for us to get a taxi back to the hotel.  The doorman calls one and we have to haggle to lower the price as presumably the doorman has to get his cut of the fare.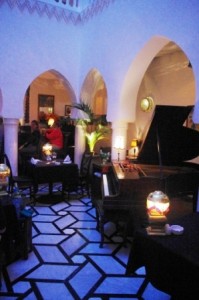 We get back to the hotel to the news that we are eating in the Hotel as the traffic is horrendous and it will take us too long to get across town and back.  We have the dining room to ourselves as this is our farewell meal. The food is fairly average and Anthea declares the pastille not fit to eat.  They make better ones back in Christchurch.  This is a fish and prawn mix parcelled up in filo pastry and sounds delicious in the recipe book.
Mary brightens things up with an impromptu feedback session where everyone has to say what their favourite food and place is.  Quite a few things which were not on the schedule score highly.  I stick to the trout lunch, the city of Chefchouen, the Mosque and Rick's Café.
The next morning we are anxiously waiting for Hotoman to take us to the airport.  He's late and stuck in traffic.  Sue has to make a connection to somewhere in Italy and others are in the same situation.  I'm on the same flight to London as Jennifer, but she disappears the moment we get to the airport.  I catch up with her in the departure lounge briefly – she's in business class and we meet up again at the luggage carousel at Heathrow.
Over the next few weeks I dive into Peta Mathias' book and try the Pastille which is a success.  I grind up my spices to make Ras al hanout and entertain friends to lamb tagine, I make preserved lemons (quartered and pushed into airtight jars which are then filled with salt then topped up with lemon juice) so simple to make and ready in a week.  These I use in a lemon chicken casserole with cumin, turmeric and fresh coriander leaf – delicious.  I'd bought a postcard with the recipe for Medfounna – the bread stuffed with meat we had for lunch in Erfoud.  It's in French, so I have to get out my dictionary.  I've bought Turkish flour for this thinking it might be similar to Moroccan flour.  It's not but the result is good with a much more tasty filling that the Erfoud version.  My great success however is beetroot salad. I cook the beets, slice them into sticks and sprinkle rosewater over with a bit of olive oil and seasoning – everyone raves.  It seems that some of the 'Savours of Morocco' have been achieved after all.