A very long day
Savours of Morocco – Simo's surprise tour –…
Day 1: A very long day 23 Sept 13
I'm off to Morocco to join friends Mary and Sue on a ten day tour lead by a New Zealand/Moroccan chief called Simo. In preparation, I've read Peta Matthias' excellent book describing her tour with gastronomes and with plenty of delicious sounding recipes. The schedule, when it arrives doesn't actually mention any cooking experiences, but I'm hopeful that these will happen at lunch times.
I have slept only fitfully to be ready for the taxi at three am. I always check the price before starting out – the office have quoted me £45 and texted the taxi driver £55. We compromise. At this hour of the morning it only takes 45 minutes to drive to terminal five and as the bag drop desk doesn't open until four thirty, I could have had another half hour of non sleep in bed. In the event our flight, the first out of Heathrow is delayed by ten people who haven't turned up at the gate and their luggage must be off loaded. There's a short stop in Madrid and a change of plane. There's no indication of which terminal I've arrived at but there are signs saying T1,T2,T3, so by deduction I must be in T4 and don't have to rush anywhere. It's only an hour's flight to Tangier on a small plane – 4 seats across. I'm travelling on my New Zealand passport and the immigration chap hasn't come across one of these before and it is also brand new, un-besmirched by smudgy rubber stamps. He has to ask someone if I'm allowed in. There is of course no problem. I change money, put my luggage through the scanner, only because everyone else is and emerge to greet Mary Taylor (Phillip's second cousin) and Sue Walke (from the Bali tour). We have a large VW minibus (brand new) to ourselves. The driver, Hotoman and local travel agent Anise are there to greet us. We're off to collect Simo (tour leader and chef) and the rest of the group who have been in Spain. They are delayed on the Ferry, so we wait. I buy a big bag of crisps as I've only had a couple of croissants and a banana. 'Dos' is the price quoted by the stall holder, as he holds up two fingers. I don't believe it's two dirhams but offer a 5d coin. No, that's not right. '
'Parley vous Francais,' I say.
'No.'
He is thrown in to confusion when I offer a 100 D note and has to get change. I wasn't expecting Spanish to be spoken and to be buying things in Euros. To emphasise the point, a crowd of elderly Spanish day trippers are returning as it's only a 35 minute journey across the straights. There's a rumour that the ferry has to wait for one to leave the port and make room but it turns out the it has been involved in the capture of illegal immigrants on an inflatable boat trying to get to Spain. The Ferry encircles them, the boat is sinking and the people have to be rescued, arrested and some taken to hospital. Apparently there is a steady stream of young people trying to get to Europe. Italy has a similar problem further along the North African coast.
We introduce ourselves to our group, having made a pact to mix as much as possible and not stick together. There's Jennifer, a red headed Scottish widow somewhere in her seventies. She now lives in Dunedin having lost her Christchurch flat in the earthquake. Then there is Anne who is travelling with her sister-in-law Liz. Anne's husband should have been on the tour, but he died suddenly and his sister took the place. Garry is a retired credit controller travelling with his Dutch born wife Willy. Willy has recently lost her Father following the Earthquake. Simo comes from Casablanca twenty years ago and has had a successful restaurant in Christchurch. He's travelling with his second wife, Anthea and between them they lost three businesses in the Earthquake. These are the characters we will be travelling with.
We drive through the streets of Tunis with Simo urging us to observe its prosperity. The unasked question is then why are people trying to flee to Europe. There's lots of building and development going on and large red flags are everywhere to greet King Mohamed the 6th. He is rumoured to be visiting shortly. He's very progressive according to Simo and has made large, but gradual changes since the old King, who just kept a hold of all the money and didn't invest. Personally, I'm not sure how large and gradual can go together. Mary asks how safe the country is which produces a passionate response that it is very safe. There is clearly a worry that the Arab Spring has made people nervous of travelling here.
We drive a short distance out of town to a village called Ifran for a very late lunch. It's quite similar to a Turkish Restaurant with grilled meats and salad all for about £3.50. Mary, Sue & I are taking turns in buying lunch, ordering different dishes and sharing. I've opted for the spicy lamb sausages which are delicious. The other choices are Lamb Kebabs and thinly sliced chicken seasoned with turmeric, cumin and coriander leaf – also delicious. There is a plate of salads made of cooled cooked vegetables – potato salad, beetroot, olives, turmeric rice, baked tomatoes, aubergines, peppers and hot chick peas. We drive on to Tetouan, the 'WhiteCity on a hill'. It's modern and unremarkable. We walk though a pedestrianised street with market stall holders displaying their wares on the pavement. Modern electronic equipment including mobile phones, western clothes of all description arranged artistically on the ground. We are being shown that Morocco is a modern up to date country. We stop to look at a pastry shop and Simo buys a selection of amazing stuff which we all share later on the bus.
We travel through a valley of high ridged mountains. In the gaps between the peaks there are spectacular clouds waiting to sweep over and down on the land. I doze intermittently in the bus starting awake to check on our progress and catch up on the conversation. Simo tells us, prompted by my question, that the main economic earner in Morocco is phosphate mining followed by Agriculture. Before the EU, Morocco supplied Europe with fruit and vege, but has had to find other markets. They are for example the 5th largest producer of olives. Next most important is fishing and Tourism comes fifth.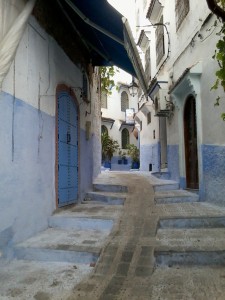 It's late by the time we get to Chefchouen, a blue city nestled on the side of a mountain. We are staying in a 300 year-old riad, Cassa Hassan. It's all been lovingly restored and embellished with carved wooden lintels, painted wood ceilings and fabulous floor tiles. Part of the charm is its rustic finish, but there is an eye for detail. Rooms on two floors above look down onto a central courtyard with a bubbling fountain embellished by pots of spider plants.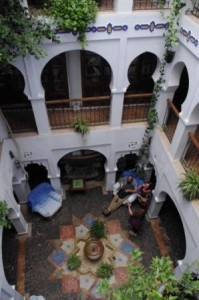 I meet up with Sue and Mary for a pre dinner drink, but as we don't have any tonic for the gin we make do with scotch and water. Evening meal is at nine at a restaurant also owned by Hassan a few doors up the alleyway. Tagine is of course on the menu – chicken or lamb with a range of salads and a Moroccan soup which I go for as we've been warned about green salads. The soup is delicious, not unlike minestrone and my meat tagine with apricots and prunes is sweet and full of flavours. Plain fruit salad just completes the meal with sweet mint tea. It's a relief to get into the terracotta shower and wash out the travel and sleep.