We leave Ollantaytambo in the morning without exploring the markets and taking a fleeting look at the local man dressed at the Inca. Angela tells us that we are heading for Moray, an Inca laboratory and site of experimentation. We are now traveling through high planes with rolling fields which might be cultivated by tractors and we do see such vehicles on the road.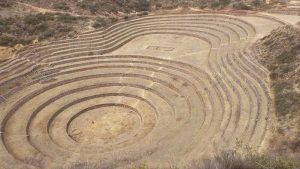 At first glance, these circular terraces at Moray might be taken for amphitheatres, but I've seen amphitheatres in Greece, Cyprus and Ephesus. Here, there is no stage or focus for an audience. The terraces are too wide to seat an audience so when Angela asks what we think they are, my offer is 'to find which aspect is best for growing various crops.' Ingo has a similar answer. Australian scientists in the 1950's found different seeds in the ground. They measured the temperature at each level and found a significant difference of 6 -7 degrees. Each level corresponded to one thousand metres in altitude leading to a theory of early genetic modification. Crops brought from warmer climes may have been planted at the lower levels and gradually, over years, moved up the levels until they have become hardy to the high-altitude conditions. It's plausible and astonishing. Potatoes, which we observed in Ollantaytambo were thriving, but they originally came from the Amazon basin and acclimatised here. As they are also frost tender, the rock terrace walls radiate warmth in the night. You can also see the traces of the irrigation system which feed each level. This, like all Inca sites are classed as UNESCO world herritage sites, which means that no speculative restoration can take place. Collapsed walls canot be rebuilt, which explains the heaps of rocks around the site and wooden bracing to prevent walls from collapsing.
Our next stop is at Salineras a hillside of four thousand-five-hundred salt ponds fed by a small stream issuing from deep within the mountain. It is not certain where the salt comes from. As most of South America came from under the sea, there may be salt deposits from an underground sea or warm water running though salt rocks.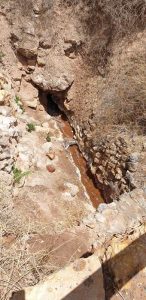 It has been in use since pre-Inca times and the stream is now fed to scores of salt ponds cooperatively tended by families responsible for fifteen to thirty ponds. It looks like painstaking work filling the ponds for three days, waiting four days for the water to evaporate in the dry season. The result is three layers of different quality; the top layer is for the table, the second is the best quality and the third is for medicinal and agricultural use. The salt is then gathered, bagged and carried, by hand up to a storage area. There is predictably, an opportunity to buy salt. Angela says that this is the best salt as the oceans are so polluted with plastic these days.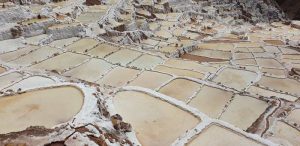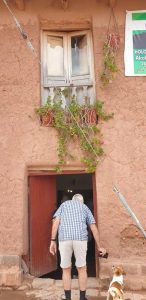 There are no handy lunch places in this part of the country, so an enterprising elderly couple in Maras have opened their home to lunch guests. This town, was build by the Spanish to collect taxes.  We are welcomed into a courtyard where we wash our hands with alcohol gel then climb the stairs to a large kitchen/dining room. Our starters are roasted corn nibbles, bread and cheese then chilled soup made with potatoes, carrots and broad beans.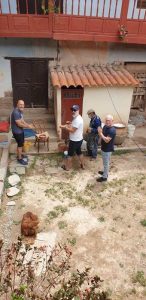 The main course is chicken & onions with rice and potatoes. Our host is a musician and there is a beautiful harp near the window. He brings out a collection of instruments gives each of us one to play, then he leads the improvisation on his wooden flute, alternating with sections on a violin.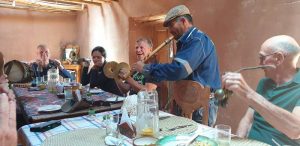 It's great fun joining in – mostly with percussion instruments. I get a set of pan-pipes which challenges my skills to make much of a noise as I struggle to get the correct embouchure.
Our last stop before Cuzco is Chinchero, an outdoor weaving centre where we witness spinning of wool with a spindle. It looks so simple, and the thread produced is very fine.
The main demonstration is the creation of dyes from natural products. Cochineal is an insect that lives on cactus plants. A small white creature which when crushed produces a bright red colour. The woman demonstrates how this can be used as a lipstick and guarantees that it last longer that modern lipstick and will not be spoilt by kissing. There is an opportunity to buy goods and a great deal of interest is taken by the group. We also meet a young Italian woman who is learning the Quechua language in order to complete her PhD in textiles. Quechua has been around in south America for over a thousand years and has various dialects. It is also thought to be the language which the Inca adopted and promoted for their empire.