Day 5
Another long drive today through valleys over four thousand metres high. Mountains on either side of us are straw-yellow with a hint of green. We continue to feel the effect of the altitude and some of us are not adjusting well.
The scenery is grand and the skies are big. Evidence of corn fields – random strips up the side of a mountain – begin to appear as do flocks of Alpaca, tended by a herder. Stone corals, some seemingly abandoned, can be seen. The Alpaca shelter in these overnight but these low dry-stone-walls can't possibly contain Alpacas.
The ones my sister-in-law had were always jumping fences. I conclude that they must be hobbled at night to prevent escape. Further on there are cattle and sheep who are tethered so they cannot graze the green lucerne grown and clipped by hand to feed the stock. This farming practice is much the same as Egypt which I observed some years ago. Compared with the mountains this agriculture seems very small scale.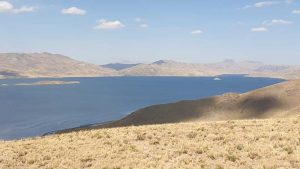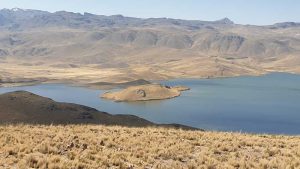 We stop at a beautiful lake where I observe a very stunted Alpaca scratching a living from the ubiquitous Ichu grass – a kind of tussock. The animal attacks the green roots of the Ichu from the outside leaving the centre to continue to grow. Suddenly I notice that much of the Ichu has been grazed and the herders are rotating their flocks around to different areas. It also looks like some had been clipped to feed to other stock. The Alpaca are key to this area, able to live at high altitudes and survive the cold nights in their woolly fleeces.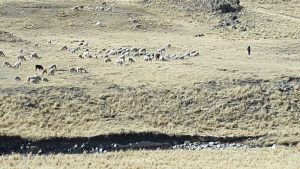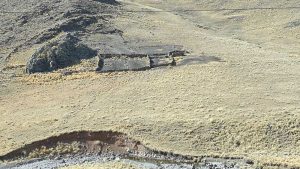 They provide meat to accompany a diet of corn and potatoes. The wool is woven and every stop along the way and urban markets offer 'Baby Alpaca' accumulated during the lack of tourism during the pandemic. The Peruvians are not pushy sellers, but you can tell that they have been severely affected. There's a mountain of textiles and hand-made garments for sale post- pandemic.
We arrive to a view of Lake Titicaca, far below. It is blue and inviting but the foreground is grim. The road snakes down through the outskirts of Puno, an ugly city of half-finished buildings in a beautiful setting.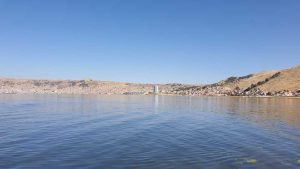 We walk out to explore the older heart of the city and to find a laundry service. There are none to be seen so we take our dirty clothes to dinner. A google search reveals several Laundries nearby, but they will be closed by the time we have eaten. It just seems easier to do it via the hotel.