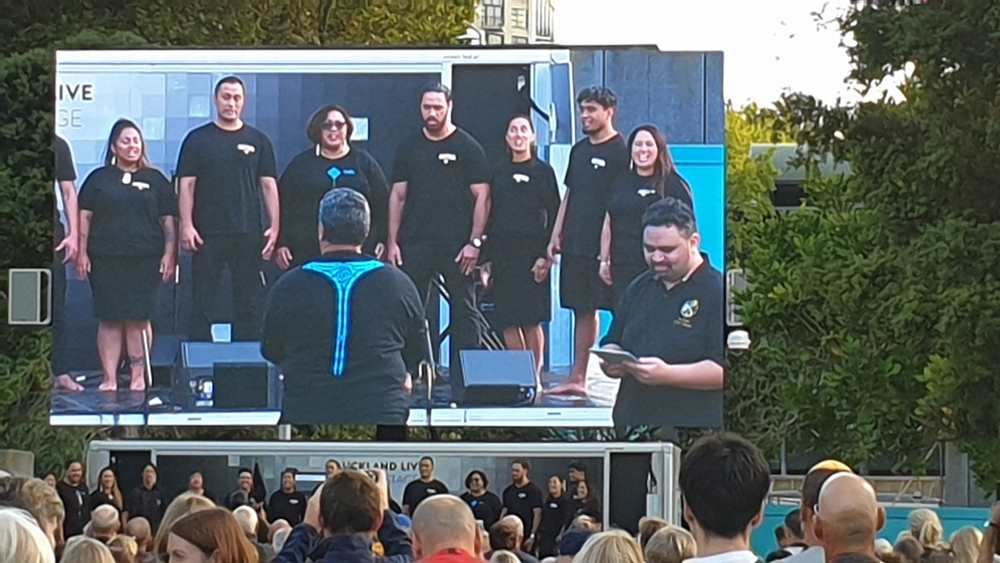 I booked mostly theatre events and at the time of writing, the only cancellation due to COVID 19 has been the out-door spectacular, 'Place des Ange' in the Auckland Domain. The transport of their equipment had been disrupted. (by now, several shows have been cancelled because the artists were not in the country before the quarantine regulations went into force.)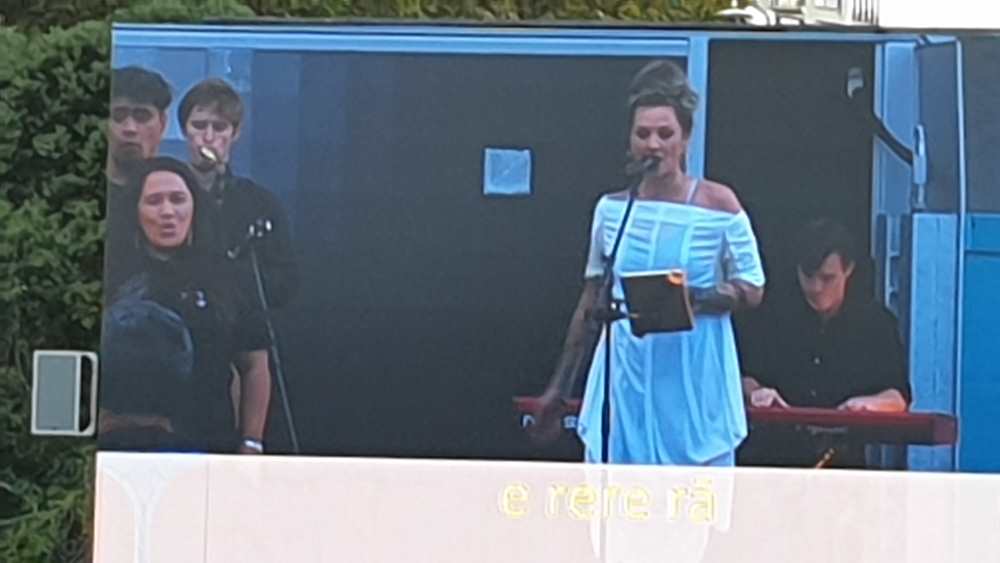 I attended the free out-door opening event in Aotea Square. The highlight was Bohemian Rhapsody performed acapella by Hatea Kapa Haka in Te Reo Maori. After a bad start, they began again and were stunning. They also led the audience in the National anthem in Te Reo. Hollie Smith, iconic kiwi singer, was the headliner culminating in a Te Reo version of 'Bathe in the River by Don McGlashan. There was a lot of 'community singing by the audience encouraged by the energetic and engaging singer/compare. It started to rain so I took shelter under one of the sun shades near the back.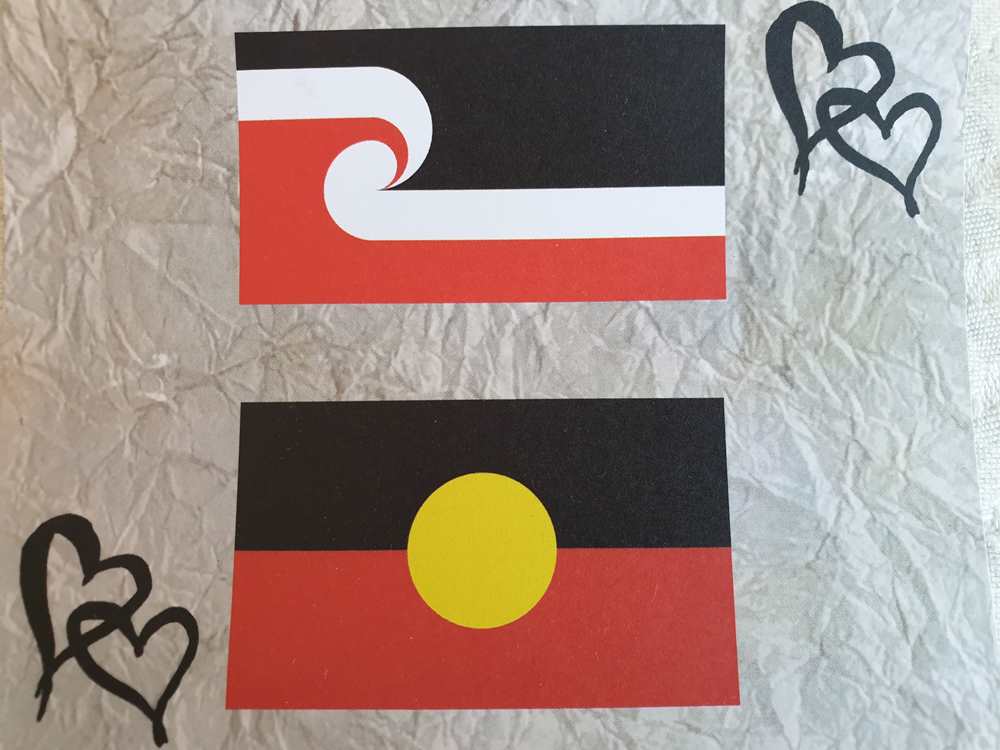 My next event was nearby in the Waitakere Rooms at the Aotea Centre. Intriguing. We, the audience, gathered for Black Ties in a large bar area before being ushered downstairs to a huge function room set out with circular tables and chairs. The action took place on a raised stage at one side of the room. Aboriginal Kane and Maori Hera are young and in love and to set things in motion (after an interruption by his adopted brother) he proposes. She's keen, but won't give an answer until they have met both sides of their respective families. The action quickly flicks between Melbourne and Rural New Zealand, exposing dysfunctional and inappropriate behaviour on both sides of the Tasman Sea. Everything goes hilariously wrong as prejudices are revealed and actioned. Mothers embarrass. Sylvia's known bottom line is that only a Maori can marry her daughters, while Ruth Baker, wants her son to stay in Melbourne. At the end of Act one and against all the odds, the answer to the proposal was a yes, though we didn't see much of the couple's process in making this decision.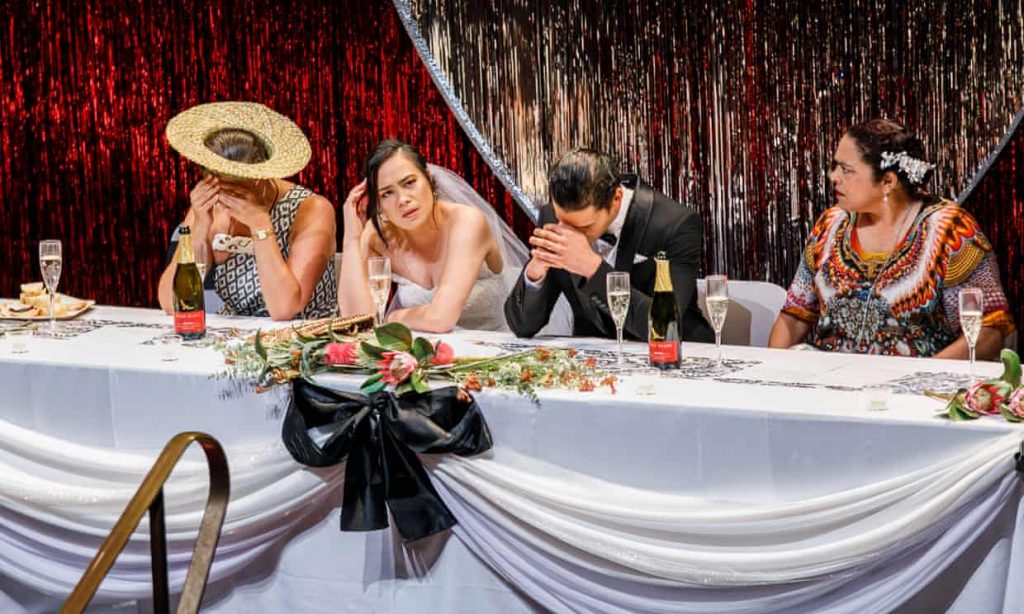 We were banished upstairs at the interval and returned to find ourselves at a wedding reception. Families/Whanau/Mobs have met and the Mothers are already at loggerheads ranging from icily polite to downright vicious. Siblings and best friends are also at war, leaving Kane's adopted brother ducking arrows and Hera's young sister making the wedding video, which transports crucial off-stage scenes to on-stage screens. Did I mention the band? – of course it's a musical with wedding and love story standards. They gallantly fill in the awkward pauses in the passions and cover when too many of the characters are off-stage. Consequently, act two sags in places.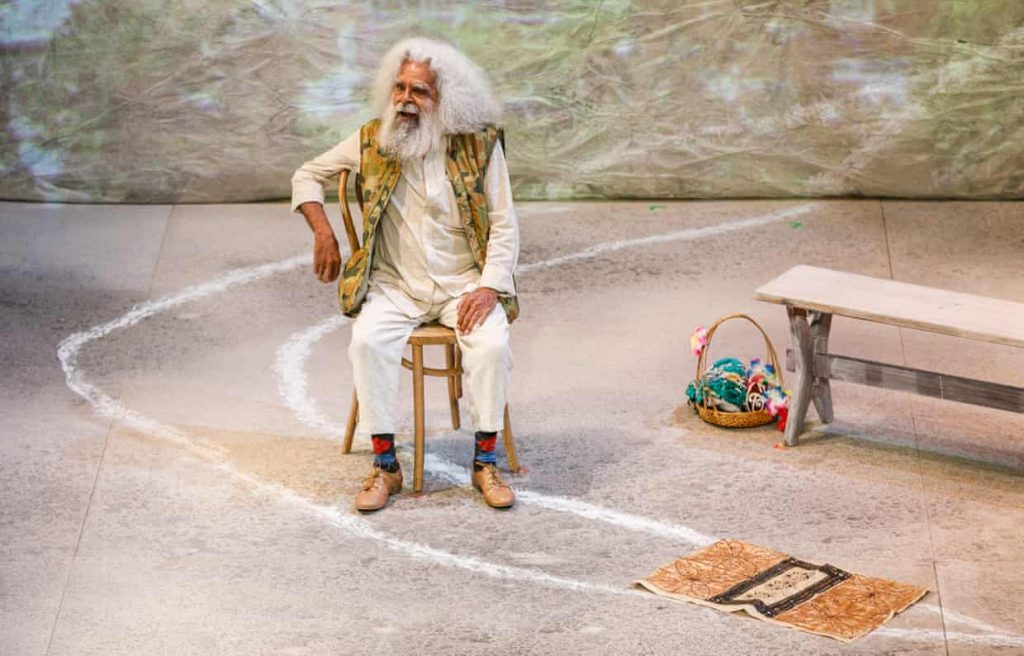 The cultural clash is palpable and the experience, chaotic, funny and dangerous – all vital ingredients for a good night at the theatre. This important piece is a result of collaboration between ILBIJEIR and Te Rehia theatres. First Nation people have a lot to give to each other and we, the colonisers have much to learn from such cultural collaborations with the brakes off.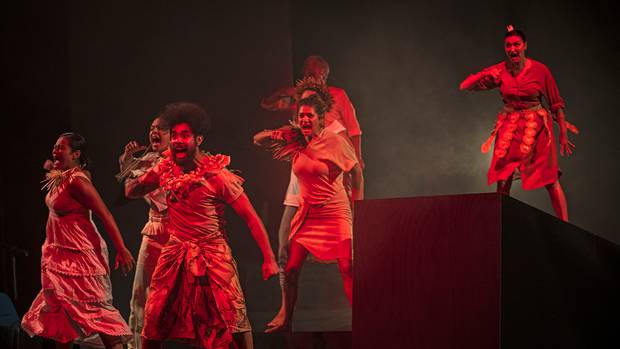 Where Black Ties boldly takes swipes at Maori culture, The Treaty, the lack of a treaty (Australia), absent fathers, drink and loss of culture, UPU (Silo Theatre) is a cry from the Pacific. It's an anthology of poetry and prose from the islands, starting with Matariki (Samoa) – the lining up of the stars for the Pleiades group in a powerful ensemble opening. It brings together voices from this vast area of ocean, often forgotten, to talk about sea level rises, missionaries and their legacy and colonisation. There's a section where the speakers de-colonise with different actions, another where a Pacifica man describes the joys of sex for her, a white missionary wife. Another, eulogises the delights of Spam, brought to the Pacific by American colonisers. My favourite was the Fat Brown Woman. She has attitude, sexuality and she is not to be messed with. The women in the ensemble, all thin to average, somehow managed to swing their hips and swell their bodies to suggest fat. With such powerful words it was a pity that at times there were rushed or lost, particularly by the male actors. These are words to savour, messages from the First Nation people of the Pacific.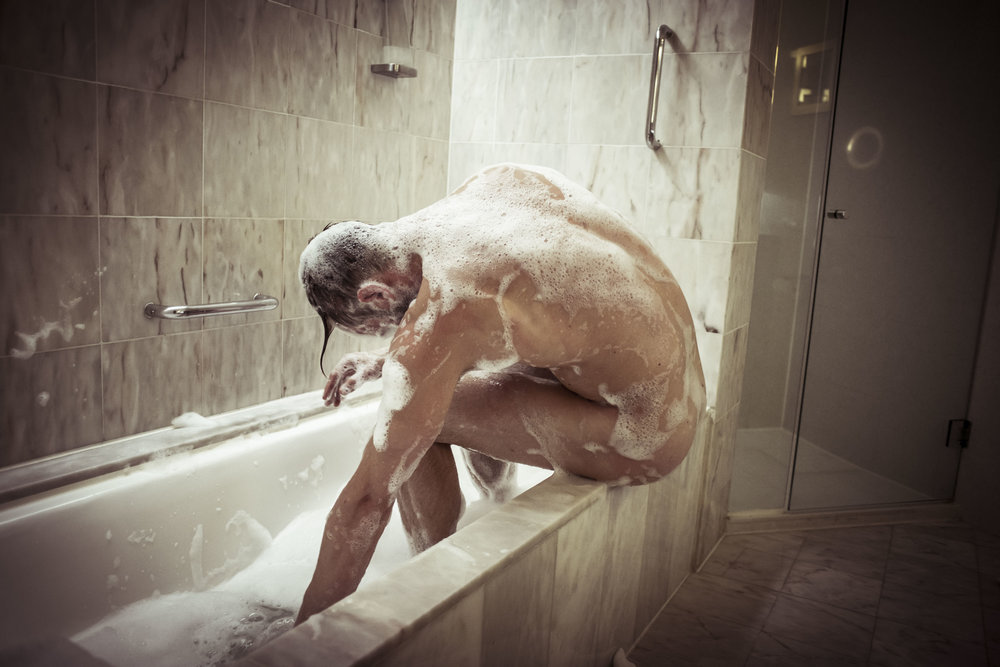 Biladurang (Platypus) is a one-person dance/theatre performance in a hotel suite twenty odd floors up overlooking water – in this case the Waitemata Harbour and Hauraki Gulf. Joel Bray is the writer and performer, he's blond, white, Aboriginal and gay and this is his story. There's a warning of 'course language, adult themes, drug references, nudity and sexual references. I hesitated to book, but the Aboriginal aspect drew me in and well, I do look to push out of my comfort zone wherever possible. That's what theatre should do.
We gathered on the ground floor, a full house of sixteen people – mostly middle aged and, like me, older – four of us were men. Two lifts took us up and we assembled outside the room – one of us knocked on the door. Joel, dressed in a bath robe answered, embarrassed – quickly retreated to retrieve underwear from the floor and handed us all bathrobes to wear. It was intimate, but we settled in with a glass of bubbles each. Joel made a good stab at remembering our names as we entered and he played on the initial awkwardness of our situation by chatting away to make us feel comfortable. He lapsed into dance – using a wall and the floor as a springboard for his strong hands and broad feet – moving in contemporary style – narrowly missing furniture: the television, the low round table clustered with glasses and wine bottles. A sound track came from a laptop controlled with a finger in between arabesques. He recounted his teenage discovery of gay porn followed by Christian self-disgust and guilt. The self-inspection of his forty-nine-year-old body lead to memories of drug use, being fucked but never finding love in a relationship – a familiar gay theme. The performance is a careful construction of set pieces and intervening chat with audience management. Those who were placed on the bed were moved so it could become the next performance space.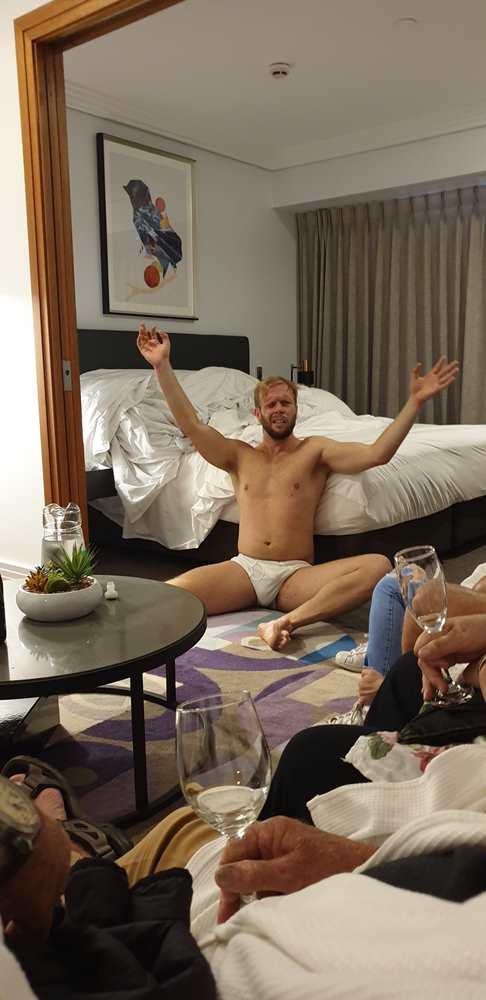 Joel needed to shower and we heard the sound of water as he turned on the taps in the bathroom – returning briefly to dim the lights and point a remote at the television – we watched the next performance space. Emerging cleansed and naked but covered in foam, he opened the curtains, dressed. We look out at Auckland, the Waitemata Harbour and the Islands of the Hauraki Gulf. Four of us from Waiheke Island were there – we proudly point it out.
The water is part of the story of the Platypus the journey to being created half duck, half rat – defying classification. This is the crux of Joel's story – white but black – not fitting in anywhere. His ancestors were 'stolen', became detached from their culture – half remembered by his father and reassembled by another generation. Does he know who he is?
He recalled attending an event for Aboriginal people and being asked, 'How do you know you are Aboriginal?' There was a pause but no answer to the question. There was a moment when he spoke for all First nation people – imagining a parallel universe where no Red Coats arrived no ships carrying settlers landed – a powerful image of a pristine forest (no global warming) where the Biladurang hunts for food in the river with her duck's bill and lays eggs which will hatch into the next generation. There are still some in the ancestral lands of the Wiradjuri people.