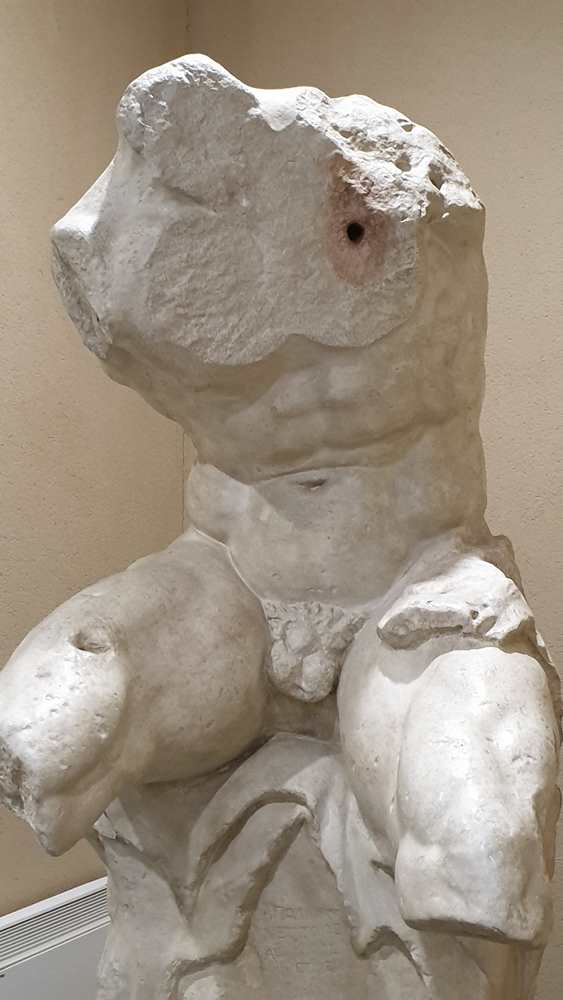 I've booked an early tour of the Vatican to celebrate my Birthday and avoid queuing, but it's raining again as I leave the apartment and have to return and make use of a very waterproof raincoat with cap attached. I simply put the cap on my head and the coat hangs around me covering my small rucksack. The street sellers, who yesterday were touting ice-cold water, have adapted over-night and now offer umbrellas and plastic ponchos. The level of sales aggression here is much lower than other parts of the world and because I am water-proofed, I get to the Metro unmolested. It's slightly tricky following the instructions to the tour meeting point, reading the email, on my phone, in the rain but I arrive in time, to a wide set of steps crowded with damp tourists. I have to queue (a short one) to check in to be redirected to my guide, Manuela who is a few metres away holding a pink umbrella. There are only four of us in this English-speaking group – the other three are all from New York.
We get our audio-gadgets and earphones and I try-out only one, in my better ear. I end up using both but find them hard work as Manuela's microphone picks up and amplifies every sound around her and there's lots of it, including other tour guides.
We don't avoid queuing entirely as we have to 'enter the Vatican' -another country and thus have to queue for a bag and body security check. We can go in now and there's a bit of waiting around while Manuela gets tickets for us to feed into the turn styles. The place is so crowded (as my B&B host said it would be in the morning) that I'm glad that I'm on a tour. It might have taken me some time to work out where to go and what to see. Apparently, there are kilometres of corridors in the Vatican Museum and in three hours, we are concentrating on the best. We'e in luck, the escalator is working, so we don't have to walk up the huge spiral ramp. It looks quite spectacular from the top. Our first sight of art are two sculptures (copies) by Michael Angelo. Manuela says that he constantly referred to himself as a sculptor, not a painter. We look at a wooden model of the entire Vatican to get an idea where everything is. The present Pope hads eschewed the luxurious bedroom in the Papal Palace and has a suite in the only hotel in the Vatican City – but still guarded by Swiss Guards. The rain has stopped enough to look at the garden with the dome of St Peter's in the background.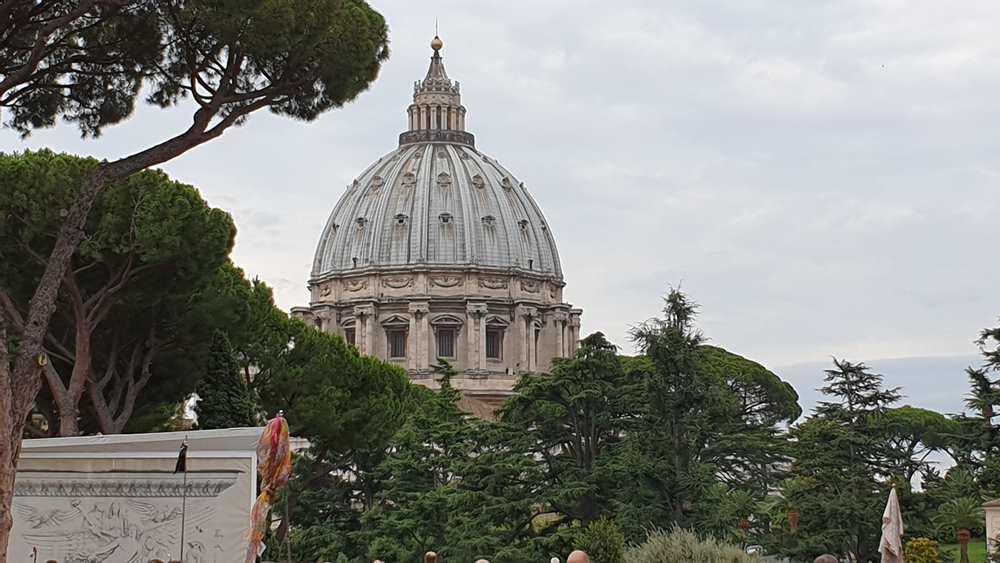 Now we are going down a wide corridor packed with people looking at exquisite statuary and relief work. Manuela is a great admirer of all these beautiful young male bodies hewn from white marble. She tells us how the Romans greatly admired Greek culture, especially the statues. Greek sculptors were employed to make copies of the best which were sold to wealthy families. Some of course are damaged from the sacking of Rome at the end of the Empire and buried for centuries. The Romans, however, were not as keen on total nudity. They covered genitals with fig leaves and bits of fabric strategically wafted across the crotch. Here all the ceilings are exquisitely painted in perspective to suggest architectural mouldings. The Renaissance painters were fantastic at this – you can find amazing theatrical sets demonstrating the art of perspective. Here the work is so convincing, even though the ceiling is entirely smooth.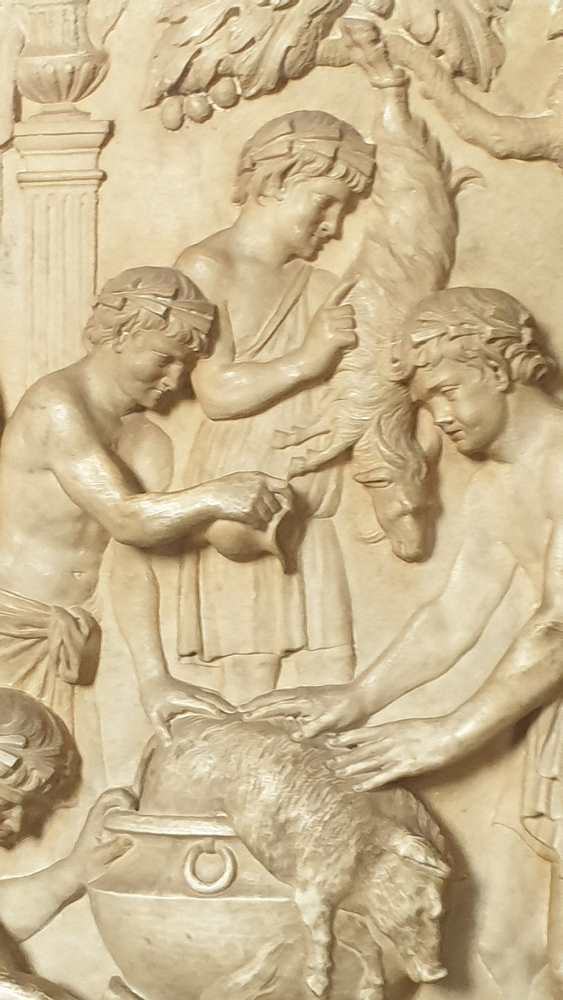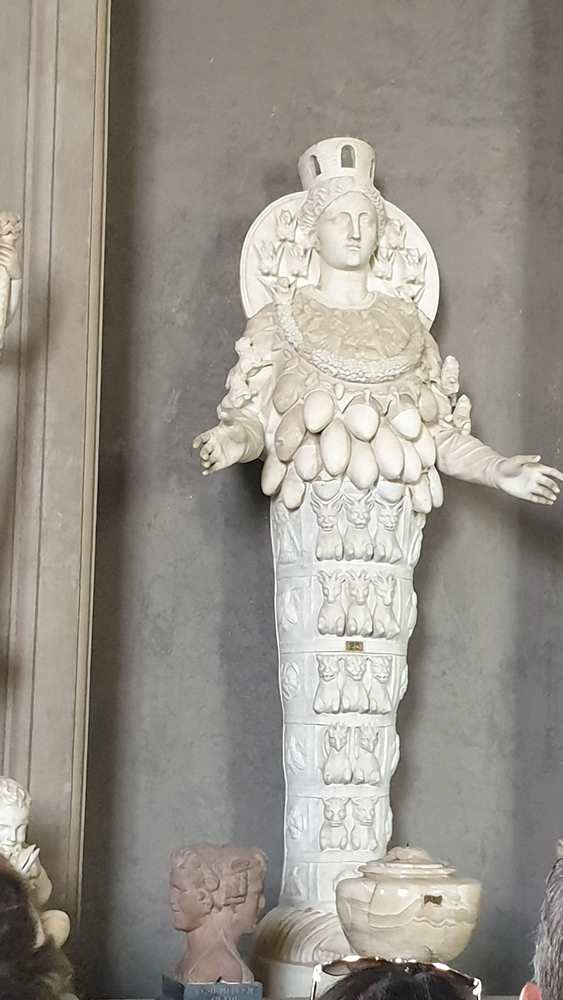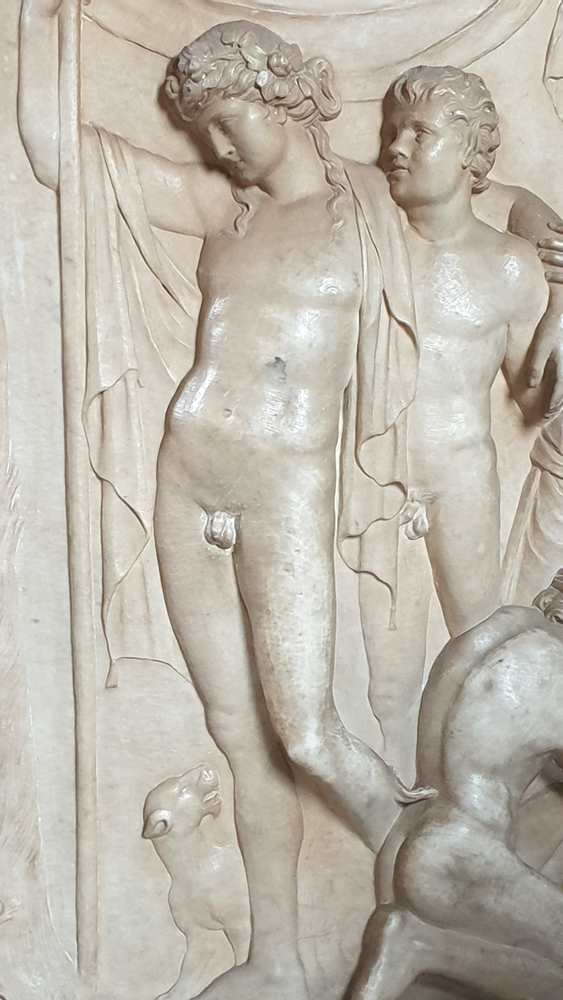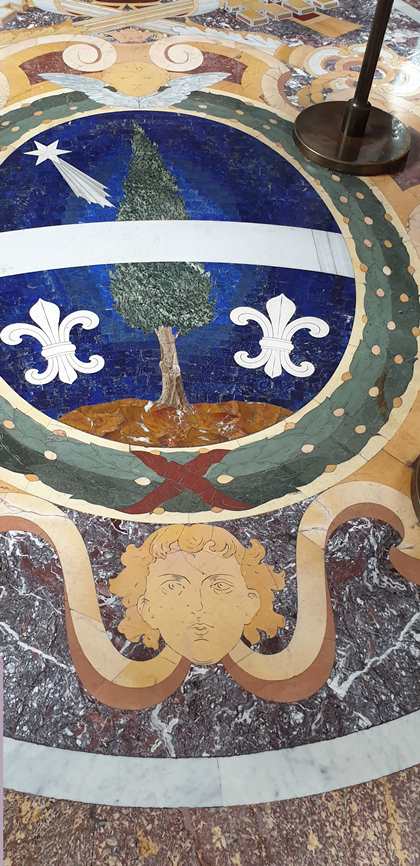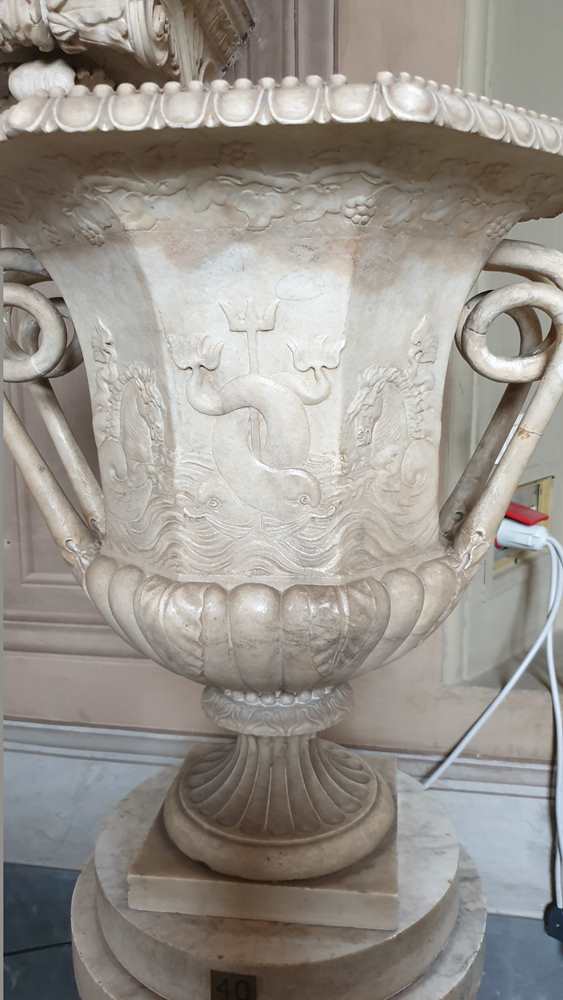 We pass into a gallery of amazing tapestries and Manuela explains how the cartoon was inserted underneath the netting. A similar cartoon technique is used for the ceiling frescoes.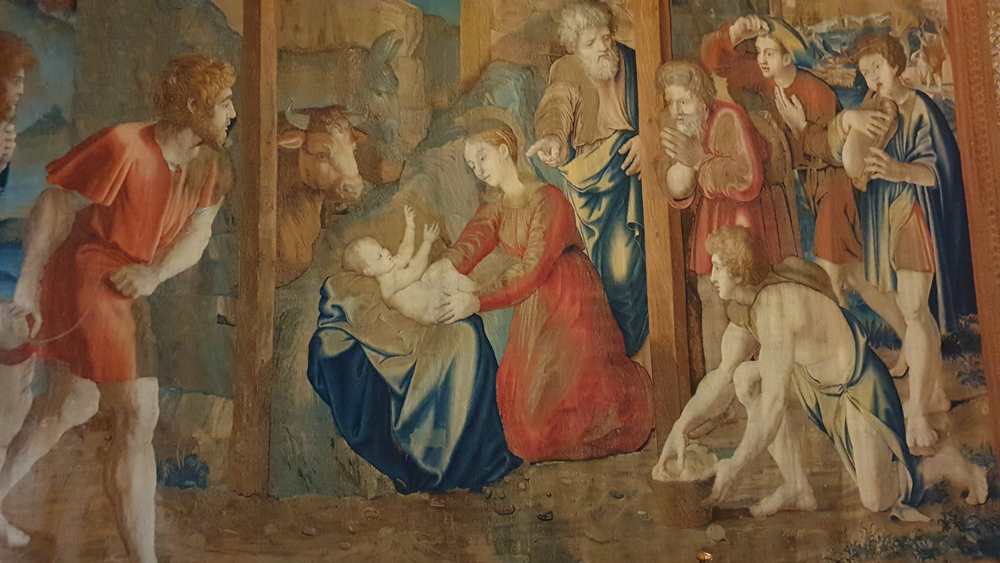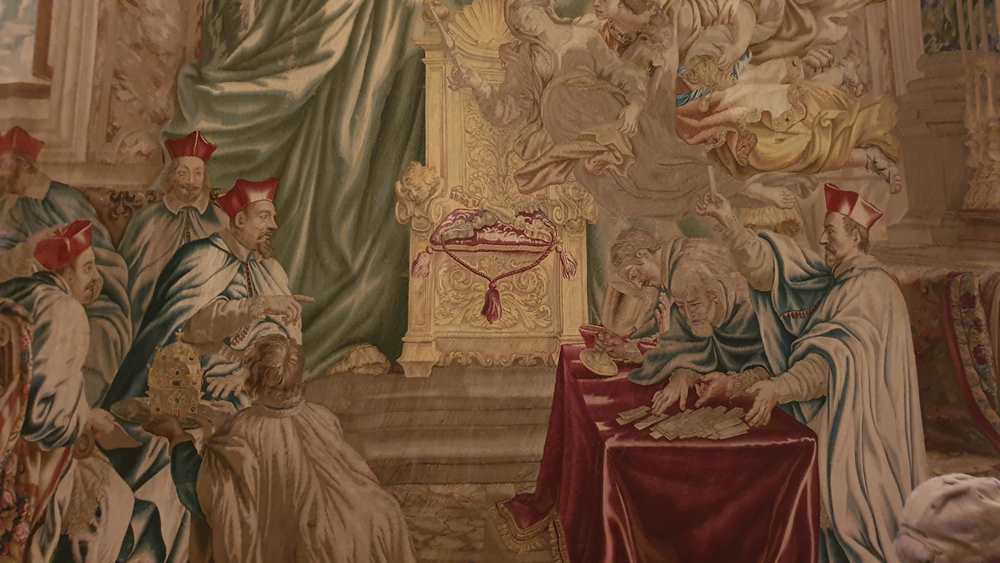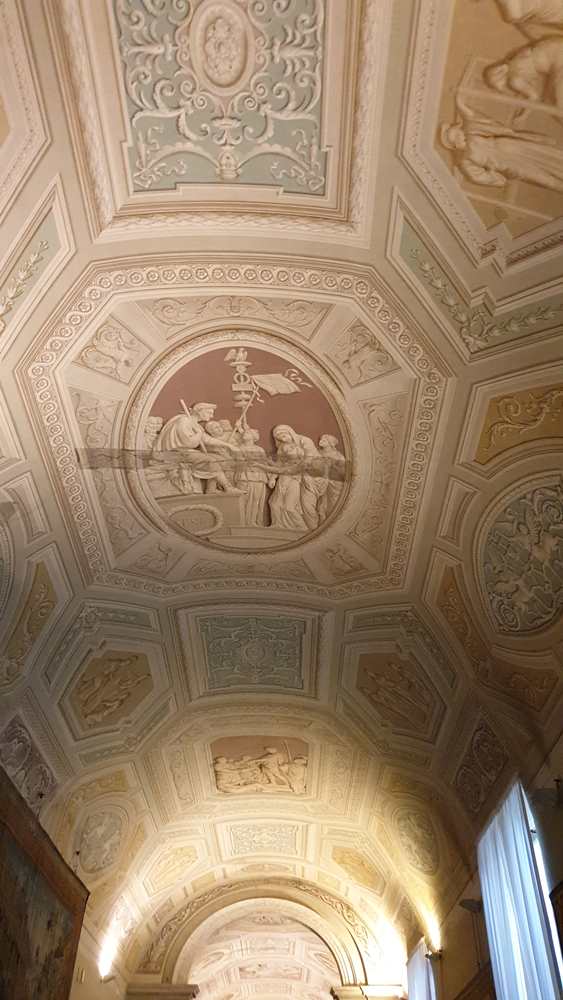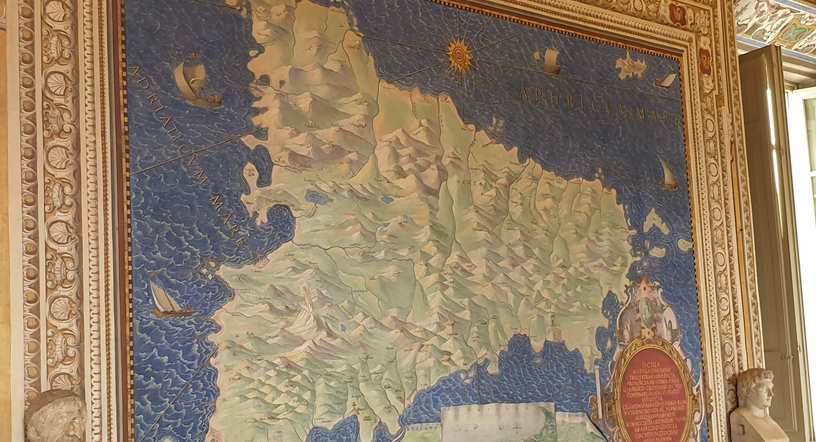 The hall of maps has a stunning ceiling and the maps, depicting various regions of Italy are all frescoes – each on had to be painted in one day and are apparently fairly accurate as maps go. As they are painted as from the North of Italy, they are all upside down. This might have been before the realisation that the world is round and up the other way – a decision made to emphasise the dominance of European culture. The Antipodes print maps with Antarctica at the top.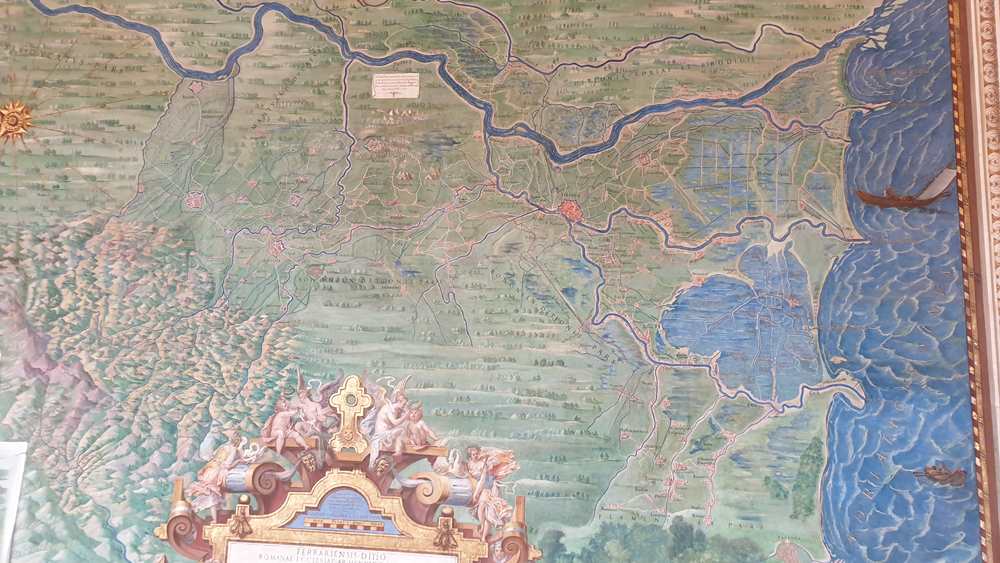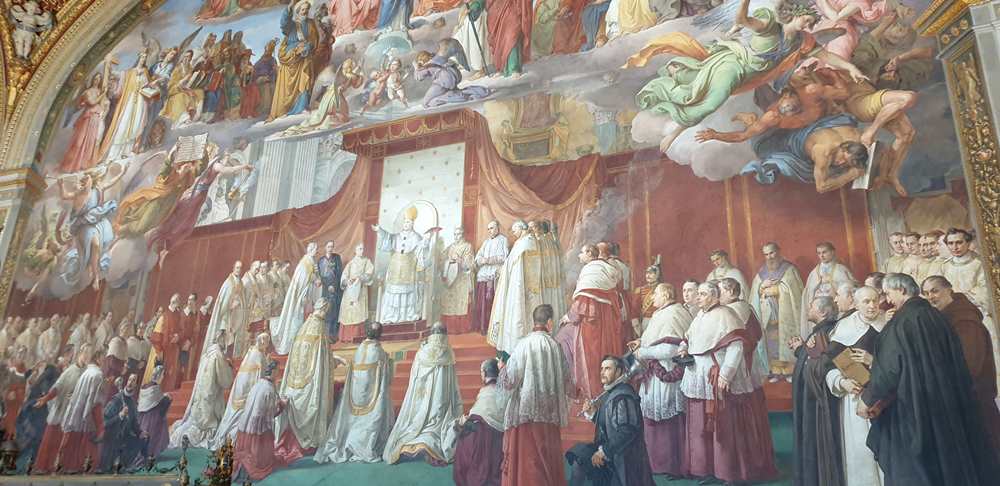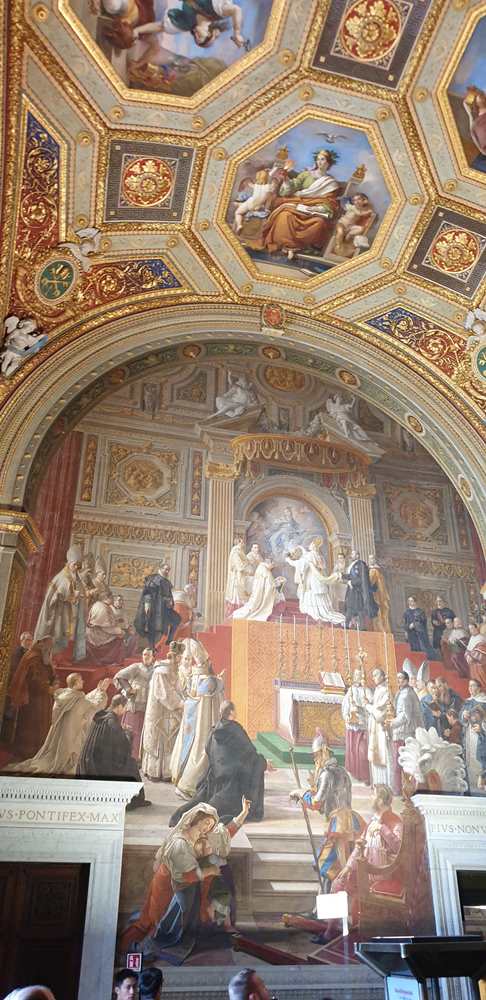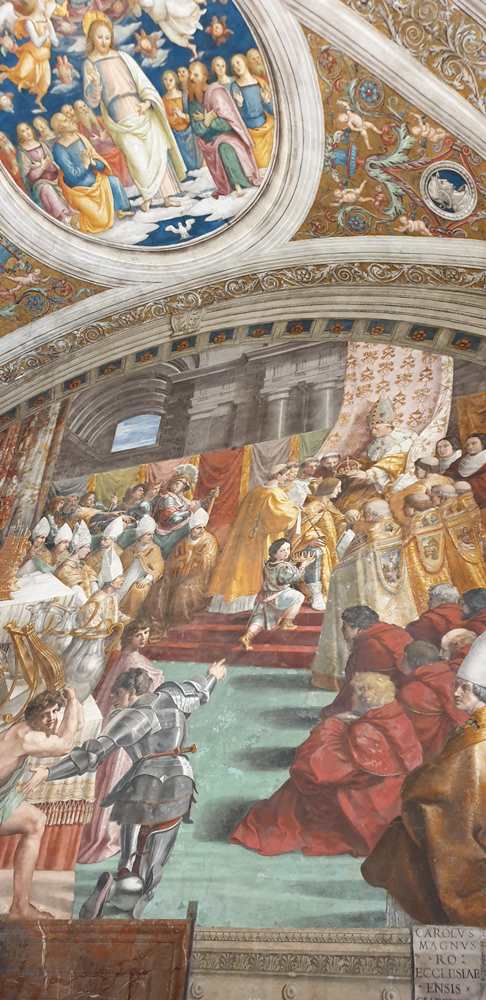 Now we are in the Raphael part of the museum – it's under re-construction. Raphael sadly died young and his death was considered a great tragedy. Some of the work here was completed by his school of followers from his original cartoons. Michael Angelo and Raphael worked side by side in the same building. I note details of the fantastic mosaic flooring and Manuela is pleased. She spends time preparing us for the Sistine Chapel – we each have a leaflet with the lay-out of this monumental work and she goes through each section explaining what it's about.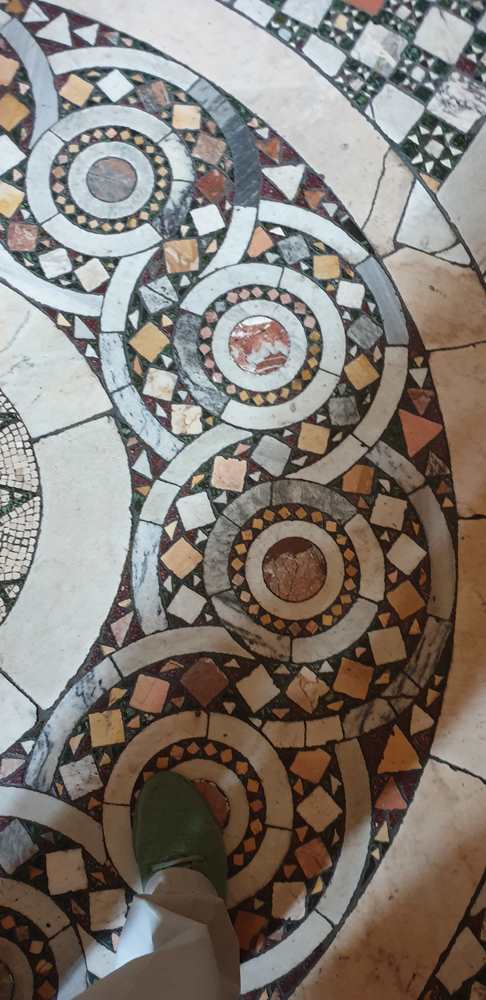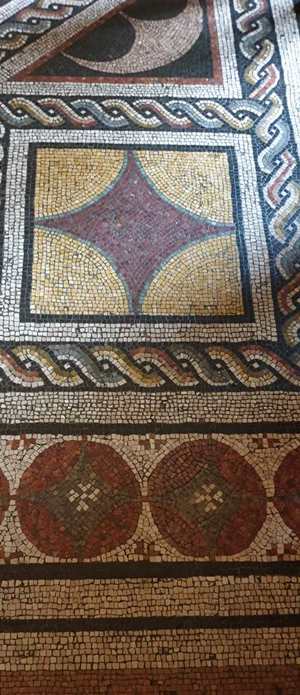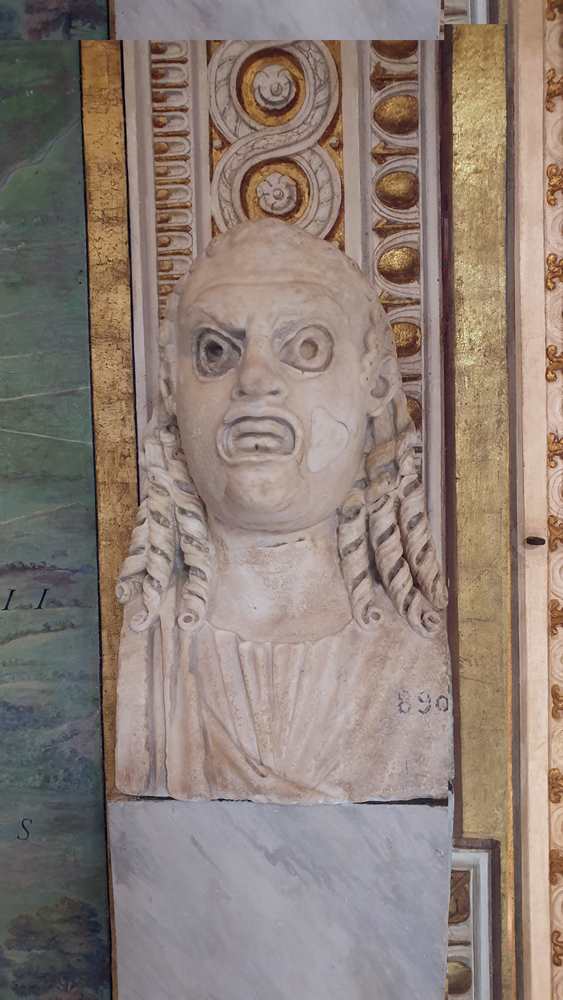 No guiding or photography is allowed in the chapel and we have fifteen minutes to crane our necks to look upwards at the ceiling. It's recently been restored and looks vibrant. Every now and then there are shushing sounds from wardens – we are supposed to be silent. A young priest with a microphone shushes us prior to delivering a brief prayer.
Suddenly, we're looking at work by Cezanne – his paper cut-out designs for stained glass windows – fantastic – but where are they? Now, out in the open air to see the magnificent St Peter's Square before going into the Basilica. It's the largest church in the world and took one hundred and fifty years and many Popes to complete. The lengths of St Paul's and Westminster Abbey (the break-away Church of England) are measured on the floor here – tiny by comparison.
Manuela has left us to wander around. There's been a service here and we can't go down to the crypt today. It's possible to go to the top of the dome but by the time we finish gawping and the ceiling, the queue is so long that I decide to call it quits. I've seen enough for one session and that the Metro back for a sandwich and afternoon nap.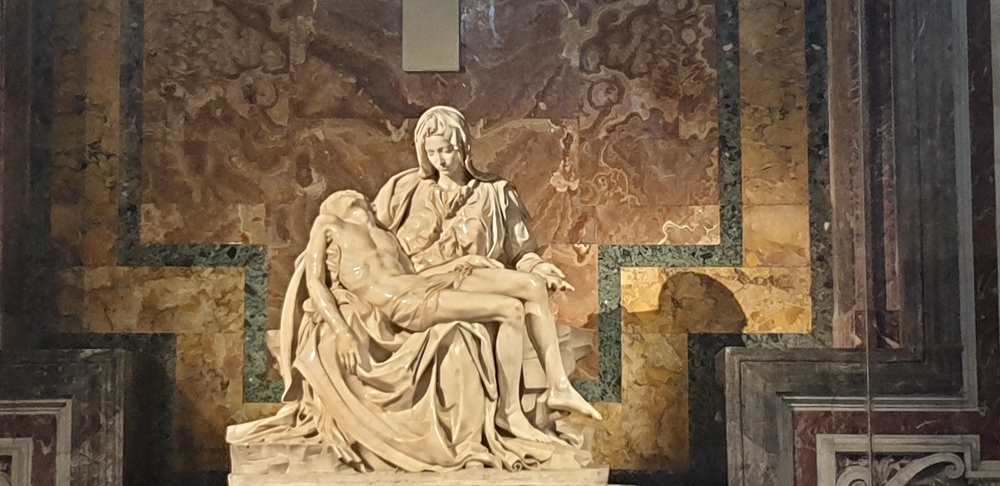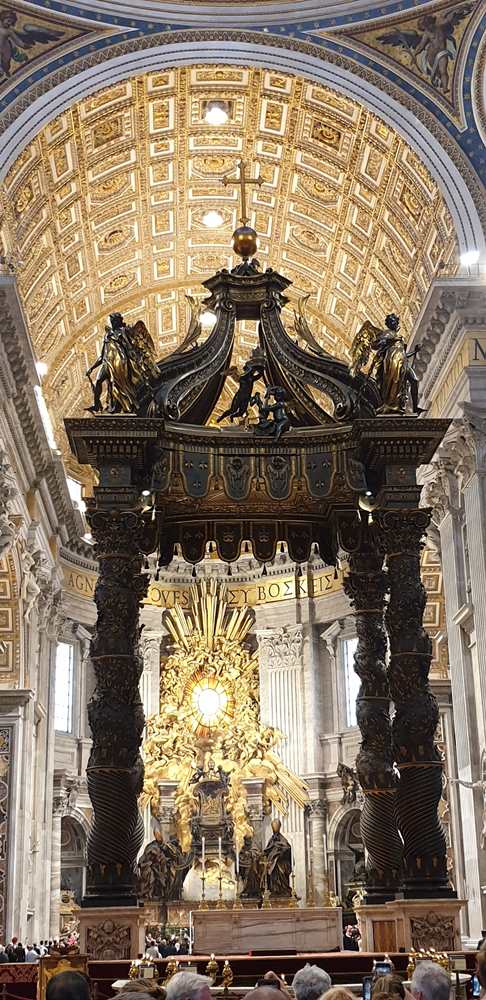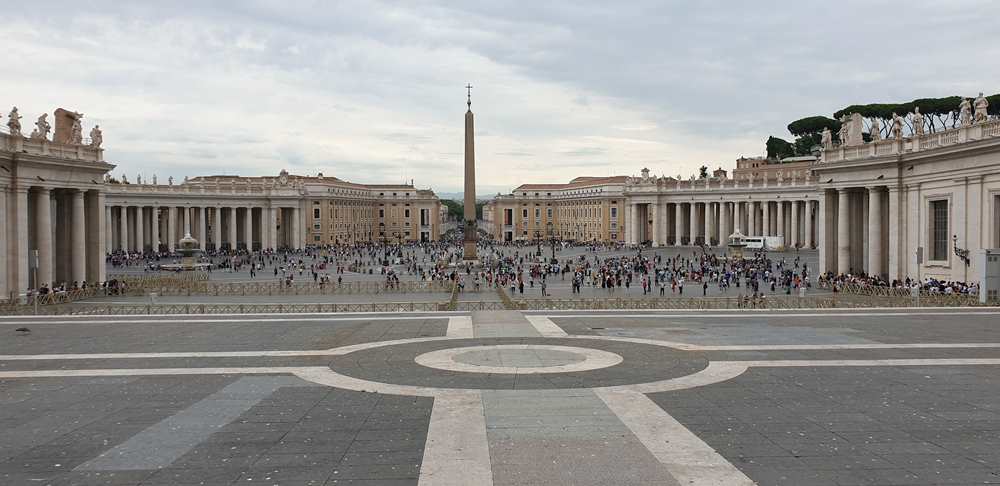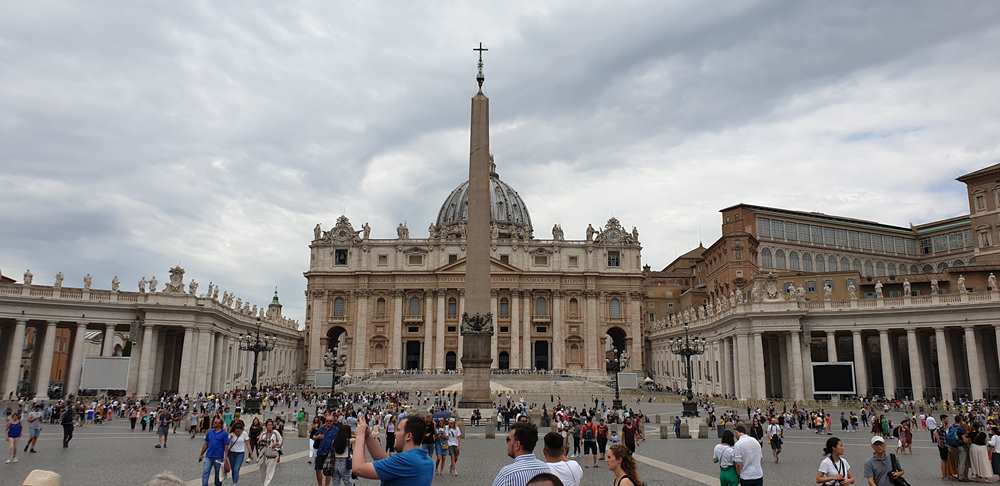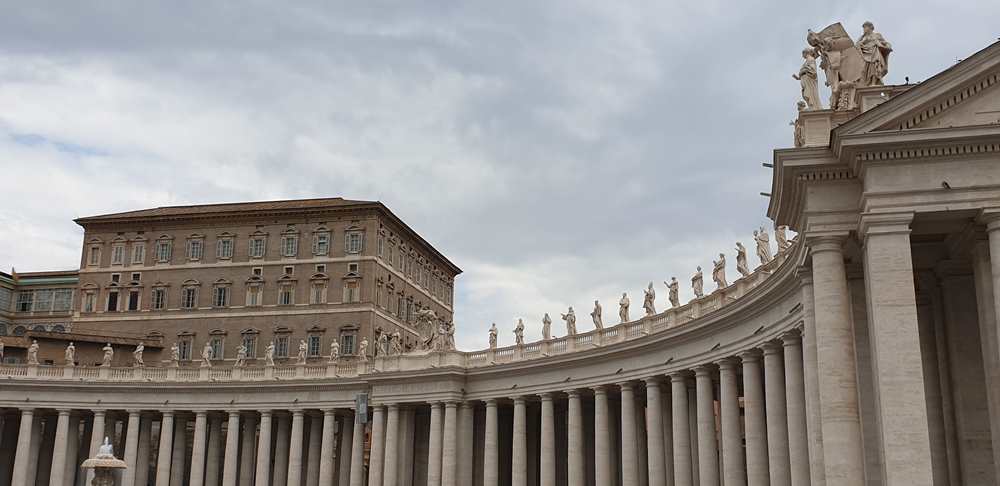 Later I venture out to the nearby San Pietro in Vincoli to see Michael Angelo's Moses – part of a tomb made for Pope Julius II but never used by him. It's tucked away to one side, but worth the walk up the nave for a look at the magnificent carving.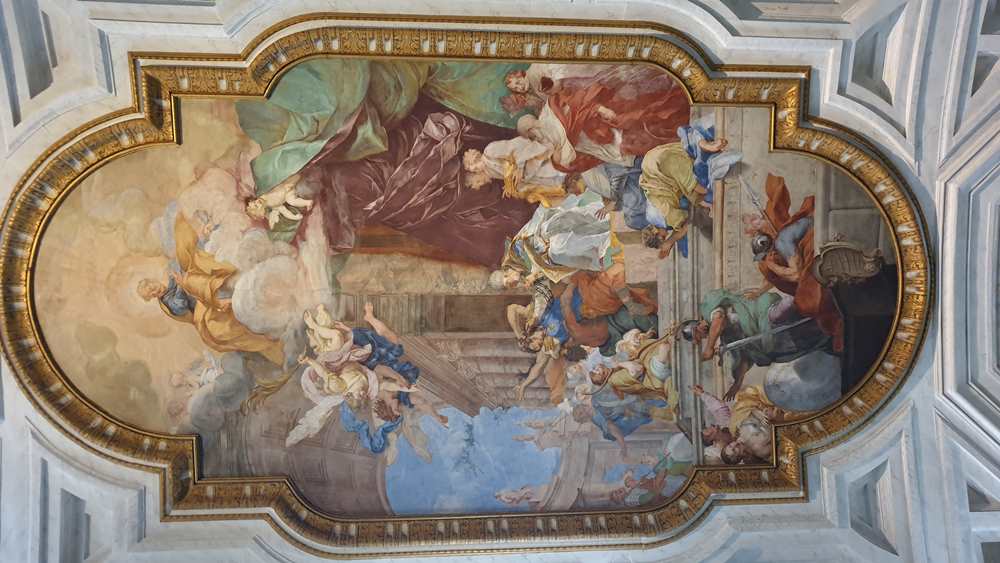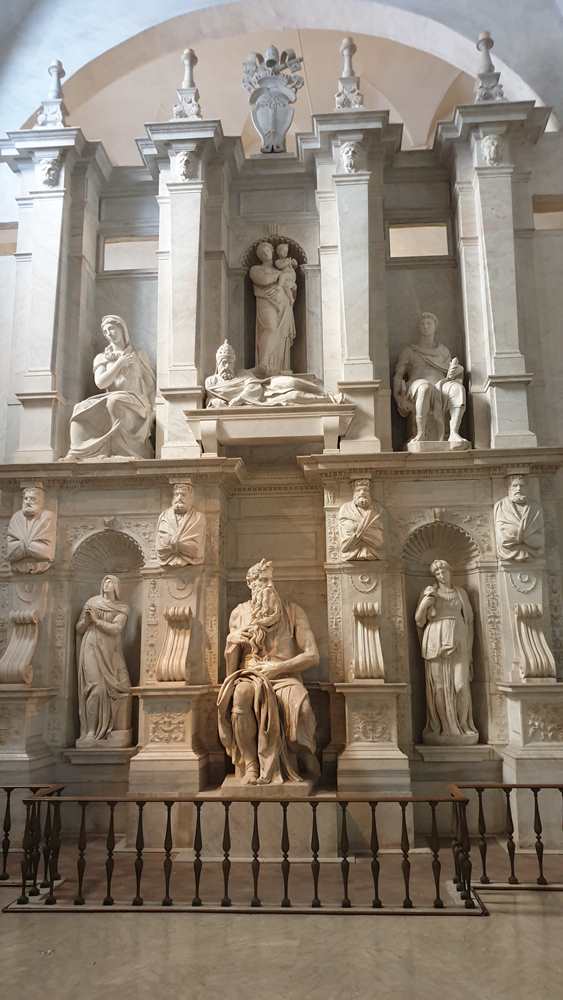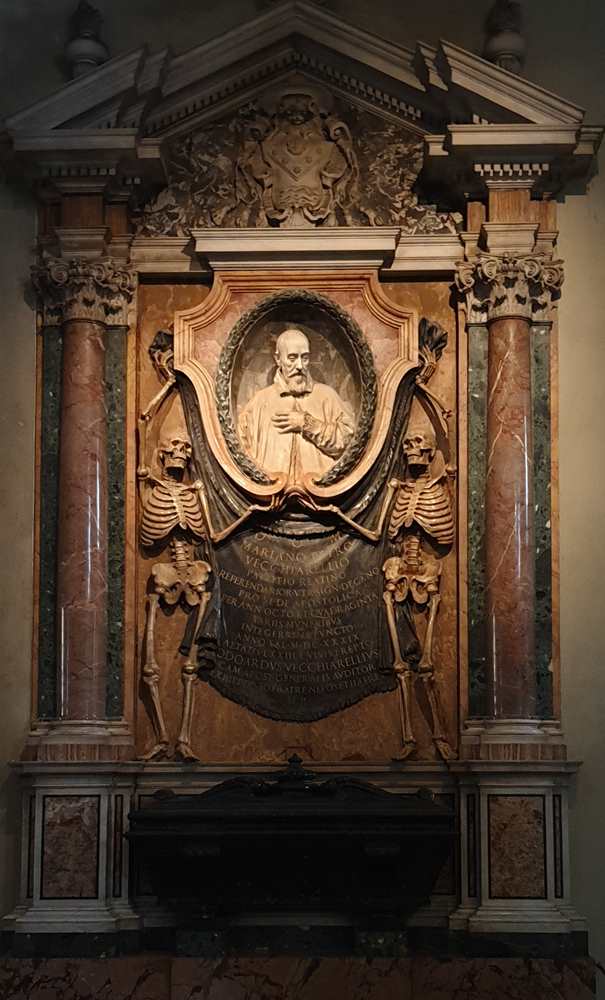 As I'm around the corner from the centre of Gay life in Rome (two bars) I dine there on Spaghetti carbonara. The Roman version is made with egg yolk and cheese and lardons – no cream – it's delicious and simple. I get chatting to a gay couple (together thirty years) sitting next to me. They live in Palm Beach Florida and are no fans of Donald Trump. They ask me about Boris and Brexit as have many Europeans this week. My answer is always that no one knows what will happen.