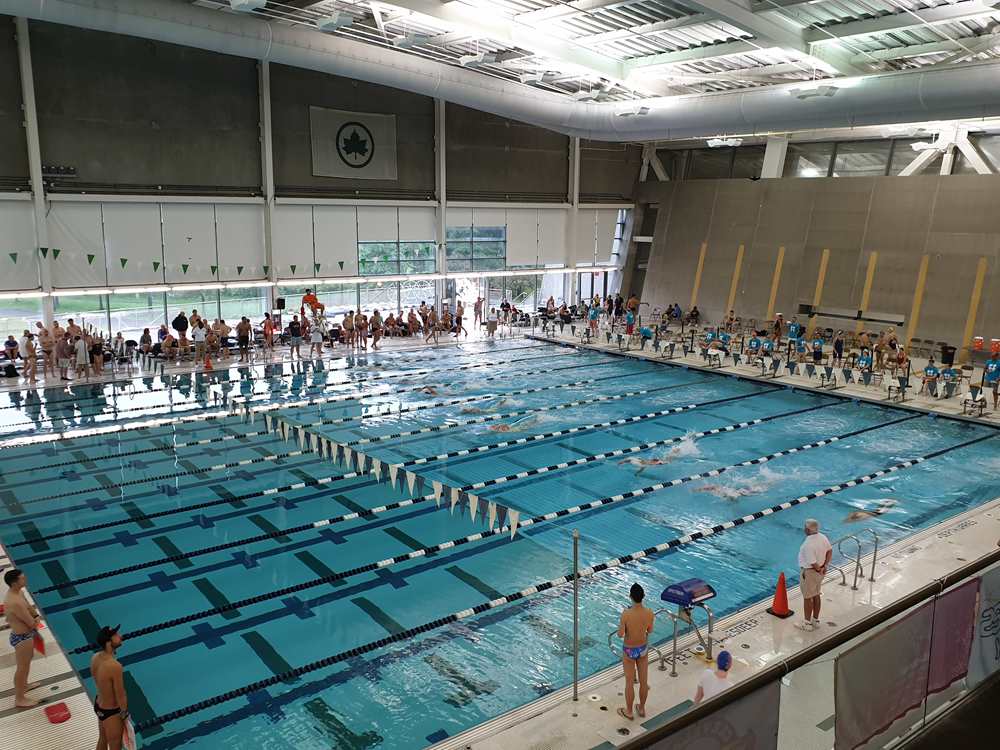 The competition pool is cool, delicious and of even depth. I can tell at the end of twenty-five metres that it's fast. As I reach forward, it's easy to catch the water and push it back. Perhaps it's also the training kicking in – aerobic fitness from threshold sets building up stamina. I glide though my wall at the end of the first two hundred – the warm up is going well. I use the backstroke section to pay attention to turns. Theoretically the flags are at the same position in every pool but that doesn't always guarantee a perfect turn. There's something not quite right but I'm sure it will be ok.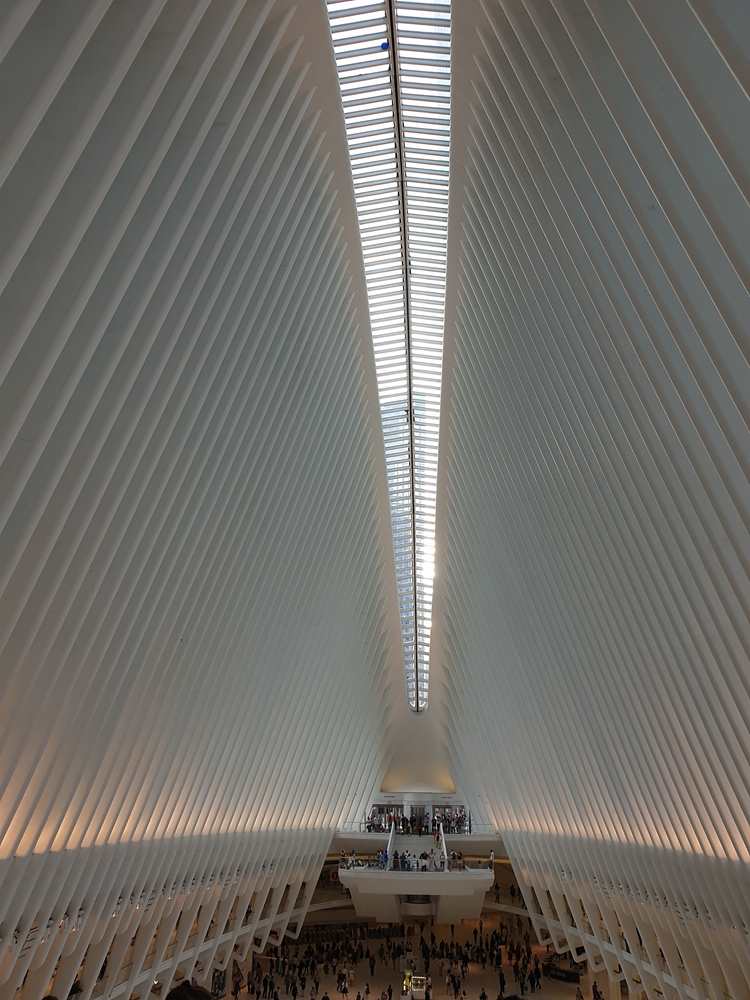 It's an early start, negotiating the subway from Mid-town Manhattan to the pool at Flushing Meadows – all with the aid of my phone. My stop is Mets Point the site of a huge baseball arena, deserted today but I meet up with some of my team walking in the same direction to the pool. They've divided the fifty metres in half so the diving end is for warm downs and late warm ups. Everyone comments on the fast pool. There's a problem with the electronic timing pads so the programme is an hour late starting. I've planned to top up my warm up nearer to my event, later in the morning. Ten o five becomes eleven o five and a session of HVO's sets me up for the 200m backstroke. I'm swimming well, but manage to miss-time most of my turns – too close to the wall at one end and not close enough at the other. My race plan almost disappears as I struggle to get the turns right. It's initially a disappointing start but I end up with a Silver medal and a PB. I'm thinking it could have been a few seconds faster had I got the turns right.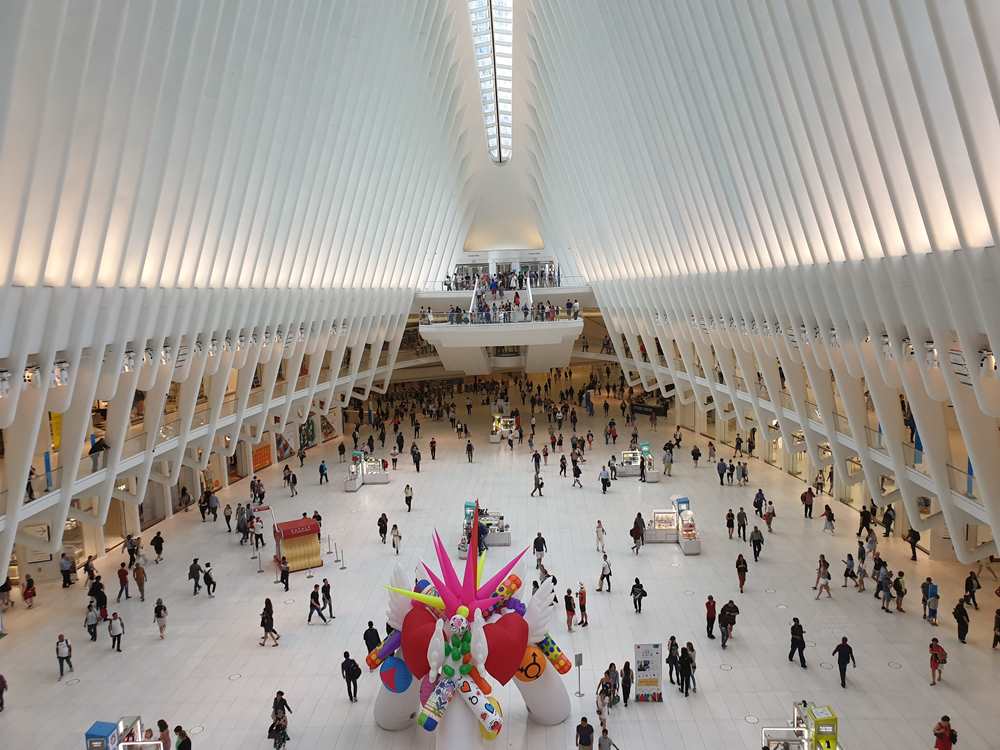 For lunch, I collect a salad with beef from Chipotle across the road from my apartment but can't finish it. I'm meeting up with IGLA friends to see a documentary Light in the Water later and Marcel from Gay Swim Amsterdam messages me about meeting for something to eat before. Time for an afternoon nap to sleep off the salad – perhaps I'll feel like eating later. Marcel & I go for a pizza slice – full of carbs for the next day. We have time, to explore the World Trade Centre area – once Ground Zero. There's a huge skeleton-like building, the entrance to the world Trade subway stations. The footprints of the twin towers are gigantic water features surrounded by Oak trees. I'm reminded by Kathy Gupta's excitement when the first trees were delivered and planted. She and Udayan live across the square and I'll be visiting them later in the week. Last time I was here in 2010, this was still a site of devastation – twisted metal and holes in the ground.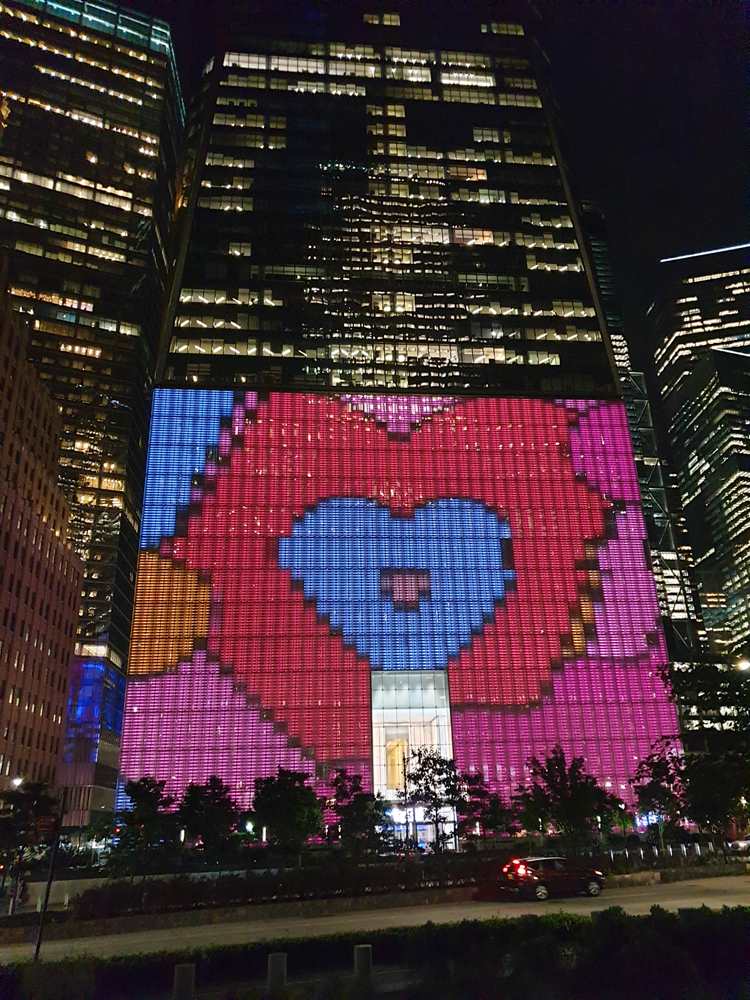 Light in the Water is the story of West Hollywood Aquatics the first LGBT swimming club. A couple of gay swimmers started it to beat homophobia in the swimming world and create a safe space for LGBT people to train and become accepted as gay athletes. The movie traces the origins of the Gay Games and its history. The AIDS epidemic is a large part of the story and how WH2O became a family fighting the hysteria and taking in people rejected by their biological families. There's a Q&A session after the ninety – minute film. Nine of the interviewees have turned up along with the current co-chair of the Gay Games. These are men of my age group who have turned up to race. Some of them were instrumental in setting up IGLA after the first Gay Olympics to make swimming an annual event. The Olympics sued but allowed other non-gay and trivial Olympics to go ahead. Current difficulties with homophobia are touched on in the Q&A and the message is that we all need to turn up and show the world that gays can be top athletes. One of WH2O's aims was to compete in regular Masters Swim Meets and beat the straight guys, and they did. WH2O have a strong presence here in the IGLA competition, winning lots of medals.
Tuesday: I need to warm up in the competition pool – concentrating on backstroke turns. There's only one turn today in the 50m Backstroke but it has to be right. There's quite a wait for the event so I do another top-up warmup; more HVO's (High Velocity Overloads) fast off the wall for ten metres then easy to the end. There are no backstroke flags in the warm up half of the pool, so caution and counting strokes are required. The race goes well and Head Coach, Michelle is pleased plus I've got third place for a bronze medal. I have to remember that all the Americans are here this week and they are fast.
There's about an hour before our 160+ years mixed 4 x 200 freestyle relay. It's not my favourite freestyle distance but we've been working on blocks of two hundred metres in training. I break it into 100m then 2 x 50m in my head, aiming to get faster over the 50s. I think our entry time of 10 minutes was a guess and we come in at 11 minutes, but it's enough to get gold and my section of 200m is a personal best.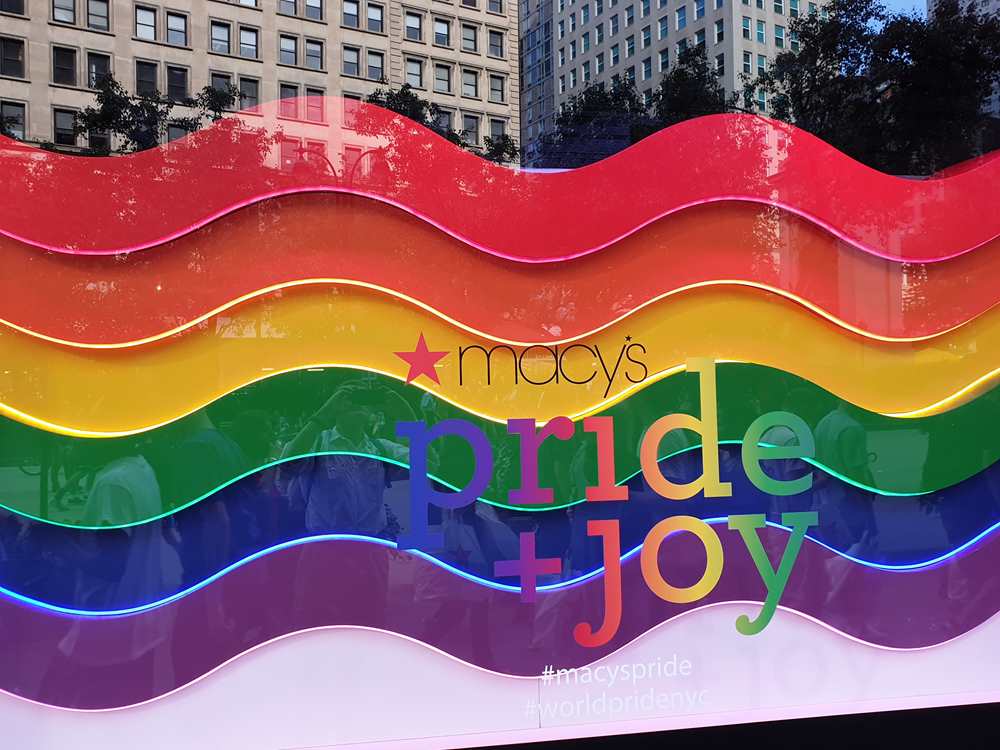 I met Buck and Wolfgang in Amsterdam earlier in the year. They live and swim in Berlin, though Buck is a New Yorker. He's sent me links to sign up for the Macey's Pride Party (they have one every year) – yes, a party in a department store. I join a huge queue snaking around and though the merchandise in the menswear department. Marcel approaches and I suggest he joins me in the queue but he's not sure he wants to be here, opting for the IGLA happy hour drinks. We're in line to collect our rainbow wrist tags and two free drinks vouchers.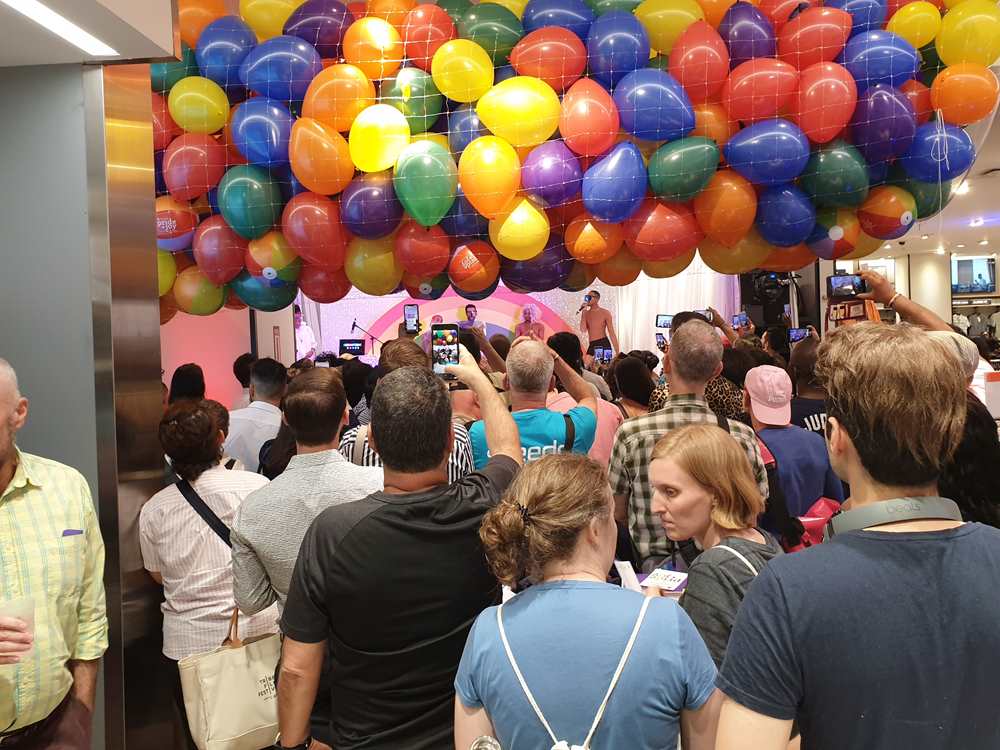 There's a cramped 'main stage' obstructed by pillars and sales tables. The guests crowd around holding phones up to film winners and runners up from the 'Rue Paul Drag Race' – a tv reality show to find the best amateur drag artistes. Nothing much here is pushing my buttons so I go up to the 9th floor after queuing for my first drink. I ask for a Gin and Tonic and get the largest and strongest mix of Ballantynes Gin ever. Until the ice melts, it's almost impossible to drink. It might just as well be a martini.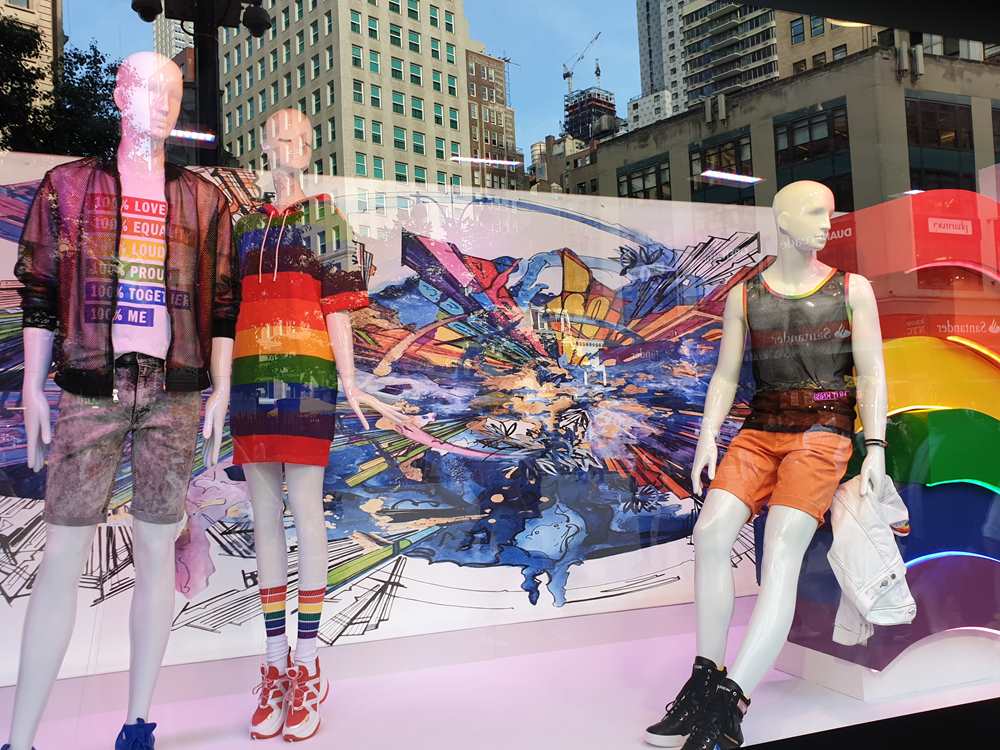 Nothing is happening on the 9th floor and I get lost in the strangely deserted Ladies Lingerie department – a scenario for a horror movie suggests itself – nothing like that happens in Macey's I tell myself – but remember Stepford. On the 9th floor, chairs have been arranged for what looks like a platform for corporate speeches. The plastic drinks glasses are half the size here – time to return to the 2nd floor for my second drink and where I run into Wolfgang. It's much more fun observing this marketing show with someone else.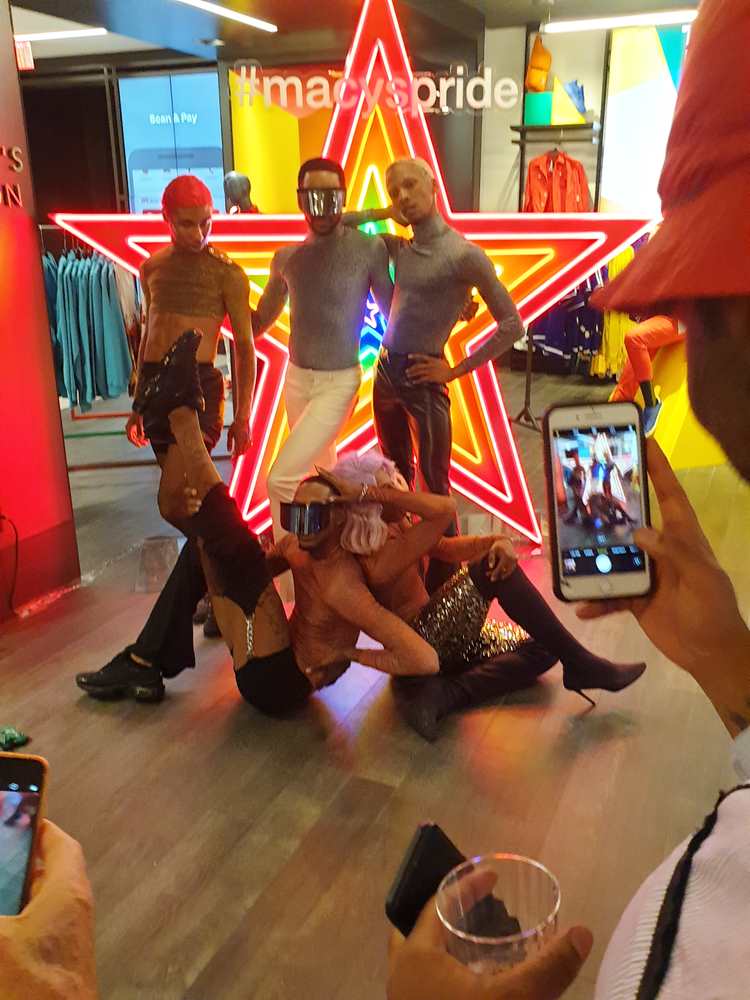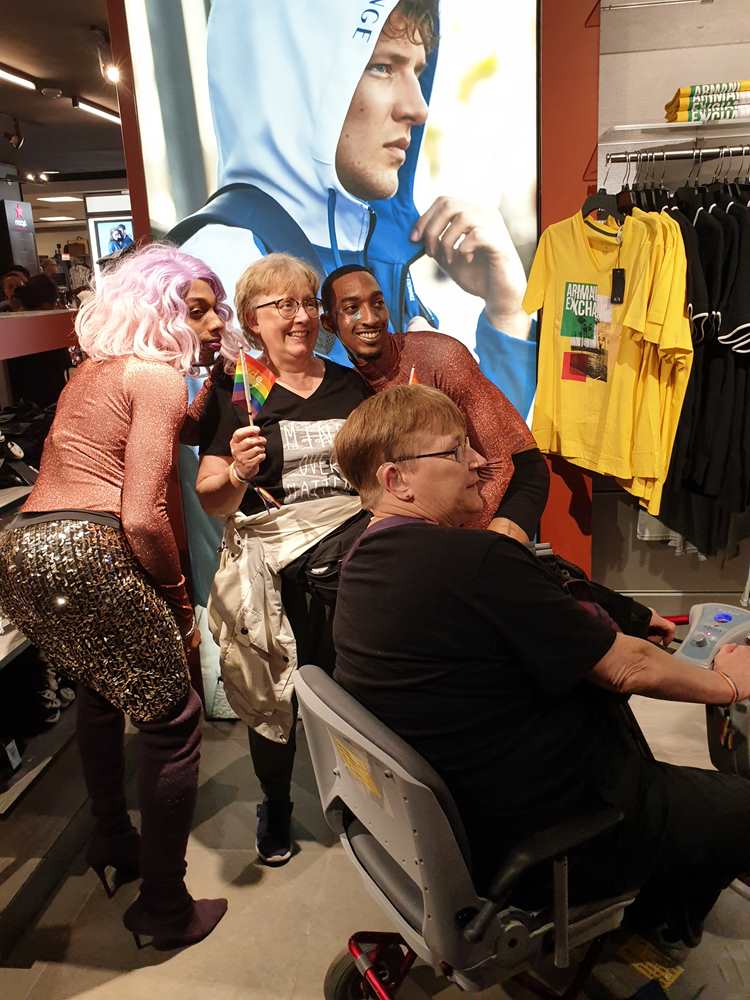 We look at some Drag boys being photographed with disabled and elderly women who may of may not be lesbians; there's a mini live cinema with iconic gay songs and a long queue. A couple of hunks are playing games -getting guests to throw soft bags into a rainbow hole and a sparkling woman on stilts just passes by.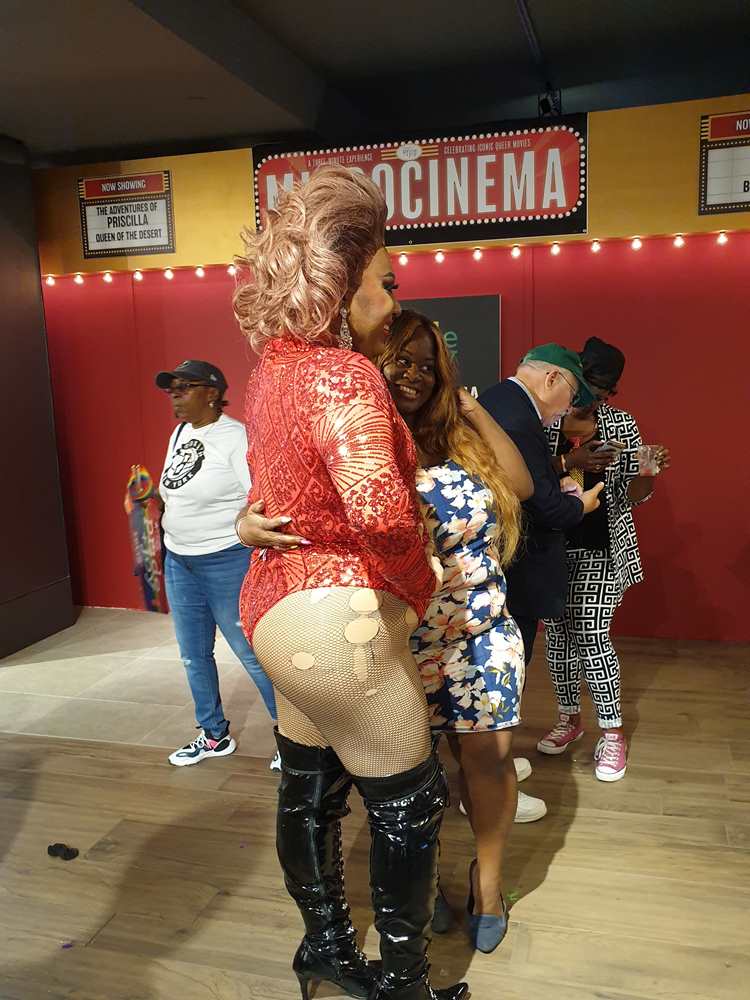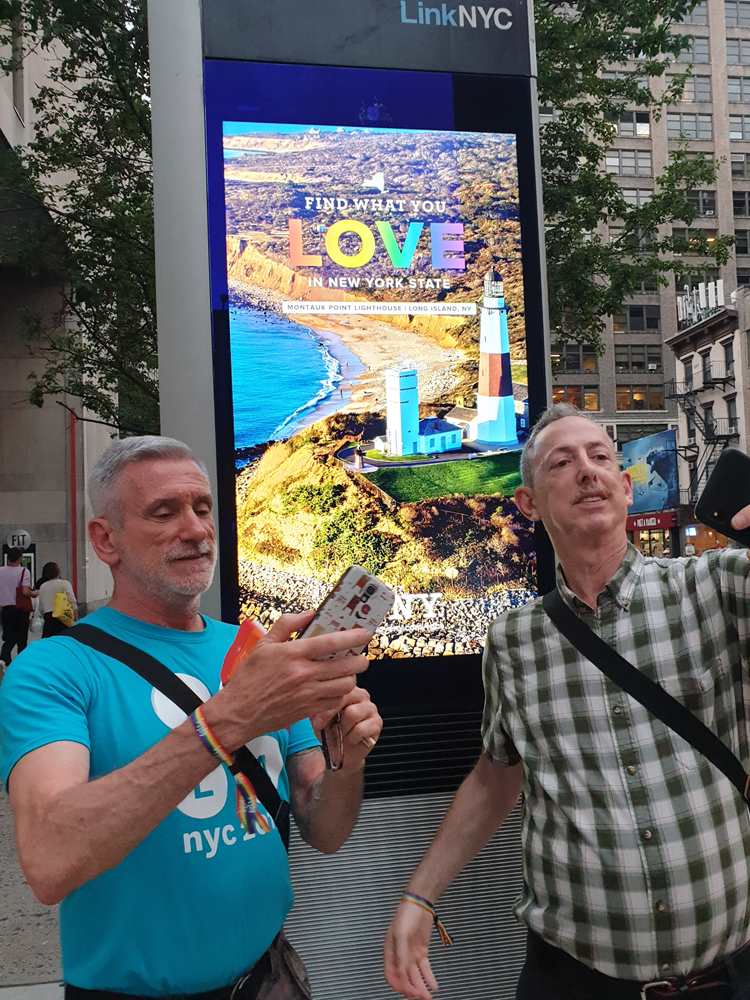 Time to meet up with Buck and walk ten blocks downtown to a Thai Restaurant. The signs that New York is welcoming pride are everywhere. This is not Trump land and like London, New York is another country. Many of these guys quietly reveal that they are not fans of Donald – there's no hysteria, just a reserve which I find refreshing. Our party of older men seems to grow – there's good food, conversation and laughter.