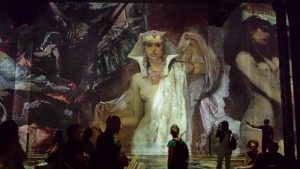 It's the last day of the swimming and I'm leaving the long-distance heroes to slog it out in the 1500m as I've booked a ten am slot to see the interactive Gustav Klimt exhibition at Atelier des Lumières. I'm early and having over an hour to kill, find a healthy-looking breakfast place overlooking a small garden square. I sit just outside, shaded from the morning sun and enjoy and egg with spinach on toast with coffee while the world in this deserted part of the city trickles by.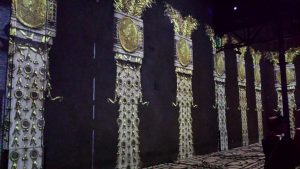 I'm shocked, but not surprised by the numbers of homeless and derelict human beings, many clearly display mental health symptoms, around the city. It seems that every metro station has its regulars, sleeping, begging – mostly men.
The Atelier des Lumières has opened its doors and the early birds wait until two queues are organised – those with and those without tickets. I enter a cavernous space with some seating. There's a projected notice on the walls and remains of some industrial fittings, which announces that the show will commence in a few minutes. We are clearly waiting for the space to fill up, and it does, but not too much as when the projections begin they cover every part of the place, walls floor and ceiling. Even the audience is part of the surface. Klimt is most famous for his gold period but we begin with neo
classical work and move through his wide-ranging styles. This is the most exciting exhibition I've ever encountered and it helps that I've seen some of the work in galleries around the world, particularly when the purists ask – 'but have you seen the originals?' Questions like 'Would Klimt have approved?' are irrelevant. He's not here to comment and I've been emotionally engaged. That's my criteria for art. The thirty-minute presentation of moving Klimt images is followed by two short pieces featuring Hundert Wasser and something called Poetic_AI a stunning digital experience. Music accompanies the exhibition, cleverly heightening the emotional engagement.
I'm tempted to stay on and watch it again, but I've got a Pink flamingo Rehearsal to attend.
We've been called for 12 noon in the park next to the swimming pool. Some of the guys wear their costumes as quick changes have to be rehearsed and last minute brushing up of routines achieved. Red and pink balloons have to be attached to a giant mouth and lips for the finale.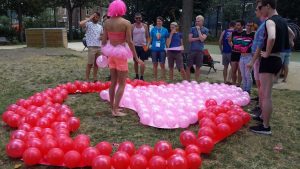 They can then be carried to the pool and stored for later. We've been promised a twenty-minute rehearsal slot in the pool, but everything is running late and after a demonstration by the winning Syncro team there are two Water Polo finals to be played.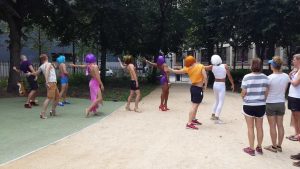 We manage to get about eight minutes in between games. It's all chaotic, but we get acquainted with our small storage room to the side, where we will enter, exit and get changed.  All we can do is wait and get into our costumes.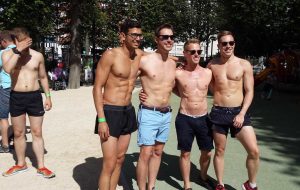 The theme of the Pink Flamingo this year is 'The French Kiss' and we are act number five. Team New York Aquatics are after us – they are next year's IGLA hosts and the current hosts, Paris Aquatique are last. There's quite a lot of simulated sex in the various acts and weird sea-monsters. Sydney Wet Ones have Marie Antoinette losing her head and many clubs have impressive syncro teams doing amazing things.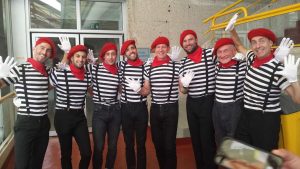 It's our turn and the sound system is a bit rubbish so our opening number begins slightly out of time but we recover. We are the only act with an actual script. It's a pre-recorded presentation with mimed action, explaining the French Kiss interpolated with choreographed dance. Christophe has to take over the syncro slot at the last moment as Steph has to catch a train. Miraculously we manage to spread ourselves over the dance area and the raised paddling pool area. It's a huge space to fill and connect with the audience.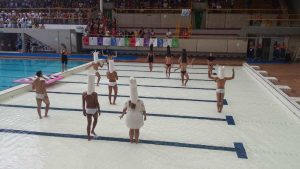 There is a long pause before Paris Aquatique's act, as the judges have to decide the winners as they, being the hosts are not eligible to win. They also won last year in Miami.  When they do come on, it's fantastic and goes on for much longer that the five minutes the rest of the clubs were allocated.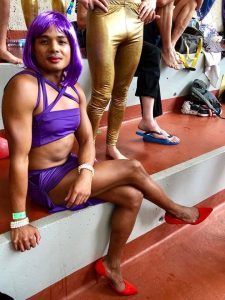 As the results are announced, the tension mounts. There's a prize for the best technical performance (beheading of Marie Antoinette) then the best costumes. Tel Aviv win the consolation prize then to our utter joy, London is announced the winner. There is a roar from our team and I overhear Stephen Lue quietly say 'Thank fuck for that.' We all pour out of the stand down onto poolside to collect the model Pink Flamingo. Most of the  Out to Swim team dive into the pool and swim to the other end for a final photograph.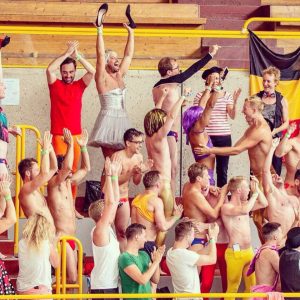 I'm exhausted and it's time to calm down and relax for the evening. The youngsters will probably go off to the party at 11.30pm – 5.00am. It's too late for me and I have a train to catch in the morning. At Gar du Nord, there's a sign directing European passport holders around a pillar into the Business Class lane. There is no queue at baggage security scanning; automatic passport recognition gates allow me to leave France and another set of gates let me into the UK. I don't think that will happen next year after we've left the European Union.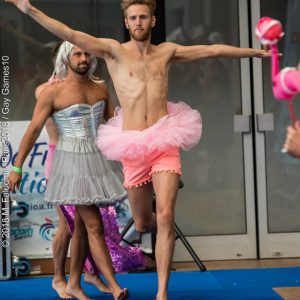 Back in London, there's a facebook frenzy of photo sharing. When news comes out that Out to Swim is the top swimming club in the Gay Games, getting twice as many points as second place Washington DC AC, the facebook posts erupt. We took 79 swimmers to the games and everyone who competed earned points. There are lots of people to thank, coaches, organisers and just everyone for participating.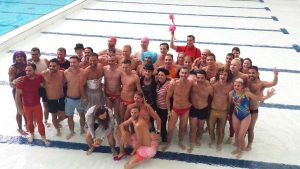 We are all so proud of our International LGBT club. We have swimmers from all over the world, from every continent, reflecting London as it is now. I hope this will continue through the years ahead. Who knows what will happen?