'Because I can' is what I tell people who ask me 'Why?' I'm unencumbered these days, responsible and answering only to myself, so why not make the most of it?
I'm off to swim for a while – a Saturday afternoon in Prague for their Rainbow Spring Multi-sport event then to Mallorca for a six-day swim camp with twenty Out to Swim club members. My body is a bit apprehensive – I never quite know which part will complain next – but I know it pretty well by now and it tells me when to stop. It's just a matter of listening, which I don't always do.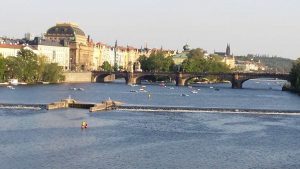 I was last in Prague in 2014, so I'm looking forward to reacquainting myself with this beautiful and historic city. On the flight from Stanstead is a huge party of guys going to a stag do. Apparently, it's the new place to do that – excellent beer and cheap. Sounds like they have a weekend of all inclusive (to save bother) activities including the mandatory strip show. Interesting to observe straight men in a group away from wives and girlfriends – a completely different animal.
A three-day travel pass purchased at the airport takes me by bus and Metro with speedy efficiency to my hotel. Hotel Alba is modernised in a spartan, Eastern European version of IKEA – except that it is solid.  It's still light so this is the only opportunity to explore the Prague Castle area – not done on my 2014 visit. The hotel receptionist advises that I need two days to see it all, so I will just have to do a recce for next time.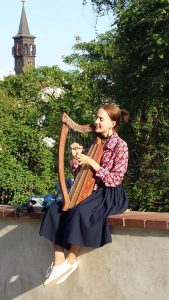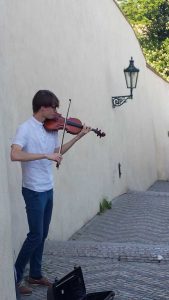 Prague is a city of classical music so it's no surprise to come across young musicians busking all the way up the stairs to the Castle. These days I travel on VISA and haven't even got any local currency, so the buskers are out of luck as are the beggars, who kneel in a praying position with caps outstretched, taking sneaky looks to see if anyone is paying attention.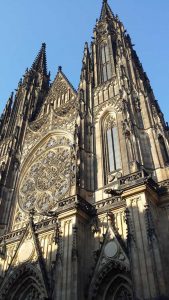 Yes, I'm people watching again and note the out-of-condition younger family men huffing and puffing their way up the steps. Even though I'm still recovering from various Winter-related conditions, my lungs manage the steps easily – the leg muscles, not so well.
At the top is a whole village of palaces, most of which are now galleries and museums. It's all very grand, but at this time of day everything is closed.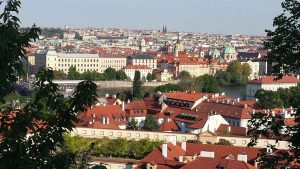 The view of the city is, however, stunning in the late afternoon sunlight and by now the tourists have thinned out. In one deserted square a Chinese wedding photo shoot is in progress with a lighting guy holding up his silver disc to reflect light on to the faces of the happy couple.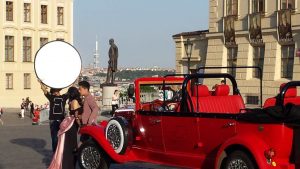 I head down the other side towards the Charles Bridge, which is still crowded. The portrait artists are still there – probably the same ones I saw in 2014.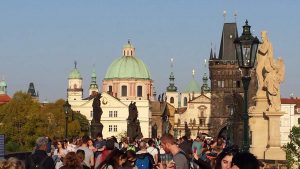 I find the Charles Bridge Restaurant where the Rainbow Spring registration is happening. 'No, I don't need a free travel pass, I bought one at the airport.' There is a look of consternation from the young man handing out the bags and event invitations.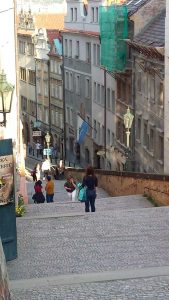 I might go to the party on Saturday evening but sadly can't do the picnic on Sunday afternoon as I fly out in the morning. I am dying for a beer, something the Czechs do well. I sit in the downstairs restaurant overlooking water where the pedalloes are being returned. The kitchen is struggling and even though the waiters are running around looking efficient, my Salmon pasta, is only just warm and too small to carb up enough for tomorrow. I have to order a pear in pastry but when it eventually arrives floating in a thin caramel, it is also tepid – not recommended.
My Out to Swim team-mates have spent all day walking around the city and have fallen asleep – so we don't meet up. I'm remembering coach Nathan's advice to get a good night's sleep before a race. The trouble is the hotel mattress is super firm and thin. It's unable to embrace the sticky-out bits of my body.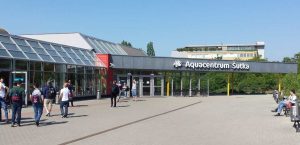 It's an eleven o'clock warm-up at the 'Best pool in town.' This leaves plenty of time to fill up the tank at breakfast. It's all a bit of a shock to the system that there's no fruit, but I'll cope. Once again, the public transport carries me to the Sutka Aquacentrum, high in the suburbs and overlooking the city. I'm recognised by guys who were at the  Amsterdam Valentine's meet earlier in the year and that's a nice feeling of camaraderie – one from Frankfurt and an American living in Switzerland.
Paul and Rory have been hanging out with two guys from Paris Aquatique – apparently the rest of their team are in the Canary Islands on a Swim Camp preparing for the Gay Games in August. The pool here is amazing. It has a stainless steel adjustable bottom and sides and there are clear Perspex walls at each end to protect officials from being splashed.  The water is nice and cool and the lane ropes have no sharp spikes to lacerate my wrists in backstroke. There is speculation that they won't calm the water so well. I think it's marginally more choppy.
There's a good European turn-out here today, especially from Spain, The Netherlands and Germany. Certainly, there are more than in 2014 so I guess that everyone is getting ready for the Gay Games. I always hate starting of a race meet with 100 metres backstroke. It's a tough race and I do better starting off with freestyle. The backstroke hurts and is a bit slow. By comparison the 400 freestyle is more comfortable.
The younger guy next to me is level pegging for the first 100 metres, then he takes off and I let him go. To my left I glimpse a guy turning after me so I'm safe. There is no electronic board, so no way to tell how we did in the heat.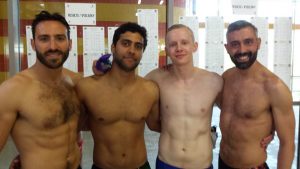 Both Paul and I are collecting gold medals. He has competition in his age group so he's pleased that some of Out to Swim fast swimmers are not here. He has a great meet with all Long Course personal bests. Rory and Paul have formed a relay team with the two Paris Aquatique guys to do the 4 x 50m Medley and Freestyle. This is all great experience for Rory, who has only been swimming for six months and its only the second race meet in his life. We don't know yet how the relays did but they looked good.
The announcer is a jolly fellow, speaking Czech first, then English – the common language for Europeans. He spots the gaps in the hearts as they line up and calls out the missing swimmers. There's also a DJ with a great play-list (According to Paul).  The day ends with a fun relay with teams pushing inflatable flamingos up the pool. Back in town, I find a pub restaurant for a beer – outside. It's all tasty – grilled sirloin and chicken breast in a creamy green peppercorn sauce and bright orange sweet potato chips. There's nothing green in sight, so I'm looking forward to a Spanish salad.