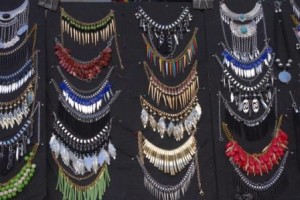 We're staying in the San Telmo area of Buenos Aries. It's famous for its Sunday market, which fills the entire length of Defensia, from Plaza De Mayo near Cassa Rosada for about two kilometres. It's packed with stalls from ten in the morning offering mostly art, craft and antique goods.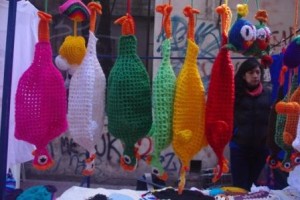 For the knitters amongst you, there is crochet and related soft goods ranging from garments to toys. Antique glass and silver wear rub shoulders with leather belts, jewelry and bags. You can get your old rusty key but not the lock. We start off at ten, walking up as far as Mayo where stalls-holders are still setting up. Malfado is a little girl cartoon character here and is said to be the equivalent of The Simpsons in Argentina. Her creator lives on the corner fifty metres from our hotel and people come to be photographed with her statue on the street corner.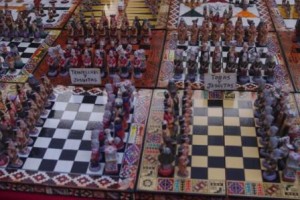 Understandably the market stalls around here are selling Mafaldo memorabilia – images on mugs, tee shirts, aprons, just about anything. Frida Kahlo is also popular, and finds herself altered and photoshopped onto tops, tee shirts and aprons.
We stop for coffee at the Pride Cafe and to rest our pavement weary legs and appreciate the attractive young waiter.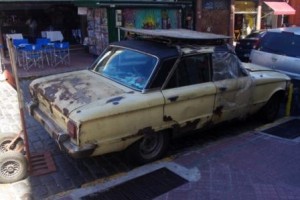 Richard I is into belts. He says he doesn't need any more but that doesn't stop him buying yet another. I spot him surreptitiously looking at nice shoes and discover that these are also a passion. At the other end of the market is a square where tango is being demonstrated; Richard I and I spend some time enjoying the display.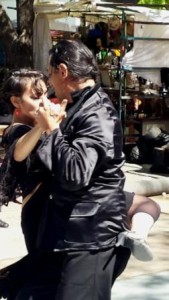 Further on there is a band lead by an accordionist (Dr Mike has spotted that he is sight impaired) supported by a fiddler, guitar and base guitar.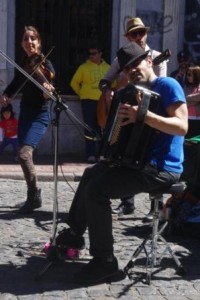 The accordionist taps a tambourine with his foot and a small dark haired girl in a red dress dances to the lively music while her parents watch. Everyone is out looking, enjoying the sunshine. I don't see much evidence of buying. We're booked for lunch in the square which includes a young couple performing more tango on a small stage at the end of the dining room. We are surrounded by images of women, telling us that this is definitely a heterosexual experience, though no one is at all bothered about eight older gay men in a group rampaging through the city. We range from 49 to 69 and I'm trying to promote the positive aspects of 'old' – with some success.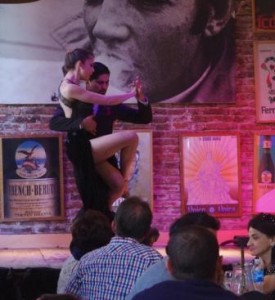 We're moving to the district to Palermo this afternoon and a convoy of taxis takes us across town to our Air B&B. As the Museum of Belle Artes will be closed on Monday, the serious art lovers take off to take a look at this much under-rated collection.
My friend Lexi Matheson sent a message that I was on no account to miss this interesting collection. Mike and Rob have Uber apps on their phones so to our delight and amazement this works perfectly to get us there. The Museum – free to enter – has an excellently curated collection by major European artists. On the ground floor I start by spotting a couple of Goyas – the Prado in Madrid is packed with them. Impressionists are represented by the likes of Monet, Renoir and Sisley.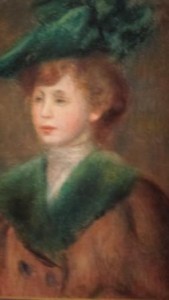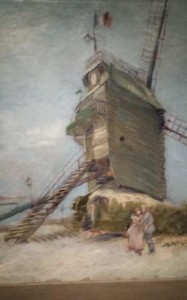 There's an unusual Van Gogh and a very impressive Manet. I missed the one Picasso in the collection, but feel I can live with that. There is also a small collection of early religious art which I glanced at – I'm just demonstrating the range here. There are two unmarked curved staircases leading to the unknown on the floor above.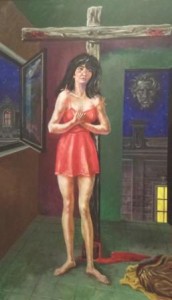 Thinking it might be administrative offices, I climb cautiously, only to find the most wonderful collection of Argentinean artists but also there's a Rothco and a Jackson Pollock. We've set a time to meet so I rush down to tell the guys that I need another fifteen minutes. I have permission as they are trying to get a wifi connection to grab a return UBER taxi. Dr Mike has had an encounter with a very unhelpful woman at the information desk. Apparently the wifi here is not for public use – her favourite response is 'no'. But our intrepid Dr has an app which gives him the password and we have success.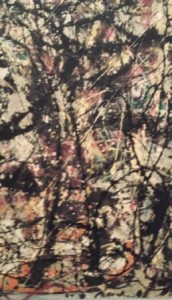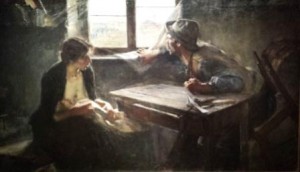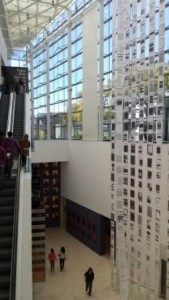 The Contemporary Art Museum (MALBA) is the only museum open on Monday. It's a private collection with an entry charge. The building is another 21st C piece of architecture with a vast atrium to one side. Dominating this space is an installation by Voluspa Jarpa (Chile) using endless metres of fax-like paper released from the FBI and other international agencies detailing their discussions and how to influence and dominate countries in Central and South America during the Cold War Period. Many of the documents are heavily redacted and a few are completely blocked out.
Down the stairs there is a portrait gallery of South American heads of sate killed whilst in office. There are further folders of documents arranged according to country. It's fascinating reading and could take days to read. Upstairs on the first floor is the permanent collection – varied and vibrant it is a delight of Argentinean and South American art. The pictures speak for themselves.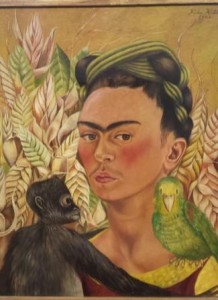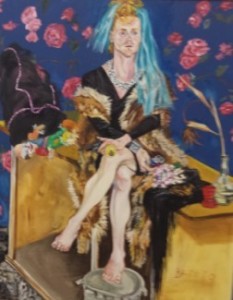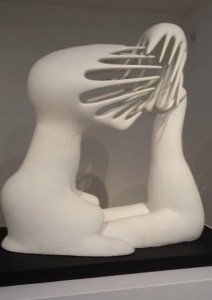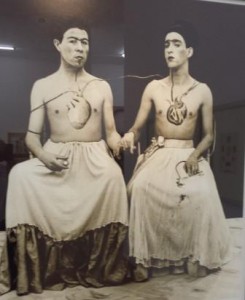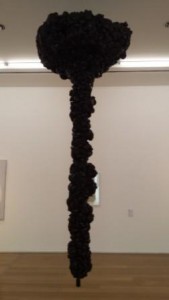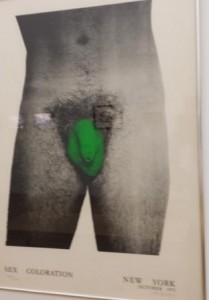 The terrace and second floor is currently devoted to Yoko Ono. Starting outside on the terrace are her potted trees (which I saw 5 years ago in San Francisco) weighed down with labels. Ono is an interactive artist and requires input from her audience – blank labels are provided on which we can write our hopes and dreams. Mostly she is concerned with peace and the environment, but to my mind the trees look miserably unhappy, bowed down by the impossible dreams of people. I too once believed that peace was possible in the world. I don't add to the burden of the trees – my response is to photograph them;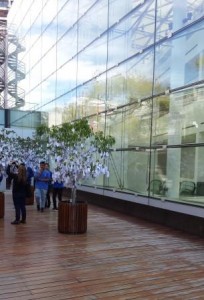 firstly against a reflection of free trees in the glass wall of the building – as if this might be the dream of Yoko Ono's trees. The second photo is more immediate, I've set the prisoners against a real background of free trees. Yoko Ono's art has never quite worked for me but I'm willing to go up to the second floor to give her another chance. Here, I climb a ladder and look through a magnifying glass to find the word 'yes' on a glass panel. I find only a fragment of the word. I'm warned by Stephen that there is an 'interactive' attendant in the next room.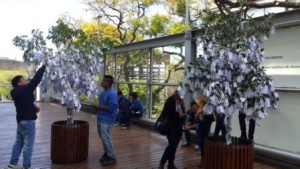 I pay particular attention to the exhibit and slyly observe him poke out his tongue at others in the room. I avoid eye contact with the attendant until I've pretended to inspect all the exhibition without remembering anything about it. Finally, our eyes meet and he puts out his tongue to reveal a square of (possibly) paper (ecstasy?) on the end of it. I laugh and exit. I decline to choose a brush from a range of colours in paint-pots to add to a peace mural and don't ink up a rubber stamp to continue a pattern on maps of the world. Women and children are trying to re-assemble broken pottery plates with masking tape without much success. At the end of a corridor is a film loop of a hairy male bottom walking along naked – mildly amusing in the way it wobbles from side to side. And so it continues.
I feel I can climb up a blue spiral staircase to look out at a window in the roof to see a blank sky (I get it) and would like to hammer a nail in the adjacent wooden cross. There's not much room left – only at the very top (out of reach for me) or the bottom – requiring me to kneel on the floor. Yoko has partially succeeded on an intellectual level but rarely passes my test of emotional engagement.
The UBER taxi on the way here seemed to take a long time to get here via the one way system so Stephen & I elect to walk back through the parks and it's not a far as we thought. There's lots of talk around our group of gay night clubs and bars, but apparently they don't open until midnight and nothing much happens until 2am – too late for most of us. I find a Sauna within walking distance from our Palermo B&B. It's busy after work from 5 – 7, so I'm back in time for our group dinner at 8.30. This is early for Argentina as no self respecting restaurant would open before this time. No one dines before 9 or 9.30. Those of us who like to eat early sometimes struggle and the quantities of wine and carbonated water drink late at night have consequences for old bladders.