My most eagerly awaited theatre experience were The James Plays by established Scottish playwright, Rona Munro and first presented at the Edinburgh International Festival in 2014 by the National Theatre of Scotland. Being a co-production with the National Theatre of Great Britain they were then transferred to London for a season, and now, here in the vast Aotea Centre for just nine performances (3 for each play) fresh from the Adelaide Festival.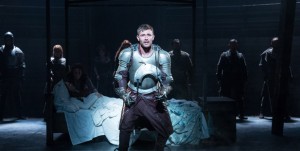 I'd got a deal by booking all three plays on consecutive nights. I also decided to take the fold up bike, saving the run down Queen Street to catch the ferry.  So on the Wednesday, I carefully locked the fold-up on a cycle stand and treat myself to a dish of salmon tortellini and a glass of red wine at the Italian restaurant next to the theatre.  To my delight a crowd of my swimming buddies, also culturally voracious were seeing the show and I anticipated meeting up in the interval.  I knew nothing about the history of Scottish monarchy – there's the unreliable tale told by Shakespeare in Macbeth – until the story of Mary spills into Elizabethan history and the subsequent merger of two countries with James VI.
James I was captured by the English as a thirteen year old and imprisoned for eighteen years, released after the death of Henry V (Eng) – another of Shakespeare's great 'stories' – on the promise of a ransom.  It is no coincidence that these plays were first seen in the year of the Scottish referendum for independence and Munro would have been crafting her work during the lead up. Like Shakespeare, she has not let truth get in the way of a good story and her programme note admits 'that some small liberties have been taken with known events in order to serve our stories.'  There are many comparisons with Munro and Shakespeare – bawdiness, violence, murder and betrayal.  Human nature is examined in all its flawed complexities, but in an absolutely contemporary vernacular, so Shakespeare it is not, nor does it aspire to be.
Henry V appears as a character in James I as a mentor psychologically controlling the young King who presents as meek and compliant.  On his arrival back in Scotland and confronted by his Uncle ensconced in the castle with wife and sons, he has to prove he is a Scott and force them to kneel to him as their King.  Munro writes great parts for the women so a lot of the action involves their stories.  It would seem that the women took an active role in the scheming and violence. Notable are: Isabella Stewart, a crusty and hate-filled character, who, after her sons and later her husband are locked up and killed by the King, is herself incarcerated.  She survives as a mad visionary for the future James II;   Joan, an English noblewoman, who's marriage is arranged to James I is a pragmatist who tells her new husband that he can take a mistress if he likes and that she will manage the household accounts as she did at home.  Sadly she does not entirely reciprocate James's deep love for her.
All three plays highlight the financial difficulties that monarchs face, how to fund their wars and lifestyles?  The answer is usually by taxing the Barons, but the difficulty is getting them to pay up.  It's not a new story as we now charge multi-national corporations, politicians and the rich with tax avoidance.  It's just that in the 15th century, more real blood was involved.  But each play takes a different view and if James I was mainly about power struggles and the necessity to survive by killing off relatives, James II investigates the psychological damage done by putting a six-year-old on the throne.  James, born with a large pink birthmark covering half of his face is further traumatised by the loss of his older twin brother.  Munro, has him constantly hiding in a chest to escape his fears and the power of the Douglas family who effectively ruled the country in the King's minority.  Of course, James grows up to be yet another violent monster, wreaking revenge on the Douglas clan – killing off non-relatives.  With a fascination of explosives and canon, he is accidentally blown up by his own device, leaving another underage King of Scotland.
On both of these evenings, I was able to leave during the curtain calls, retrieve my fold up bicycle and pedal furiously down Queen Street to catch the 10.15 ferry.  James III turned out to be longer that the others and completely different in atmosphere.  This James was artistic, credited with bringing the renaissance to Scotland. He wants to have a choir accompany him wherever he goes, an expense he can ill afford.  His Queen, Margaret of Denmark brought with her, as dowry, The Orkney and Shetland Islands, which Munro uses as a running joke by the King, against her.  Initially devoted, the couple become estranged and the Queen retreats to Stirling Castle with their son and future heir, yet another James.  James III is decadent, arrogant, lazy and dangerous.  Although a good fighter, he loses control of his family and kingdom, taking to bed and battle his personal servant Ramsay.  In his final battle he is fighting his own people in a rebellion which included his own son.
The final dramatic scene sees James IV strip down to put chains of repentance on his chest, over which the coronation robes are placed.  It was too late to cycle madly down Queen Street so I stayed to applaud the end of an exciting trilogy.  With time to spare before the last ferry at 11.45pm, I relaxed with a glass of wine and a bucket of chips down at the viaduct area of the harbour.
Nixon in China is one of those 'modern classics' I'd heard about but had never seen. For me Nixon is irretrievably tied to 'Watergate' and thus labelled corrupt and disgraced.  This ground-breaking visit by the Nixons predates Watergate and, engineered by Henry Kissinger, sought to find a solution to the Vietnam War.  Someone hadn't done their homework had they?  When I visited Vietnam in 2011, I discovered that the country had been subjugated by China for a thousand years and consequently had no love for their former oppressors.  In fact Ho Chi Min went to Russia for help and advice as there was considerable animosity between the two communist giants at the time.   Nixon's visit did have the effect of opening up dialogue between the US and the Soviets, but that did not end the war, it was Ho Chi Min's intellect and determination.
American composer, John Adams had never written opera before and poet Alice Goodman was new to libretto writing, so this was a recipe for something innovative.  What came out was extraordinary and exciting music melding the big band sound of the period with strong influence from Philip Glass.  The score demands an extended brass and woodwind section plus the addition of four saxophones and an electronic synthesizer.  All this adds up to high volume, requiring the singers to be amplified.
I'd chosen to sit in the horseshoe shaped balcony of the Auckland Town Hall (Great Hall) in order to be closer to the orchestra and soloists in this semi-staged production.  Coincidentally this placed me nearer the speakers relaying the voices.  There's not that much you can do in front of and behind an orchestra taking up most of the stage, so it was disappointing that sur-titles were not available.  Fortunately a couple of guys I know on Waiheke had warned me to look up the synopsis so I would be able to follow the plot.  Great advice and all was well with the dramatic arrival of the Nixon's, met by the smooth baritone voice of Chen-Ye Yuan playing Chou En Lai.  The cast progressed through the stalls, the Freemasons Opera Chorus took up the choir stalls and a host of local Chinese New Zealanders played the media (taking pictures), the Red Army and citizens of Beijing.  In a very formal setting, the octogenarian Mao, played with some vocal power by Barry Ryan teetering on unsteady feet, seemed about to fall from his high platform at any moment, demolishing the brass section of the orchestra.  Act two, focuses on Pat Nixon (Kiwi soprano Madeleine Pierard) on her tour around the city, culminating in a performance of a revolutionary ballet directed by Madame Mao sung by Soprano Hye Jung Lee.  Pat is moved to intervene in the cruelty portrayed between the Kissinger like villain and the heroine/victim, breaking the convention of theatre and ending the show in confusion. This prompts Madam Mao to sing her 'Queen of the Night' like aria 'I am the wife of Mao Zedong'.
Act three takes us into the interior thoughts of the main characters.  As they wait to leave in their hotel room, the Nixons reflect on their humble origins and Chou En Lai wonders 'how much of what we did was good?'  Here the lack of a libretto was a disadvantage and I understand that at the last moment, permission to include it in the programme was denied by US copyright laws.  The Opera seems to fizzle out with no great fanfare as the Nixons leave. With the benefit of hindsight and the sense that Chou En Lai does have a vision of the future, there is a glimmer of hope.  For all the shortcomings, I found the music thrilling and if I couldn't always catch Goodman's poetic lyrics, it didn't matter too much.  At three hours ten minutes long, the only option home was the 11.45pm ferry.  Unaccountably on this Saturday evening, my bar at the viaduct was closed by the time I cycled down the hill.  To compensate, I ordered a small bottle of Waiheke red wine on the ferry.