Queens Birthday Weekend 30 May – 1 June
I never really understood why we celebrate QE II's birthday at this time, when it's not really her birth date.  Probably the actual day is inconvenient for the spread of holidays.  The upshot is that we have three days to explore the variety of artists who live and work on this island and there are 40 open studios and galleries to choose from. Its $15 to get the map and entry badge, each one individually made from recycled fabric and beer bottle tops.  There's also  a wine and cheese soiree included on the Sunday.
Church Bay Sheep grazing
I study the artists and mark those I'm interested in and set about creating a systematic route. It's a stunningly clear day as I arrive outside the studio/house of Gabriella Lewenz  on the west end of the island, overlooking Church Bay.  Sheep (a rare sight now in New Zealand) graze safely on the hillside, back-dropped by the sea.  I've timed my start for 10am but there's no one about as I enter the high airy studio.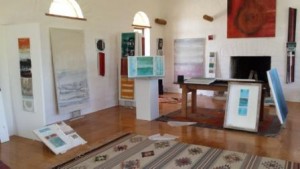 Gabriella's Studio
You can't rush abstract art and Gabriella's sea inspired work gradually draws me in.  My attention turns to a work in earthy tones, standing out from the crowd of blue.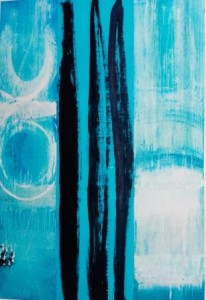 These are pictures you can live with, stress busting after a hard day at the office, they demand space to breath.  I want to buy a card and fortunately Gabriella arrives.  We get into a conversation about the art galleries of Boston, where she studied and I leave just as the next visitors arrive.  Barbara Robinson is on the way back to Oneroa.  An art teacher from Christchurch, she finds inspiration from the earthquake and Waiheke.  She's brought her father's South Island landscapes with her to create some remarkable collages by cutting them up and rearranging them to reflect both places.  It may sound sacrilegious, but her father's work has had new life breathed into it.
On the other wall, her mother provides the materials.  Barbara has made angels from old table linen, crochet and lace work which would otherwise languish in a forgotten drawer.  Found drift-wood make up the arms and legs providing the perfect solution to every Waihekean Christmas Tree, to be brought out each year for generations.
 Leslie Baxter has very recently deserted creative Melbourne for artistic Waiheke.  He does dramatic kiln formed glass incorporating metallic oxides to great effect.  I wish him well here in his new life.  Emma Wright does abstract paining using resins to create three dimensional calming swirls.   Peter Rees is demonstrating how to photoshop an image.  He opens a very dark picture of sky, land and water on his computer and makes it look fabulous.   They are an engaging couple in a dramatic house perched high amongst the Kanuka tree tops.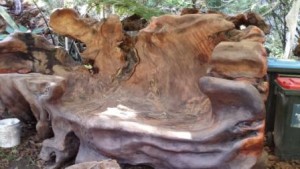 John Freeman's Kauriart is worth a look.  He has a stockpile of centuries old swamp kauri waiting to be turned into beautiful things from a huge sofa to small turned bowls.
I make my way over to Palm Beach to call on Alex Stone, another abstract painter and entertaining contributor to the Gulf News. I'm met at the gate by two large black dogs, who gently and silently escort me up the drive. His studio is packed with stuff but his non-abstract painting depicting the legs of First World War soldiers catches my eye.  Alex wants to know about my blog and googles me on the spot. My book Twenty-two Eighty-four is on the front page, so he wants to know what that's about.  More people arrive and he demonstrates his technique of line making on the canvas. A great conversation from a well known Waiheke Bloke – you can look at his portrait at the Red Shed – see the blog before this.  Further down Tiri View Road is Wendy Grace Allen, newly arrived in Waiheke.  She's spent time in Thailand producing bronze and glass casts of woven rice pots.  She's still finding her feet but her work inspired by Van Gough's Irises is stunning.  She's painted her version of this very famous painting, photographed it and created an inkjet collage.
I'm starving now so a quick dash back to Rocky Bay for lunch is necessary.  This lines me up perfectly to visit Gwen Rutter just along the road where I admire her vibrant flax flowers and pohutukawas for which she is famous.  She tells me her husband hates flax and pulls it out at any opportunity.  Ceramicist Kiya Nancarrow is also in Rocky Bay.  She's shivering in her south facing garage/workshop even though the sun is shining on the other side of the house.  Her large sculptural pieces remind me of giant wood shavings or pasta.  One piece is reminiscent of DNA.  She tells me that some of her work was in a Christchurch gallery during the earthquake, but when she plucked up courage to call and find out the damage, all of her work survived.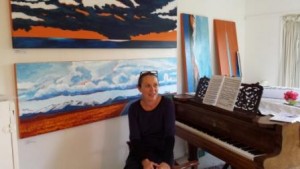 There's just time to go over to Trig Hill Road, Onetangi where Kim Wesney is showing her dramatic and brightly coloured paintings inspired by grand South Island landscapes.  I remember seeing these large works struggling to breath at the community art gallery.  Here they make sense, particularly with the option to look at the photographs which inspire the work.  Also here is Paula Richa, who combines fabric with paint to good effect.
The Strand Onetangi
It's coffee time and The Strand at Onetangi is the perfect place to gaze out at sea and sky to reflect on the thirteen artists I've visited today.