My memories of Barcelona in June 2005 are entirely good, an elegant city full of great architecture and art which I enjoyed with my late partner, Phillip and joined by New Zealand family.  This time it's for the LGBT Panter Esports and I'm travelling alone to meet up with my Out to Swim team-mates.  Last time, Ryanair dropped us in some remote airport miles out of town.  They've moved up in the world and now deliver me to the main city airport connected to the city by a train.  You have to know about this train, because the signs to it are not obvious and there are plenty of arrows pointing to taxis and buses.  A card for 10 rides costs only €10 from a machine which takes VISA.  There's a bit of a wait for the train but it drops me only a few blocks from the Hotel Constanza.  It's taken most of the day to get here but I'm determined explore and reacquaint myself with this city.
This time I've got downloaded maps of streets and Metro on my phone so nothing much can go wrong.  Out in the street, I can almost feel the elegance and style radiating from the houses.  I find the La Rambala and walk down through the crowds noting that the sellers of caged birds have thankfully gone and there is only tourist junk and stalls selling flowers and seeds.  I don't linger except to notice at the very bottom, that the living statues have got ever more inventive, expanding to mini-stage sets and mechanical contraptions to entertain the audience. I find my way with the help of my phone maps into a fascinating labyrinth of tiny streets and squares leading back up the hill towards the Cathedral.  Barcelona has become a party city.  There are Museums, exhibitions and galleries on just about every street. Everywhere there are festivals and each square seems to have a temporary sound stage set up with music playing.  On the sea-front a band are doing a sound check, in a small square outside a large civic looking building there is a political demonstration with red balloons and music.  At the front of the cathedral there is a mediaeval band playing haunting music. Circles of elderly people are forming from the crowd to perform a sedate and elegant dance with tiny steps.  The inside of the cathedral is worth a look, particularly for the impressively tall columns around the back of the high altar.  Between the choir and the altar is a set of huge steps descending to the crypt – something I've never seen before.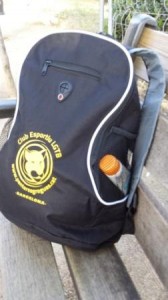 It's time to go and register for the games. David & Martin are not arriving until later in the evening & I've no idea what the others in our swimming team are up to.  So when I get across town to Tarragona by Metro there's not a soul I recognise in this brightly lit sports hall.  I collect my plastic entry card, a yellow band for free entry to the party and a rather handsome back-pack with maps, info and promotional literature.  A helpful guy shows me on the map where the dinner is to be held and I wander off to have a beer as I'm very thirsty.  After another one, several handful of salted peanuts and olives I decide that it's time to look for a bar.  I've done some research and there's a gay place which serves tapas.  After a bit of wandering around, looking at the maps on my phone and trying to get orientated after exiting the metro, I find this place, a small bar with only two customers.  It's late by London standards, but night-life in Spain starts even later.  Undaunted I order a beer, but the choice of tapas is quiche or Spanish omelette – both look unappetising but for authenticity I go for the omelette which is of course made with potatoes.  It's OK, and calorific but I don't stay long, moving on to the area near my hotel for a top up of pasta from an Italian place.
Saturday is race day, but not until 3pm, so I've booked a ticket on-line for La Sagrada Familia – Gaudi's great cathedral which I saw nine years ago.  Begun in 1882, Gaudi spent 40 years working on it before he died after being run over by a tram.  The last time I saw it, much of the first work was in need of cleaning and restoring and a start was being made on the nave with huge stone pillars surrounded by scaffolding.  It's a bit of a shock coming out of the Metro to see that the nave is almost completed and the whole thing has grown taller with cranes looking down on the already tall structure.  La Sagrada occupies a small block of the city and it looks like a cuckoo fledgling bursting out of its tiny nest.  The cathedral has expanded to take up all the ground and is now pushing upwards.  The transept runs west-east and the nave north south. The tower on the west side has been cleaned, but seems somehow at odds with the newer work, some of which is concrete, awaiting stone cladding.  The south end of the nave is waiting to be finished while there is clearly a huge spire being constructed in the middle of the building.
I'd read about the crowds of thrusting tourists in the area and how local people are pissed off with it all.  It's phenomenal – people everywhere and tour busses passing bye every few minutes.  The best thing to do is to retreat to the garden squares on either side and allow the trees to mask the ugliness of the crowds.  Here, only a few people have got the same idea.  A group of Australians are having their photograph taken by another tourist, local people are enjoying the shade and a drunk is thrashing around in the bushes, trying to rejoin his mates after relieving himself. He manages to regain his composure once back on the path, symbolically dusting off his shabby clothes to remove any pristine foliage, possibly clinging to him.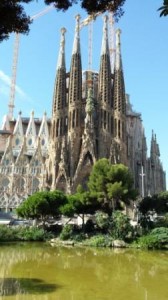 Working my way around to the east side (I remember, with my family, being almost the only party sitting by the pond) I find there is a queue to sit on the stone wall and be clicked.  Behind me the click of boule is more entertaining.  A tour guide passes, explaining via headphones to her flock that boule is the most common game played by old people.  They are all old and concentrating on their strategy, with studied aggression.  A tape measure is produced to decide between two balls and one last throw sends rivals flying.  I'm trying to decide if the new builders of the La Sagrada have interpreted Gaudi's imprecise plans in keeping with the early work.  The east towers have not been cleaned and I'd forgotten the bunches of grapes and fruit nestling on top of pinnacles along the nave.  It takes a while to work out that the lower windows looking into the crypt are mediaeval in style and the whole thing gets more outrageous the higher it gets.  Moving around to the east end – some of the oldest work – now cleaned, I can see that it does work even if the height may be out of proportion to its length.  It's time to go in and see what's been happening in the last nine years.  Then, a New Zealander was in charge of the project.
I'm waiting for my time slot when some tourists ask the ticket checker where to buy tickets.
'Around the other side, but they are now all sold out for today.  There are only 100 tickets available on the day.  You need to book on-line, in advance.'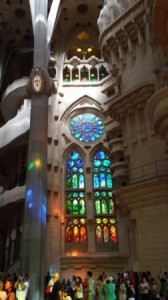 As I enter, the morning sunlight light streaming through a stained glass window is blinding.  I can see that the interior is complete, all of a piece and absolutely stunning.  The pillars in the nave seen nine years ago are impossibly tall.  Tree-like they stretch to support the ceiling. Those around the ambulatory and altar are even taller; reaching up to what will carry the spire.  There are many people inside, but not too many.  Everywhere the stained glass brings in colour and the plain glass making up the entire south end shows up the colour of the stone pillars.  I sit in the 'quiet' seats in the nave, momentarily irritated by northern Europeans talking loudly behind me.  You can go up the towers by lift for a further fee, but these were sold out when I booked a few days ago.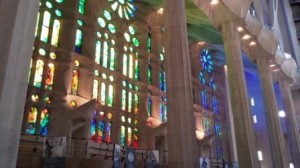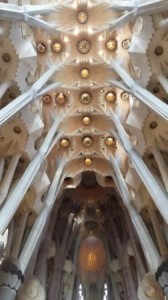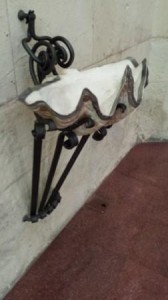 It's time for something to eat before swimming and a local ice-cream parlour seems OK, but in the end I go for a Greek salad (with spinach substituting for cucumber) and coffee.  My next stop is Diagonal where the Jardins de Salvador Espriu look interesting.  It's a classy square with a fountain frequented by clean pigeons and a sculpture of two women rebels.  It's peaceful and an old woman in eccentric pink attire is asleep on the stone seating clutching a red and yellow check umbrella against the sun and with her feet sheltering in a plastic shopping bag.  I sit and rest my legs, conscious that I shall have to use them soon for swimming. The swimming pool is a moderate walk from here and I arrive far too early.  The atmosphere in the pool reception is hot and humid and I manage to find a shaded park bench around the corner for a snooze.