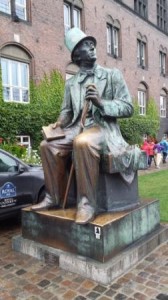 What better excuse, if one were needed, to visit Copenhagen, than to compete in the Pan Gay Games for Out to Swim? Several others spring to mind: I've never been; my great grandfather was born here, ran away to sea and ended up in New Zealand; the story of the Little Mermaid was a child-hood favourite with Danny Kaye singing 'Wonderful Wonderful Copenhagen in the Hans Christian Andersen movie.
There are only four of us going to swim. Me, Luci, David and Thibauld. I've exchanged phone numbers with Luci and found him on Viber so we can all meet up – hopefuly. It's always nerve-wracking trying to work out how a city works. Getting from the airport to the centre thence to my hotel is, however, embarrassingly easy after deciding what travel card to buy and collecting free maps of the city. I've spent hours memorising the city from on-line sites and so easily find the Hotel Wake-up Copenhagen only a short walk from the station. It's cheap (for Denmark), sparse, functional Scandinavian chic and the wifi works – for free. In fact there is free wifi of sorts all over the city and you can hear young people enthusing about it as they look at their smartphones. There's been a change in the swimming schedule.
The races set for Thursday afternoon have all been moved to Friday and a warm-up/ training session offered by way of compensation. I'm thinking that it might be good to check out the pool – if I can work out how to get there – and support our Water Polo team. There's a bus at the end of the road which will take me there, but I decide to go to the Town Hall Square first where Gay Pride is all set up and I think I can register for the games. Apparently the Prime Minister addressed the competitors last night, she's Neil Kinnock's daughter-in-Law. There is no registration desk today, but Luci and David are there eating and drinking beer. It's hot and sunny, what reason do I have for not having a beer mid afternoon? Oh yes, we're intending to go swimming and support the Water Polo Team. Three beers later we've abandoned the idea of gong to the pool. We vaguely talk about meeting up for dinner but viber hasn't delivered on the communication front so anything could happen. I sleep off the beer at my hotel and catch a bus to my pre-booked evening canal cruise.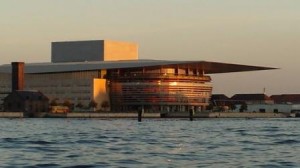 I'm very please with this achievement as my city map has all the bus routes marked. The exact location of the canal cruise is guess work and I'm also very early. There's a floating pier decked out with rainbow flags in front of a posh restaurant and so I think this might be the place. I re-trace my steps slightly to the previously observed Malmo Café which looks as if it might do coffee and snacks. It's in a basement and as the first glimpse reveals a pool table, it's clearly not a café, but a bar, deserted but for the barman who is eating a takeaway salad in a plastic box. This kind of tells me that there is no kitchen on site, however they do coffee. I ask if there are any snacks like crisps or nuts. No, there are not. I drink my coffee and he eats his salad – both in silence. I pass the time observing the huge collection of bottle-openers on the walls and hanging from the ceiling. Then it's time to go for the boat trip. This time the open boat is moored and people are getting on for the second tour of the evening. We are all handed plastic rainbow flags and greeted by a blond wigged drag queen dressed in red and white stripes with basket-ball sized false boobs shoved down her jacket. She has a megaphone which in addition to amplifying her voice, plays phrases of music and police alarms. People arrive from nowhere and the boat fills up. We're off, being guided by a man with a comedy script full of gay innuendo and risqué jokes. We cruise along past the stunning new Opera house which locals apparently call 'The toaster' then pass a huge concrete warehouse which we are assured was the venue for this years Eurovision. Crossing to the other side, we see the residence of the Royals and the rear of The Little Mermaid. Whenever we get close to the bank, our guide exhorts us to wave all the straight people. We do, and they wave back. Next it's a look at the new, National Theatre that has a copper fly-tower which will eventually go green like other buildings in the city. We detour up a canal through the Christianshavn area. This is the only part of the City which hasn't been burnt down (Copenhagen was raised to the ground several times) and consequently has architecture from different eras. We catch sight of Our Saviour's church with its dark brown spiral tower. Back on the harbour we see the impressive and modern Royal Library and ancient military buildings from which cannons are still fired twice a day. Across the harbour we enter a canal which circumnavigates Castle Island. This area has more royal palaces, the King's brew-house and the dramatic looking Old Stock Exchange. We wave at more straight people and they wave back. In spite of all the campery, it's been fun and a good way of seeing the city. I've had a text from the tam-mates to say they are eating with the Water Polo guys near to my Hotel. I catch another bus and arrive at Bio Mio just as they are completing their orders. It's perfect timing with a fantastic dish of pork and great blond beer. We swimmers are tacked on the end of the Water Polo Table. They're all glad to see us – finally. They are playing next morning and we have to swim in the afternoon, so early to bed. Thibault says there are three cultural things we should see in this town and we arrange to meet up at the Rosenborg Castle tomorrow.