Five (Six) Go Swim In Paris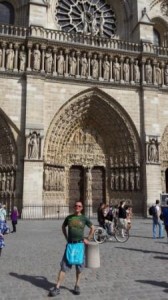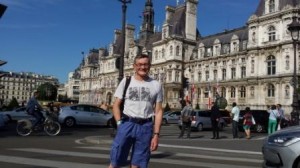 We few, we merry band of men are crossing (under) the channel to struggle for glory at Tounoi International de Paris (TIP).  Anyway, that's how it seems on the Friday when Michael Webster & I arrive to glorious sunshine. Both of us have been to Paris many times, so there's no need to rush around seeing everything like tourists. We take a leisurely walk from our Hotel at République down to the Sein, saying hello to Notre Dame where we admire her flying buttresses and newly scrubbed up front.  Hotel De Ville is covered in Union Jacks to welcome Queen Elizabeth of the United Kingdom. She's visiting for the D day anniversary and we just have to stop for a photo.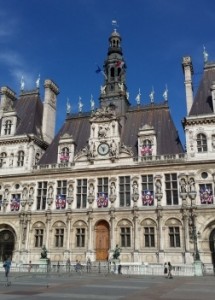 We head up to the TIP Village in the Marai to register.  There's a lot of milling around and getting crossed off various lists, finally at the swimming desk where we get our welcome bags full of promotional literature, one condom & lube plus a pink wrist band to prove we've paid to get into the party and a blue wrist band for this event.  No one else from Out To Swim is around but Michael spots a woman involved in the Gay Games when he was sailing & I run into Christophe from our Prague relay team.  It's all a bit of a non event but we buy a beer and stand about, clarify the warm-up and start times for tomorrow, then wander down some side streets in search of some French food.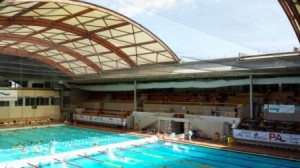 There's the usual issue with breakfast, eating early enough before a race so we're the first customers.  Getting to Piscine George Vallery is easy and quick on the Metro so I'm one of the first to warm up.  There hasn't been any start sheets sent out so until they are posted up on the wall, we are unaware that Bob McInnes has entered which brings our swimming team up to six.  First up for me is the 800 metres freestyle which, in a 25 metre pool means 32 lengths and a lot of counting.  There are flip charts with the number of lengths remaining and I'm asked if I have someone to flip my chart. No. But the very nice woman who has been flipping for the previous swimmer offers to flip for me. Phew!  I can't quite believe my time of 14 minutes 07 seconds on the board, but it is correct. I've cut my personal best by 16 seconds and I'm thrilled.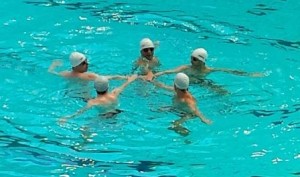 The Out To Swim Syncro team arrive and they compete for two hours while we have lunch and cheer them on.  By the end of the day, we've all won medals. I'm disqualified in the 100 metres Backstroke for an incorrect turn so I miss out on a second gold but our 4 x 50m Freestyle relay team comes second.  It's been unclear if relay entries count towards our five individual events.  It turns out, that they don't so that's a relief.  We are all exhausted at the end of it, but stay to cheer on the Syncro team in their second session.
Abraham is originally from the Philippines, lived in London for a while and swam with Michael.  He's come to watch, and we go off in search of dinner, conversation and flirtatious waiters.  The rest of the evening goes quickly and soon it's time for sleep and recovery.  There's no rush for breakfast on Sunday as the programme starts with the 1500m and that will take several hours.  In the event we arrive just as the womens' heat is ending and are able to cheer on David D.  He swam so well yesterday and now he wins the last and fastest heat, turning in a personal best – amazing. Robert Jolly, who swims for Paris Aquatique part of the year and in Australia for the rest, remembers me from Antwerp.  He's in Michael's age group and is very fast.  Likewise I've got a man from Aqua Homo just turned 60 and he's winning all the gold medals in my events today.  We are, however content with silver medals as we've turned in some very good times.  Another personal best for me in the 200m back stroke and a nifty 100m freestyle.  David D wins a medal in breaststroke (which he doesn't like) and Jerome does likewise in his Butterfly race, in which he swallows water and just about drowns.  In the lunch break, with the roof of the pool open, the attractive and youthful Paris Aquatique team decorate this lovely pool by sunbathing on floats.  We get to know Robert Jolly, who like his name is a laugh.  There's some lovely swimming to watch and learn from, tumble-turns to admire and strugglers to applaud for just having a go. Oh, and I should mention the physiques – Pecs, abs, bums all in perfect shape.
Finally, it's the medley relay which, after a slight reshuffle of personnel, we win gold and Philippe is beside himself with joy.  Champagne is handed out to all, so that Michael & I have to go back to the hotel and sleep it off before dinner and going on to the party, which begins at 10pm.  As we walk from restaurant to party venue, the sky is alive with lightning in the distance.  There's an almighty queue when we get there, right around the block so we almost give up as we are both unaccustomed to queuing for clubs these days.  It moves quite quickly though and we are given a drink ticket and fight our way into a large sweaty room packed solid with bodies.  The show has been delayed so that we can all get in and when it does start, we can't see or hear very well as there are too many people and they are talking and shouting above the performers.  It's all a bit of a disaster and we are about to go when we run into the OTS water polo guys. They've brought 4 teams and one of them came fourth.  There's talk of going to another bar but we've had enough for one day and walk back to République via Bastille.  One metro stop away, the heavens open with hail-stones and we take shelter under an awning.  In a gap, we scuttle into the Metro and by the time we get to République, it's all over and much cooler.
We can hardly move our bodies to get out of bed the next morning and only just make breakfast.  We've now got  over an hour to walk through the Ile De la Cité, along the Left Bank, take a very short turn in the Tuileries then walking in glorious sunshine through the centre of the Louvre en route to Brunch in the Marais.  This last event is much more manageable and we sit down under a canopy in a cool courtyard to be served a great meal.  We're joined by a Parisien squash player so Michael gets an opportunity to practice his French conversation.  There are some basketball players from Berlin who are joined by a team mate, originally from Israel.  He's a dancer/choreographer and is very entertaining.  His German isn't that good so we all end up speaking English.  Patrick (one of the swimming officials) joins. He's Canadian but has worked here as a translator for 40 years.  Two of the Germans have to go and are replaced by another Canadian/Israeli who lives in London.  The conversation is excellent and varied and we've forgotten the disaster of a party last night.